I still got the C64 in my closet actually. Tried booting it up last year, but it didn't work anymore =/ couldn't bring myself to throw it away. Not sure if the 5 inch floppy drive still works or not.
I remember playing these games the most:
Ultimate Wizard.
People say that Wizard, and Ultimate Wizard was just a rip off of another C64 game called Jumpman. I never played that game, but the version Ultimate Wizard that I had was a cool fun platformer. It had a level creator that was really involved too. To this day, my family still quotes the loading screen message to each other. "Prepare thyself Player #1" lol
Bruce Lee
This game was silly beat em up with really hard platforms you had to navigate. You had to collect gems to unlock parts of the stage to continue, while being attacked by sumo guys, and ninjas.
Impossible Mission
"Stay a while, STAAAAYY FOREVER!" This game was fun to play and look at as a kid, but it did just annoying when I could never figure out the fucking puzzles, and never beat the game. It still had great sound effects though, and the animation was really cool for the system.
Spy vs Spy 2
We had a copy of Spy vs Spy 1 and 3 for the C64 in our drawer of floppy discs, but I could never get them to work
So I always would play Spy vs Spy 2. It was alright, but I think it would've been more fun if I had a second player to play with as a kid...
The only part of Spy vs Spy 1 I could ever get to load up was the title screen.
Whenever I saw this pop up during loading, it would drive me nuts I could never play the game!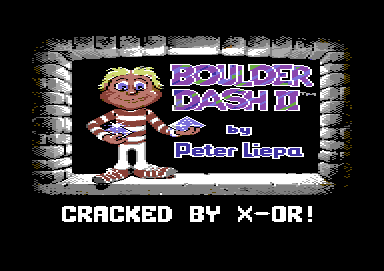 Boulder Dash series
Omg, these games were so fun. I loved playing Boulder Dash 2 the most as a kid. I was actually so excited when they announced Boulder Dash XL for Xbox live arcade...but I tried the demo, and I couldn't play it. While they did have the cool looking retro style look for some of the gameplay, the sound effects were all wrong!
Ghostbusters
Most people probably know of the AVGN's review of the NES version of this game. As a kid, I played the C64 version the most. The game was a LITTLE bit better on the C64, but it still sucked. I never could beat it, and I felt like I could never earn enough money. What a piece of shit. lol
Pipeline 2.
Pipeline 2 was part of a combo disc we had that included a game called Pecos Pete. Couldn't find any screen shots of
but it was a fun western themed game, with a series of mini games. One of the games I enjoyed the most involved having the catch beers that the barkeep would throw down the bar that you'd have to catch. If you missed too many, some guy in the saloon got pissed at you, and you would have to arm wrestle him. Could NEVER beat that guy >_<
The Witness
You're probably looking at this and saying "WTF is with all the text?" This is a game I played for hours trying to solve. I didn't have the original, but I had a copy of the game without the book or manual which made it even more difficult. It was a text based adventure where you play as a Detective, and as a kid, I enjoyed using my imagination like that.
Great Giana Sisters
It wasn't til recently that I knew what this game was even called. This game was a C64 rip off of Super Mario Brothers basically. So much so in fact, that the version I had as a kid was actually a hacked version that replaced the sprites of Giana with a knock off of Mario. The version I had was hacked to be called Super Mario Bros, and I played as Mario in it, lol. I always knew something was off, because while the version I had had Mario, all the enemies were different, and the music wasn't the same. I still had fun playing it as a kid though, and the music does make me very nostalgic.
Have so many memories playing these games. There's probably more games I could think of to share, but those are some of the most memorable to me. The C64 was probably just as big a part of my childhood as the NES. More so in fact, because we had more games for it. Most of them were bootlegs that we got at rummages, but as a kid, I didn't know they were bootlegs.