Just wanted to approach this and discuss some thoughts on this. It's common that fighting games today, are adding things like 'stylish' modes and other simplified combat systems that effectively allow the game to be played, without any understanding of the combat systems, either mechanical, or theory.
This is fine, it allows people that have no interest in learning how to play, to be able to get from start to finish without experiencing too much trouble, while more in-depth systems are accessible for players that want a more hardcore experience.
However my issue is. Why do these developers believe that players don't want to learn how to play, when they have never tried to teach anyone how to play?
a) The information of architecture of fighting games is god awful (Tekken, Injustice, Guilty Gear)
There's no consideration for he user here. No consideration for what they might want to know. No thought that when you present the d-pad sideways like that (like arcade buttons), that it might confuse users on a controlller, no consideration that users might find it valuable to view the properties of each move, to understand why they might want to use them.
b) Tutorials teach you HOW but not WHY (USFIV, Injustice, MKX, Tekken)
Why teach the player useless combos? Why do I see this time and time again? Why do the tutorials in Injustice 2 teach the player a small fraction of the characters moves, without any context on why this is something you should know, or what you should do with it in a fight?
c) Information Overload (Guilty Gear, Blazblue, Tekken)
Sometimes they try to teach you far too much, and the investment is just far to steep. If you want to get good with a character in Guilty Gear, it's difficult to even know where to start. Guilty Gear gets a lot of credit because it's one of the only games that actually tries to teach the user, but it's also at risk of overwhelming the user; the structure of its tutorial information is far from ideal.
d) Learning Isn't Made Fun (SFV, KOF, Guilty Gear, Injustice, Marvel, Tekken)
There are language learning apps that gamify learning better than fighting games. How do you make games but not understand reward and motivation?
Until these problems are directly addressed, stylish, or easy input modes (KOF, Marvel Infinite, Persona, Guilty Gear) can be seen as a means of avoiding the issue. The onboarding, tutorials and information architecture of fighting games is absolutely appalling and these easy to play modes do nothing to address that problem.
As a games user research professional, this image comes to mind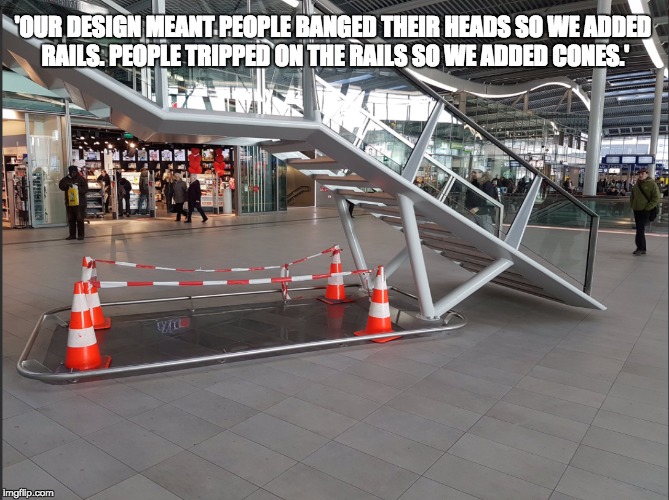 By failing to design games with the user in mind, the process isn't smooth, therefore, the developers seek to add things onto their idea, post-hoc in an effort to alleviate the issue, which in turn create a big mess. Two fighting systems that aren't compatible with one another (stylish vs regular), yet get forced together. One of which has poor tutorialling, the other, is so simplistic and removed from any real sense of control that the user has little hope of building a sense of competence or achievement.
What are your thoughts?