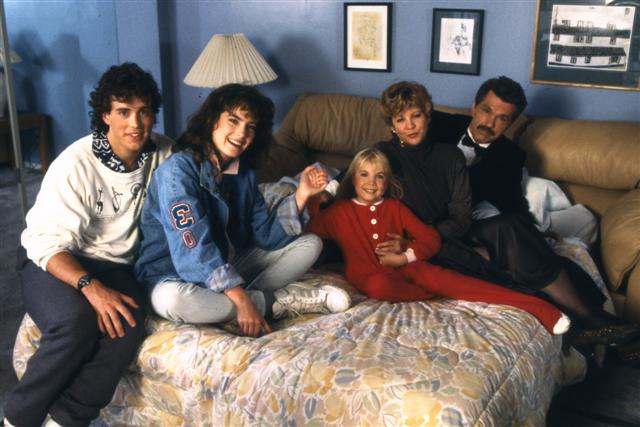 Poltergeist III. While many fans view the third film of the franchise the worst of the three Poltergeist movies starring Heather O'Rourke, there is the sad fact that Heather tragically passed away before the movie was finished. The original ending was scrapped and re-shot, but the cast and crew were so heartbroken over Heather's passing, that the re-shot ending was hastily put together and included in the final cut. Missing from that final cut was Heather O'Rourke, as a double naturally had to be used for her shots.
There had been rumors that the original ending with Heather O'Rourke indeed actually existed in some form, but Director Gary Sherman consistently denied it.
Here is how Gary Sherman answered such a question:
Question: I discovered you thanks to Poltergeist 3. This has been killing me for years...was the ending re-shot? Cause we never see O'Rourke's face in the last frames. If so, what was the original ending?

Sherman: "The ending was not a re-shoot. The original ending was never shot. Heather died a week before we were scheduled to shoot the ending. There was no way we could (or even wanted to, for that matter) shoot the scenes without her. There were some 17 pages left to shoot, most of which was to be the ending, a tear jerking scene in which Tangina (Zelda Rubinstein) offers herself as a sacrifice - that she would go over into the light in exchange for Scott (Kip Wentz), Bruce (Tom Skerritt) and Carol Anne (Heather) and everyone else.As Carol Anne and Tangina passed from one side to the other, they were to say 'Good- bye' for the last time. It was to be not only to be the end of POLTERGEIST III, but the end of the Poltergeist Trilogy.

We weren't even going to finish the film at all, after Heather died. I was not interested, neither was Barry Bernardi or the studio heads, Alan Ladd, Jr. and Jay Kanter. None of us were. We got together and decided to shelve the project, at least for the time being. But the MGM board didn't see it that way. They basically said, 'Look, either you finish this or we'll get somebody to finish it for you.' Since we weren't about to let that happen, I half-heartedly wrote that pathetic ending where Bruce (Tom) and Patricia (Nancy) carry out a photo double, dressed as Carol Anne, at the end. People just weren't available anymore for it. We just didn't care about it. Scott (Kip Wentz) couldn't even show up. He was on the east coast, that's why he's mysteriously missing. But we just didn't care at the end of it all."
But according to actor Kipley Wentz, who played Lara Flynn Boyle's boyfriend Scott in the movie. The original ending had indeed been made:
"This is Kipley Wentz writing. I played Scott in the movie. I know Gary said that in an interview a long time ago, but it's not true. I was in Los Angeles when they reshot the ending. I was at school at USC and was a pall bearer at Heather's funeral. Nobody even told me they had reshot the ending until I saw it at the premiere. So... I don't know what the thinking was on the production's part. They may very well have told Gary that I wasn't available. I have no idea. But for the record, I would have gladly done the reshoots if anyone asked. It's a bit frustrating that almost 20 years later everyone seems to think I was cut from the new ending because I was not available or something. The 'original' ending was shot. The movie was wrapped about seven months before Heather died. After she died, they wanted to reshoot the ending because it obviously featured Heather prominently and it was all very upsetting for everyone. For the record, I was at USC in Los Angeles, not on the East Coast. Nobody even told me that they had reshot the ending until I was sitting there at the premiere. It was a very sad time for everyone involved, and obviously a great source of confusion ever since. Why Gary would say I wasn't available or we didn't shoot the ending or whatever, I don't understand, but it doesn't really matter. And whether people believe my account of the story or not, well... there's nothing I can do about that. I flew to New York to work with the special effects guys. They took a cast of my head to make the 'frozen Scott' that was seen in the original ending. We shot it. The movie wrapped. There was a big 'wrap party'. We all celebrated finishing the movie. The following summer, I was at the premiere in Chicago and saw a totally different ending that nobody had told me about. I asked the producer what happened to my character at the end, and he made a bad joke saying, 'We're leaving you out there for Poltergeist IV'. PLEASE don't read more into that than there is... we were all sad and uncomfortable that evening and he was no doubt just trying to avoid the subject. As I recall, he said that things had been really crazy and they were just trying to deal with it as quickly as possible.

At this point, it's impossible to imagine the mood at that time. Everyone loved Heather, and when she died, releasing the movie or fixing the ending was the last thing anyone wanted to deal with. It's a sad memory for everyone involved, and excepting those who are in some way profiting by keeping this 'mystery' alive, I would imagine that nobody is too anxious to talk about it. I understand that with conflicting sources it can be confusing. But 17 years later, it's easy to examine this logically. In the midst of tragedy, however, logic sometimes goes out the window."
More of this story can be found here at
poltergeistiii.com
Poltergeist III webmaster David Furtney has aquired stills, storyboards and photos showing what could have been the original ending of Poltergeist III. You can check that out
here
.
And finally, a very rough cut of the original ending was aquired by Furtney, which was included on
Shout Factory's Collector's Edition of Poltergeist III
.
This fan-edit rough cut does not include any audio (you can view this version
here
). However, thanks to Flowtac Entertainment, an all-new fan-edit was made using footage from both versions of the ending, and utilizes audio from the re-shoot.
Check it out:
Original Poltergeist III Ending (Flowtac Re-Cut)
It's beautiful. So much more poltergeisty in it's delivery. Seeing Heather at the end with that original Poltergeist music? Tears.
It's not perfect but is so much better than the ending that was released:
Poltergeist III Ending (re-shot after Heather O'Rourke died)
This is likely the closest we'll ever get to an original ending to Poltergeist III with Heather O'Rourke, and is a true tribute to Heather and the Poltergeist franchise.