Release Date: 9/13/16 (US) | 9/16/16 (EU) | 5/24/16 (JP)
Platform: PS4, PSVita (US) / Xbox One (JP) / PC (TBA)
Genre: Visual Novel
Developer: 5pb.
Psycho-Pass is set in 2112. The Sibyl System is actively measuring the populace's mental states, personalities, and the probability that individuals will commit crimes, using a "cymatic scan" of the brain. The resulting assessment is called a Psycho-Pass. When the probability of a person engaging in crimes measured by the Crime Coefficient index exceeds a certain level in an individual, he or she is pursued, apprehended, and killed if necessary.
This law is enforced by the MWPSB(Ministry of Public Welfare Safety Bureau). Their investigative division consists of two primary types of officers: Inspectors and Enforcers. While Inspectors are trusted officers who spearhead most investigations, the ones who often pull the triggers are Enforcers; often ex-criminals or normal people who simply had a Crime Coefficient that became far too high for society to allow.
The game is based on the events of the show's first season, and does spoil elements of it. Though familiarity is not required, it is highly recommended to get the most out of the game and its characters.
The first two episodes are currently free on PSN.
But What About Season 2, you ask?
.
The player can choose between two new detectives assigned to the Criminal Investigation department's Division 1; Nadeshiko Kugatachi, a calm and serious inspector whose memories were wiped,
and Takuma Tsurugi, a hot-headed Enforcer who is searching for his missing childhood friend.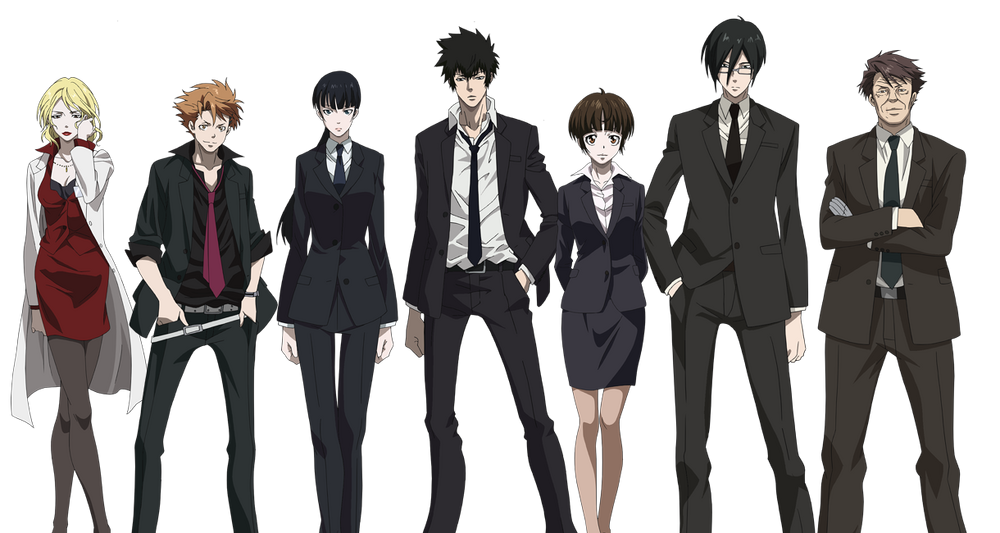 Division 1's key staff, from left to right: Shion Karanomori(Support), Shusei Kagari(Enforcer), Yayoi Kunizuka(Inspector), Shinya Kogami(Enforcer), Akane Tsunemori(Inspector), Nobuchika Ginoza(Inspector) and Tomomi Masaoka(Inspector).
Although primarily a visual novel, the player must decide the best course of action for each given situation. Every decision has its own repercussions.
With an intricate decision-making system, Psycho-Pass:Mandatory Happiness offers a twisted plot and compelling cases, providing a number of different endings.
Ultimately, depending on the choices made, Hues my deteriorate beyond recovery, cases may be left unsolved, and the game may end quicker than expected.
(Limited Edition)
RPGFan
(80%)
I enjoyed my time with Mandatory Happiness, although I came away from it feeling a bit sullen. Licensed games rarely tend to add much to their individual franchises, but Psycho-Pass' creator, Urobuchi Gen, got his start writing visual novels for Nitro+, the studio that paired up with 5pb to develop critical darling Steins;Gate. Taking that into consideration, Psycho-Pass and 5pb seem like a match made in heaven, but the result of this pairing is ultimately, well, just another licensed game.

Though Mandatory Happiness is an above-average visual novel in its own right, it woefully underutilizes its setting and suffers from mediocre writing. A little more love could've made this one an essential visual novel, but as it stands, it's still a pretty good cyberpunk adventure.
Keengamer
(9.4/10)
Psycho-Pass Mandatory Happiness offers an amazing story, full of captivating moments, exciting plot twists, emotional cases, and a constant tempo that prevents it from ever feeling slow. The choices you'll make carry a great influence on the story, and you feel it every time you're asked how to proceed with a situation. Although reading subtitled texts will take up most of the time, the game presents the setting and characters in an intriguing way with the constant switching of them regardless of the conversation. The uniqueness found within every scene of talking, action, and investigating provids the depiction of a living world inside the story.
Twinfinite
(4/5)
For the most part, Mandatory Happiness is a Psycho-Pass game made specifically for Psycho-Pass fans. The story has no real bearing on the overall plot of the series, but it definitely adds a lot to the compelling universe, and even provides useful explanations for some lore points brought up in the TV show (hyper oats, anyone?). Mandatory Happiness is a great supplement to the already fantastic Psycho-Pass story.
Push Square
(7/10)
Even if you haven't seen the Psycho-Pass television series before, Mandatory Happiness does a good enough job of making it clear what's going on to be enjoyable. It tells an engaging and thought-provoking story that deals with some heavyweight and uncomfortable subjects, and one that poses plenty of ethical dilemmas along the way.
One link to join it all.
So it goes, again...