Jan 21, 2018
2,689
10,526
940
31
More Here
Weapon Choice & Customization
With a myriad of customization options ranging from visual upgrades like new metals, woods, varnishes and engravings to performance upgrades like new barrels, grips, sights and scopes, you can design an entirely unique weapon that looks and handles exactly the way you want it to. Every weapon's performance varies in terms of damage, range, fire rate, accuracy and reload speed so it's important to pick wisely depending on the situation.
The high fire rate of a Double-Action Revolver lends itself well to shooting on the move from horseback. If you're carrying something in one hand, like a lantern or small animal, consider using a Sawed-Off Shotgun which packs a much bigger punch at close range than other one-handed weapons. The Varmint Rifle is perfect for hunting small game because it's far less likely to damage the quality of the skin and meat than a firearm with a bigger shell size.
When faced with just one or two enemies, you might want to go for a Springfield Rifle which has a slower fire rate but delivers much higher damage. For range, a sniper rifle of some kind is obviously a good choice, but scopes can also be fitted to all other types of rifle enabling you to switch between regular view and scope view at any time.
Metals and engravings are customizable per component - select different colors and engravings for the trigger guard, barrel, frame and more. You can also choose from a variety of inlay metals for the engravings on each part.
For extra stopping power, purchase and craft a variety of ammo types such as Split Point, High Velocity or Explosive ammo.
Your horse's saddle will store all of your weapons. Be sure to select and carry the weaponry you'll need when leaving your horse behind.
Carry single handed pistols, revolvers and the single handed Sawed-Off Shotgun in your holsters. Upgraded and reinforced holsters will protect the weapons from degradation against the elements while Off-Hand Holsters give you the ability to dual wield.
Dead Eye
Dead Eye is a powerful weapon of its own, temporarily slowing down time during combat so you can pick off your enemies with more precision.
The new Dead Eye system gradually expands and becomes more sophisticated over the course of the game, from automatically selecting targets in your crosshairs, to allowing you to manually place shots on multiple targets, to being able to shoot at will in slow motion, and ultimately to pinpointing the weak spots on your enemies for even deadlier accuracy. The system grows with you and your experience and can often provide the critical edge in a life or death situation.
Preserving and unleashing Dead Eye in gunfights with multiple enemies can be a critical strategy for turning the battle in your favor.
Paint your enemies with targets and unleash a rapid-fire hail of bullets.
As Dead Eye progresses over the course of the game, you will be able to see critical and fatal points on your enemies, such as the heart, brain and lungs.
Dead Eye drains over time as you use it, you can replenish it quickly in combat scenarios by consuming provisions or tonics.
In Action: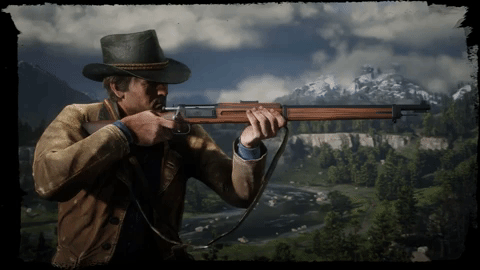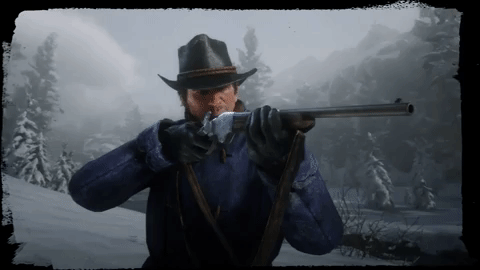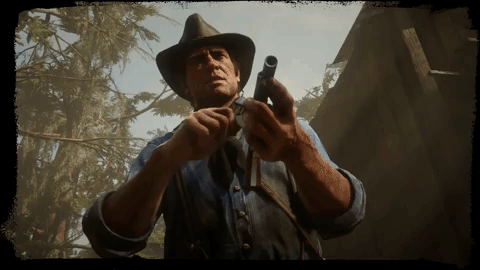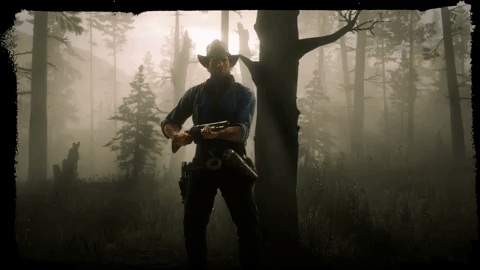 Better quality with sound:
The Bolt-Action Rifle
,
The Carbine Repeater
,
The Cattleman Revolver
and
The high-powered Pump-Action Shotgun
.
Last edited: