I thought I'd create this thread to discuss emulation on the Series X and S. It's quite a complicated process with lots of settings so a little cooperation and sharing of knowledge will go along way.
Do not discuss where to get ROMs here. The legality of which is very dubious if you don't already own the games your emulating.
If only there was a website or search engine you could find about about such things so not to accidentally stumble across it during your daily browse.
How do I emulate on my Xbox series X/S?
Follow this guide; please note you will likely still have to force dev mode by going into system settings and press "LB, RB, LT, RT" in that order and enabling it on the menu that appears (due to the next gen OS update).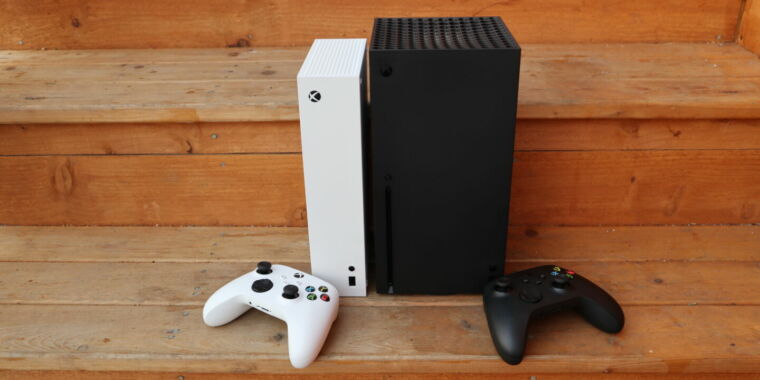 Console "Developer Mode" offers a way in for RetroArch's dozens of emulation cores.

arstechnica.com
Pro tips
+ Once you've downloaded the app update it from within the app, before anything else.
+ You will need to change the key bindings on the controller for increased functionality. Most importantly add in the in game quick menu as it's the only way to increase the games resolution. Also add in the quit retroarch button as it's the only way to apply those changes (as it saves on exit). You'll probably want the FPS toggle added in as well.
+ Gamecube must be ran in DX 11 mode.
+ Retail mode gives a significant performance increase over Dev mode.
+ Some games must be ran internally rather that via USB. Please note in retail mode there is a 16gb folder limit (for now).
So firstly assuming you have the retail version of retroarch (retrospection app) and the FTP app. Open retrospection and go to 'Online Updater'. Once you are there update core info files and update assets, when that's done close the retrospection app.
Now on your pc download you will need to download the PS2 Bios.
You will also need to download whatever roms you want to play (and legally own).
Also you will need a program to unzip the folders, i used 7-Zip..
https://www.7-zip.org/download.html
Ok now last thing to download is FileZilla..
https://filezilla-project.org/
Open 7-zip and find your PS2 Bios you downloaded and right click, click 7-Zip and then 'Extract to' and follow the same step for whatever game you have downloaded. (follow this step any time you download any other system bios or any games)
Once everything is downloaded, open the FTP app on your Xbox. When you open it click 'Set Local Folder' then go down and click start. At the top of FileZilla you will see 'Host:' and you will need to put the IP address of your Xbox that shows on the FTP app. Don't worry about the username or password part leave those blank and then for port enter 21 then click 'QuickConnect'. You should now be connected to your Xbox.
From here on the left of your screen will be local files on your pc and the right will be files on the Xbox. On the right hand side in the top box under 'Remote Site' the second folder should be the one you want as it will say Retrospection. Double click and then go to 'LocalState'. Double click again and look for 'System'. This is where you will want to drag the PS2 Bios you downloaded earlier (find the PS2 Bios folder where ever you saved it using the left box and then drag to right into the system folder) congrats you have done the system bios part.
Now for the steps on where the games go.. On the right hand side again we wanna go Retrospection/LocalState/Downloads and you need to make a folder for your PS2 games, right click on downloads folder and 'Create Directory'. i literally just called it 'PS2 Games' but name it whatever you want. This is where you will need to drag your games to, so Retrospection/LocalState/Downloads/PS2 Games.
After that's all done and make sure everything has finished sending over to the Xbox (you should see a bar at the bottom showing current progress) you can go onto the xbox and click stop on the FTP app and quit the app.
Now open the Retrospection app, go to 'Load Content', 'Downloads', 'PS2 Games' and then click whatever game you want to play and then the top option that says '.bin.' at the end. This will then open up 'Suggested Cores' scroll down until you find 'Sony - PlayStation 2 (PCSX2)' click that and your game should start.
I'll update this post as and when we get more information. Ideally people will explore all their favourite games and report back their settings and performance they are getting (and on which console). To start with I got Mario 64 Native 4k 55-60 FPS on the Series X this evening.
Last edited: