Day 1: Volume 1 [FINISHED]
Day 2: Volume 2 [FINISHED]
Day 3: Volume 3 [FINISHED]

Day 4: Volume 4 [FINISHED]

Day 5: Volumes 1 - 4 [FINISHED]

MARATHON IS OVER, THANK YOU FOR WATCHING!
What are they doing?
TwitchPresents
will be streaming all 4 volumes of RWBY.
Why?
To celebrate the upcoming premiere of Volume 5, which will air on Saturday October 14, 2017.
What is RWBY
Taken from
VanillaCakeIsBurning's OT
:
RWBY (Red/White/Black/Yellow/pronounced "Ruby") is an animated web series produced by Monty Oum and Rooster Teeth Productions.

Long before the beginning of the series, the world of Remnant used to be covered in darkness. Mankind was born into a hostile world dominated by monsters called the "Grimm". Humanity's future was at first bleak, but due to the discovery of "Dust" they were able to drive back the Grimm and create an expanding civilization. At the time of the series' start, the world is in a state of peace. In order to safeguard against the Grimm should they one day return, various academies were created to train combat specialists called Huntresses/Huntsman.

The main characters attend one of these academies called Beacon, situated in the Kingdom of Vale.
What's the schedule?
They plan to dedicate each day to a specific volume, with Friday being a culmination of them all:
Monday October 9, 2017 - Volume 1 @ 11:00 AM PT
Tuesday October 10, 2017 - Volume 2
Wednesday October 11, 2017 - Volume 3
Thursday October 12, 2017 - Volume 4
Friday October 13, 2017 - Volumes 1 - 4
What if I missed out on a couple episodes?
If you would rather not wait for a repeat of the episode that you missed you can always go to roosterteeth.com and watch it there.
Should I check this out?
Yes. Now would be the perfect time as you'll be able to experience it alongside many other first timers, not to mention taking part in the Twitch chat memes/shenanigans which is very entertaining in itself.
Here's an example of the fight choreography that's present in the early seasons before Monty Oum's passing (RIP to a wonderful, talented individual):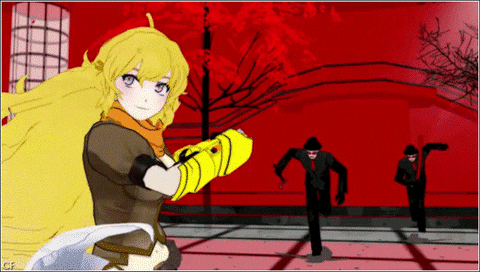 Are there ships in this show?
Boy, let me tell you..
Anything I should know before this starts?
If you have the time, take a look at the original trailers so you can get an idea of what's in store:
Red Trailer
White Trailer
Black Trailer
Yellow Trailer
Chat Memes
10AM OUTDATED
11AM OVERRATED
LONG HAVE WE WAITED
NOW WE JEBAITED
I DRINK MILK
QUEEN OF THE CASTLE
BEST GIRL
BUMBLBY
NANIMATION
NUTS AND DOLTS
WHITE ROSE
MERC IS IRKED
PYRRHA DEFEATED
OZPIN DELETED
YANG MISTREATED
RUBY BADLY NEEDED
QROW IS A CROW?!!!!
CINDER
IRONDADDY
[WEAPON] IS ALSO A GUN
IT IS NOT A GUN
THESE
FEELS
ARE
ALSO
A
GUN