...and even if you have a game on Steam, it doesn't necessarily let you bypass Greenlight: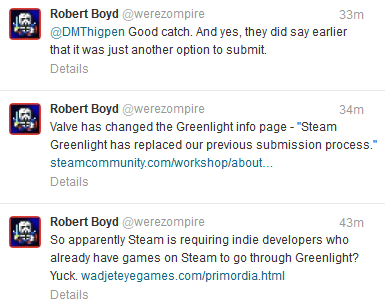 Greenlight FAQ said:
Who should submit their games to Steam Greenlight? Is there another way to submit my game to Steam?

Steam Greenlight has replaced our previous submission process. Any developer or publisher who is new to Steam and interested in submitting their game to the platform should submit their game through Steam Greenlight.
(chubigans edit: the "only new devs" isn't necessarily true as many indie devs who have games on Steam are being asked to go through Greenlight for their new titles, such as
Wadjet Eye games
.)
http://steamcommunity.com/workshop/about/?appid=765%A7ion=faq
This is so dumb I don't even know where to begin.