Scalebound is a 2017 Xbox One/Windows 10 exclusive Action-RPG made by PlatinumGames, a Japanese developer famous for its action titles like
Bayonetta
,
Vanquish
, and
Transformers: Devastation.
The purpose of this thread is to primarily act as a hub of information for the title as the wait for its release lengthens, this way any people interested in or curious about the game can have a centralized location for updated news, and secondarily to clear any misinformation or answer any FAQ's about Scalebound.
Official Website:
http://www.scaleboundgame.com/
Twitter:
https://twitter.com/scalebound
Gameplay Links:
Scalebound Xbox E3 Briefing 2016
Scalebound Xbox Gamescom Briefing 2015
Xbox E3 2014 Media Briefing: Scalebound
I. Origins
Upon the completion of Bayonetta in 2009, Hideki Kamiya began discussing a longtime dream project of his with the team at Platinum. Originally starting as a dinosaur filled motion control game for the Nintendo Wii, it wasnt until much later that the version of the game we see today would be started. Growing up heavily interested in the worlds of fantasy inspired RPG's, Kamiya had always wanted to create a game where the player controlled character would fight alongside a dragon, and so the dinosaur was switched to what we have now. During these early stages, the protagonist of the project was also set to be a young girl, and would see the player take a more reserved role in combat. The child's frailty would make using the dragon as a conduit to defend her from the world around her the focus of the gameplay.
"When they first started, the idea was for a Wii game and we wanted to use a Wii remote to do the orders for the dinosaurs...You were in control of the dinosaurs, you were ordering the dinosaurs around, and they'd do cool things. Then after we made Bayonetta, we started the prototype. The first thing that I made a change to was making it a dragon game."

-Hideki Kamiya

However, the game was simply not destined for full scale development. Platinum began crafting the prototype on PC, where all their titles begin development, where they realized the ambition and the scope of the game made releasing on the current consoles not a possibility without serious compromise, a decision Platinum did not intend to make.
"When we first started prototyping, we didn't have a clear design. We knew we wanted a dragon and a monster fighting with each other and we just worked with that as the focus. ... At last, we'd got our prototype far enough that we could fly around this island we built on a dragon. And that's when the project was put on hold, that very day."

-Hideki Kamiya
While Scalebound was put on the backburner, they shifted focus and began development on what would eventually become "The Wonderful 101". Following that titles release in 2013, Platinum had a newfound interest in working with new partners in the industry. It's then when Atsushi Inaba, former CEO of Clover Studios and present day producer at Platinum, suggested pitching the idea to Microsoft. From their perspective, the deal was advantageous: On Microsoft's side, they would receive a AAA product from Platinum to promote their console with, meanwhile Platinum would gain experience working with a big western publisher on a AAA project, while also getting to work on a longtime passion project.
II. The World Of
Scalebound's setting is the world of Draconis, a fantasy-inspired world filled with giant monsters, knights, and floating islands. Speaking to the origins of the designs, Art Designer for the project Yeng-Kee Cho discussed there were originally several themes Draconis was experimented with, including both a more sci-fi inspired world as well as a steampunk approach. The decision to focus on a more fantasy setting arose from an iterative process the art team followed, as well as an interesting although minor clash in how to approach the aesthetics:
"As an artist imagining this world filled with fantastic things like swords, dragons and monsters, I have this tendency to want to make everything look as cool as I possibly can. I wanted to draw a dragon with spikes, with a design that would make you say "wow, awesome" when you see it. But coolness wasn't what Kamiya-san was after. He wanted something closer to an actual living thing. He told me "look at some real animals. They aren't 'cool'. They're wild and alive. Design me something like that", but even after Kamiya said that I still made them look pretty cool, we fought over it quite a bit. Since then, I think i've come to understand the direction that Kamiya san wants to take."

-Yeng-Kee Cho
"To elaborate on one thing, we tried lots of designs for the world of scalebound, and for the dragons as well...But as we designed the world we thought "How can we balance what everyone imagines when they hear dragon, knight, or hydra, with the effects of the pulse, to create a memorable setting for Draconis? Rather than go for off the wall designs that deliberately goes against people's expectations we want to bring the player the knights, dragons and so on that they've always wanted to see."

-Hideki Kamiya
Governing the world of Draconis is a mysterious energy known as "The Pulse", compared by the lead art designer to Star Wars "The Force", in that it's a defining energy that forms the base for the entire universe. The pulse is both a literal and figurative shaper of the world of the Draconis, being responsible for some of its more exotic features like the floating masses of earth that decorate the skyline as well as bearing responsibility for the situation that finds our main character in this foreign land, although the details on why or how remain hidden.
Early concept art of the protagonist:
Speaking of the protagonist of our story, players will find themselves in control of a fashionably questionable guy named Drew. While his in-game backstory remains sparse, the character of Drew was born when Platinum desired to increase the player's sense of immersion when in the world of Draconis. Drew is from our reality, a young man thrust into a foreign and hostile world, and like many young people around Drew's age he is reckless and hot headed, a result of the overestimation of his youth. This seems to be a theme looking to be explored in the final game, as the bonds that come with forging a friendship like the one featured in Scalebound certainly contrast to the described behaviour of our protagonist, but that's simply conjecture for the time being. (For those curious, Drew's VA is actor
John Omohundro
. The official site has an interview with what it was like to work on Scalebound
here
)
Partnering up with Drew will be Thuban, a majestic dragon that is the last of its kind in Draconis. Even less is known about Thuban's backstory, so the origins of your compadre are still to be seen, but what is known is that the dynamic between these two characters is what forms the backbone of the game as they are linked together in quite a serious manner: If Thuban dies, so does Drew:
As Drew grows, both in terms of power and as a person, Thuban will be present and will grow alongside him. More than just a story however, the partnership between the two is represented in-game in various ways, like the banter between them as they wreak havoc on a battleground, or Drew's mysterious dragon arm, which acts as an in-game health meter for Thuban.
Fun fact: Thuban, for those interested in astronomy, is a star in the constellation Draco. That stars Bayer designation? Alpha Draconis.
One of the more interesting pieces of gameplay showing the extent of Drew and Thuban's relationship came from the live demonstration at the Xbox fanfest in Tokyo towards the end of 2015. During the demonstration, Hideki Kamiya (who was playing live) mistakenly caused the mantis monster from previously released gameplay demos to jump off the in-game cliff, killing itself before he could show off Drews "dragon mode" and Thuban's "ultimate attack". While figuring out the best way to show off Drews fighting abilities given the incident, Kamiya decided to make Drew attack Thuban.
And the result? Thuban wasn't happy:
The Music of Scalebound
*
Much like the situation our hero finds themselves in, the music of Scalebound is an odd combination of realities, including both modern licensed music like Prodigy's
Wild Frontier
, and the more genre standard orchestra heavy original tunes.
Essentially, the more modern music is used during combat sequences to put both the players and Drew in "the zone" as people say, and the original score will be handled outside of fighting. Crafted by several esteemed composers like Christopher Lennertz, Hitomi Kurokawa and Naoto Tanaka, the score for Scalebound is being made to be as fantastical as the premise of the game. Those not interested in electronic heavy music should note the modern music will not be a one genre affair, the music will be sourced from a variety of artist (both known and unknown) in a variety of genres, and is being handled between platinum and the guys responsible for Forza Horizon's music selection at Microsoft.
(OP Note: I've decided to hold off on enemies of Draconis, the UI, and more world-related info until more is revealed.)
III. Combat: Deceptively Deep or Simply Shallow?
As stated above, Scalebound is an action role playing game first and foremost, so those interested in the hundred-combo action style of game PlatinumGames gained fame with will probably be served better elsewhere.
This is not to say the combat featured in Scalebound will be a simple affair, this is still Platinum we are talking about. However, what makes Scalebound so at odds with people who are fans of the extreme action genre is the very thing that makes it special in the first place; Thuban, your partner dragon. The fact is, in games like Bayonetta for example, the player is in complete control. An experienced player laughs in the face of adversity because they understand their player character is the powerful one in this world, so while there might be a difficult enemy or two, it comes down to mastering the powers of this particular person to succeed and nothing more. In Scalebound, the focus is on the synergy between two beings, rather than the mastery of one. Not only that, but Thuban is capable of acting independently of Drew, the exact opposite of that level of control you see in an extreme action game. Not only does the player have to manage the powers and equipment for Drew over a longer period of time and to a level of detail deeper than your typical action game, but there's a much larger and much stronger partner you have to build a relationship with to succeed. Enemies will also have strength's and weakness to different forms of damage similar to more traditional RPG's.
"One thing that's been on my mind as we make Scalebound is that is actually no good to always make Thuban act "Ideally". We have this character whose huge and alive, and if he just does everything you want him to...How can I put this? Thuban feels a lot stronger when you can't completely control him. We want players to feel what it's like to head into battle with a large, powerful, and independant partner. I've been thinking that that's the key to the games true impact. "

-Yusuke Miyata
Basic combat with Drew seems like familiar territory to those who have played similar genre games: You mix up between a variety of different level attacks (preferably in a row with no damage taken) with the type of attack and other factors like speed, damage, and range all based on the button pressed and the weapon equipped. So far we have seen a few of these weapons in-game, including what appears to be a greatsword, a longsword, a bow, a spear, and a usable shield:
Spear/Greatsword
Bow (With explosive tips)
Shield
Longsword
Multiple Weapons
(OP Note: From the version we have seen gameplay of, it seems weapon durability is also a thing)
There also seems to be mines of some sort that can be used against the various foes you will encounter:
Next, we have Drews "Dragon Arm". I mentioned early that it serves as an in game reminder of Thuban's health, but it also comes with its own nifty bag of tricks. Firstly, is a tether of sorts used to propel you towards the enemies in order the mount them. Like an odd hybrid of Just Cause and Dragon's Dogma, for example:
Secondly, the arm also allows Drew to rapidly fire blue orbs out of it, damaging enemies it can hit.
(OP Note: In the Xbox Tokyo fanfest video, Kamiya has a moment where he's shooting this at Thuban while speaking to the person presenting next to him. I don't speak Japanese, but what was happening on screen seem to indicate shooting thuban with these orbs can heal him. Will need someone who can understand to confirm that though, could be nothing.)
Lastly, the Dragon Arm can overtake the rest of Drew's body, granting him enhanced speed, damage, and overall abilities. This "Dragon Mode" is managed by a meter located under the current health bar, and only lasts a brief time (Can be upgraded to last longer, of course) during which Drew can fight on par with thuban, tackling giant monsters up close and personally:
So, outside of the player character, we have the massive dragon Thuban to assist on the battlefield. Though uncontrollable by the player directly, Thuban remains a powerhouse capable of outrageous outputs of damage. Breathing fire, crushing foes, and delivering kick ass flash kicks are just a few of the possibilities, and adding even more is the fact that Thuban is
quite
customizable. Change his fire breath to an icy blue shout of frost, customize his horns and his skin color to your liking, equip him with metal blades attached to his tail to enhance his close quarters capabilities. You can even change the very dragon-type Thuban is, perhaps making him a slower, ground based dragon, or possibly making him a high speed aerial monster. It also seems the player is capable of giving Thuban basic instructions in order to guide him a bit on the battlefield, such as attacking a specific enemy or base.
E3 2016 Update
At the Microsoft E3 2016 press conference, Hideki Kamiya was bought on the stage to premier the first official Scalebound multiplayer gameplay, as well as the first look at how the games larger bosses are handled. During the gameplay, 4 player controlled Drew's, all with their own personalized Thuban's, battled together to defeat a goliath sized enemy Scorpion. We saw a couple of newer gameplay mechanics such as:
Dragon riding (and what appears to be "thrusting")
And Dragon "propelling" (which can be done outside of boss battles if you can get Thuban to agree)
IGN's
Jose Otero
has an excellent interview with Hideki Kamiya up their website, but regarding the E3 demonstration there were two relevant quotes I wanted to share:
"What we premiered today was obviously five minutes, right? A boss fight obviously isn't a five minute experience. That's something that we made for E3 to show you what something at that scale is like, but when we get into the actual game and you get that controller in your hands, and you've been playing for the few hours that it's going to take to get to that boss -- and there's stuff in that boss fight that we haven't shown yet -- it's going to be even more epic and even more crazy than what we showed today."

-Jean Pierre Kellams
"So we really wanted to make a co-op game, but we didn't want to just put the same character on the screen and say "Hey, it's a video game!" and go have fun with it. We wanted to have a narrative reason that supported that idea. But we also wanted to tell the story of Drew and Thuban and their bond together, so… we're not going into a lot of detail about what that idea is and how that ties into the story, but we did put a hint into what we premiered today, and that's at the very end. If you look at the that, you're going to see all four Drew's collapse into one, and that's our hint about how that narrative construct works on a multiplayer basis."

-Hideki Kamiya
Since the 2016 showing has been met with some rather mixed reception, its nice to hear that might have been an exaggerated gameplay slice not indicative of the final version of the battle. More importantly, I hope the team at Platinum take the criticisms to heart and show off more of the world we have been patiently waiting to see. If the scale of this game is to believed, its gonna take some extensive footage showing a lot more than the combat-filled demonstrations we have seen so far.
IV. FAQ's
Can we fly the dragon?
Yes.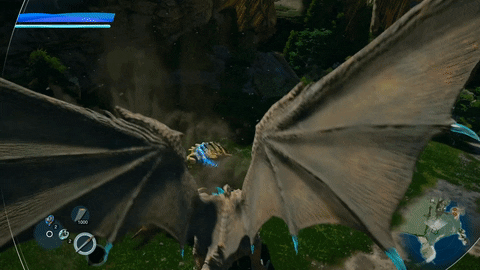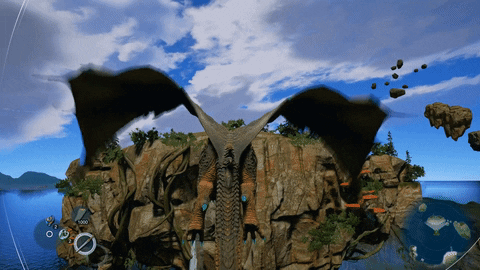 What's up with people calling the protagonist "dudebro"?
Not really sure with this one. I'd assume they are either looking for the word "Edgy" or don't know what "dudebro" means. Perhaps a combination. On a personal note, if you do mean "edgy", then yeah, I agree. Although it's not that I disagree with his personality so much, it's that his character design is not really all that interesting aesthetically. Luckily, extensive customization of Drew will be possible:
Will there be multiplayer?
Hell yeah!
With the most recent news coming from E3 2016, it was made known that Scalebound will have full 4 player drop in/drop out co-op support, with multiplayer being available not just in boss battles as previously speculated (by me), but the entire game. Scalebound will also be a Xbox "
Play Anywhere"
title, meaning buying the game on either Xbox One or Windows 10 will unlock the other version at no additional cost. Cross platform multiplayer is also a feature, so people wanting to play on either PC or console will be riding dragons together.
Why the headphones?
The headphones serve as a consistent reminder of Drew's identity as a modern young man, and probably also serve as a somewhat reasonable explanation for the in-game music containing stuff like Prodigy on top of original orchestral pieces.
Why is this not an extreme action game?
One might argue that due to the nature of sales when it comes to previous titles in their resume (regardless of quality) that the decision to make Scalebound's moment to moment gameplay more simplified compared to titles like Bayonetta is a business oriented choice to make Scalebound appeal to a wider audience. Whether that sits well with you or not is personal, but I believe that that's a choice the developers are allowed to make. Scalebound has never been marketed as an extreme action game, and should not be judged based on the standards of another genre. Id even argue that recently, Platinum is seeking to broaden its portfolio as to not pigeonhole themselves into being considered a strictly one (sub)genre kind of developer. Again however, this is pure speculation.
What is an extreme action game?
What most mistakenly call a character action game.
But that's a topic for another day.
Edit: Update 01/24/2016
*Added new information "The Music of Scalebound" into the "World of" section
*Various grammar fixes
Edit: Update 3/04/2016
*W10 port possible

Edit: Update 6/23/2016
*E3 Update section added
*Multiplayer FAQ updated
*opening updated
*new gifs added