I feel like I've been chasing the MMO high I got from Ultima Online for the past 20 years and eventually gave up. nothing has come close to giving me the experience that Ultima Online gave me.
I've been playing it on and off on player made servers (shards) for the past 20 years.
I'm making this thread partly to see whether anyone else has had a similar experience with the game, or whether I'm just dealing with nostalgia.
The game is very challenging by today's standards
- if you die, you lose everything. your items stay on your body and odds are it will get looted by the time you get back to it. assuming you can even get back to it because now you're naked. also you have to run to a far away location to resurrect yourself so the whole process takes a long time, making it more likely your shit will get looted
- if you leave town, other players can kill you. if they kill you, they're stealing your shit.
- if you decide to PK enough, your name becomes red and now NPC guards in most towns will kill you on sight.
When you saw a red name, you would freak the fuck out.
What I think I loved most about the game was the economy and customization the game allowed. The whole crafting system was so rewarding. It took forever to raise your mining and smithing, for example, but once you finally got your smithing to a high enough level your crafted armor and weapons would have your name on it. And the stuff you crafted was considered top tier gear, so the in game economy rewarded you for your time and labor.
I could set up NPC vendors in my house to sell my crafted goods. And yes, in MY house. You could own houses. You would literally get to go out and find a plot of land and place your house. It could be anywhere in the world, as long as your house could fit on the plot of land. And there were many different styles of houses, each with cost that corresponded to their size. I've never played an MMO that had anything nearly as cool as this. You could fully participate in the game as a carpenter and never even raise a sword to a monster. You could make a name for yourself as an artisan. Where weary travelers would venture to your home to buy your exceptionally crafted goods.
You and your buddies could create a guild, put together all your gold and eventually get yourself a castle. You could decorate the castle with furniture you crafted, or that you purchased from other carpenters.
Yes, it was my first MMO. But firing up the game 20 years later still gives me those magic feelings.
Chilling by the bank in Lower West Britain
Player houses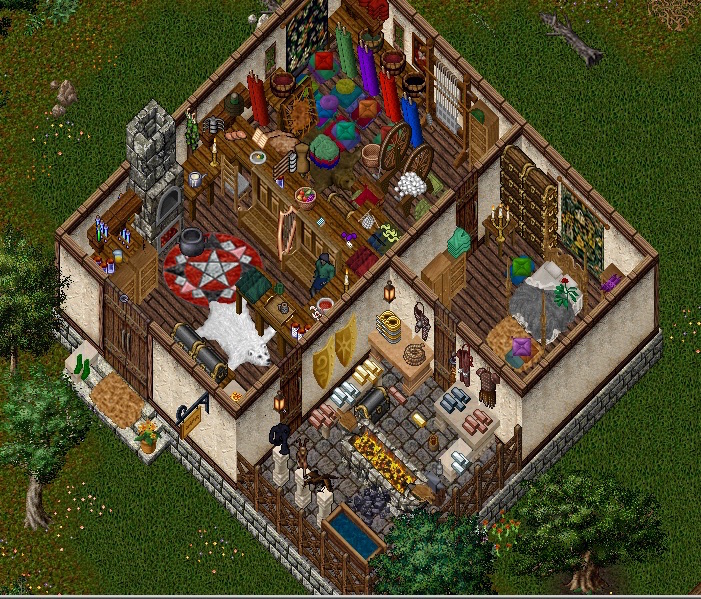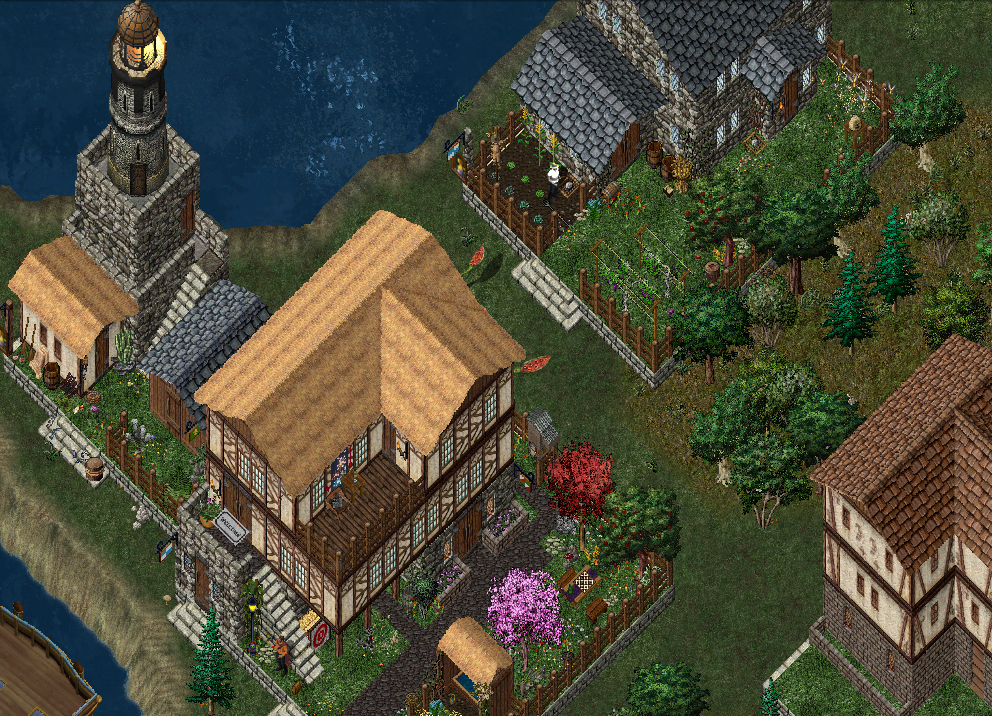 It's been a couple years since I've last gave it a go. The game is still officially running, although it has changed DRASTICALLY since it first came out in 1997. The player run servers (called player run shards) are still offering the same experience you had in the late 90s. There are plenty of options and they're pretty much all free.
Last edited: