This thread is inspired by all the good people on the TxK thread and is a bit long. Sorry in advance about that.
I am a generation or two older than most modern gamers and it wasn't a home console which was my gateway drug to gaming. It was these beautiful things:
I grew up in a small seaside town in England where, if you couldn't buy alcohol, there really was nothing to do but hang around the arcades. They were part of the culture there - my dad's first job after he moved to the UK was servicing arcade machines and my first job was in the kitchen of a chippy right in the middle of all of the arcades. Everyone - girls and boys - would go to the arcades on breaks, smoke cigarettes and hang around.
If it wasn't for playing this on a summer school trip (I must have been 6 years old-ish):
I'd never have taken up this wonderful, expensive and maddening hobby (it's interesting that Centipede was designed to appeal to girls as much as boys - maybe that's why it attracted me? I knew I wanted to play it after seeing all the psychedelic colours. Maybe I was just weird (still am)).
Arcades were wonderful and slightly crazy places. There'd be the hardcore fruit machine players (usually old ladies who sat chain smoking) sectioned off in one filthy corner, the big new games machines near the front and then rows and rows of older, cheaper games further in. You could find all sorts of oddities: games entirely in Japanese, obscure Neo-Geo games and lots and lots of broken joysticks. Even now there are games I can remember fondly but can't for the life of me think what they were called.
There's something about arcade games which I think has been lost with modern AAA games. This isn't an either/or or a flame war against AAA games - they have their place - but arcade games always had an intensity right from the get-go; you might clear the first level or two and then - BANG! - you either shaped up or shipped out. Once you started to master a game, I think you could find a sense of flow that is still, for me, unparalleled.
http://en.wikipedia.org/wiki/Flow_(psychology)
Of course, part of that intensity was designed to encourage death and bring in more coins, but the cash you put in created a genuine sense of risk and reward - not just for your score, but because you might only have a few coins left and if you died, that would be it. How long you played was (usually) determined entirely by how good you were at the game and you had to embrace each game on its own terms - not just the game itself, but its controllers, the cabinet art and - especially - the sound (most games were silent until you put your money in and part of the dazzling effect came when suddenly there would be a burst of audio after you'd hit "1 player").
Most big-budget modern games - again, for me as an old-timer - are woolly. They aspire towards cinema but tend to have shallow, badly-written stories and they aspire towards masses of content rather than intensity, meaning you end up with the worst of both worlds: a game with a predictable, derivative narrative with little difficulty and little sense of mastery. There are exceptions but, in my experience, there's precious little sense of achievement; you never really have to 'earn' your right to a boss battle because the designers are so keen for you to experience the pseudo-cinematic story they have put together.
So, I wanted to make this thread as a 'shout-out' to all the great arcades you might have played in, the great arcade games you might have played and to the best home console arcade-style games. I'll start it off:
Neo Drift Out
http://www.youtube.com/watch?v=d50YE00hO98
I only found out what this was called recently - the version I played was entirely in Japanese. I watched a crowd of teenagers play it by slamming the joystick into turns and thought that was how it had to be played! That poor joystick. It was a big, chunky rally-racing game that threw huge sprites around at high speeds. I just used to hang around and watch people slam that joystick - it shows how arcades had their own customs - a lot of the time you'd pick up how a game was played by watching somebody else (how else were you meant to learn how to Hadouken?).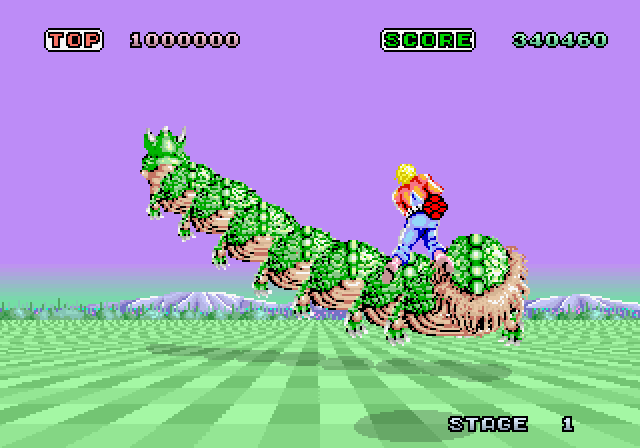 Space Harrier
http://www.youtube.com/watch?v=GOH68OsvOEI
It was the music that I really loved. I remember going with my mum to the arcades and recording the music with a small tape recorder so I could listen to it at home (I was a very popular child). Space Harrier was like entering another world; the pseudo-3D was so impressive at the time and it was just a riot of colour and surreal enemies (of course, in those days (ye old days) most games had an element of the surreal or strange in them). In the late-80s, Space Harrier was like my teleportation machine.
Missile Command
I never really played Missile Command in the arcades - it was installed on my family PC as part of an MS arcade collection but it's a game that really captured my imagination. I'm utterly dreadful at it but it's a great example of how arcade games just don't wait to dial up the intensity and how they can create a engrossing atmosphere through simple design. There's a lot of interesting stuff out there about how this game was political; about how it reflected a fear of a nuclear holocaust which couldn't be escaped, but for me I love it because it's so merciless and because the score multiplier increases so quickly you feel like a champion just for getting to the fifth wave.
You can play it here (along with some others)
http://chrome.atari.com/missilecommand/
Motor Raid
http://www.youtube.com/watch?v=a_s0wDjaWio
I don't know why I got into Motor Raid. I think it might have been because the arcade it was in was right next door to work and because it was unpopular it was only 50p a go. But it was great fun - apparently it was based on the popular Manx TT racing game but it added in weapons and a futuristic art style. It's a great example of how Sega just churned out impressive game after impressive game in the arcades. I remember their 90s games the best (Daytona, Fighting Vipers, Virtua Tennis) but there were so many others. Motor Raid's also a great example of how much a cabinet could add to the experience. I recall that it had fans that blew at you while you drove, that the bike had its own speakers and that the screen seemed huge.
….and two of the most recent ones I've enjoyed: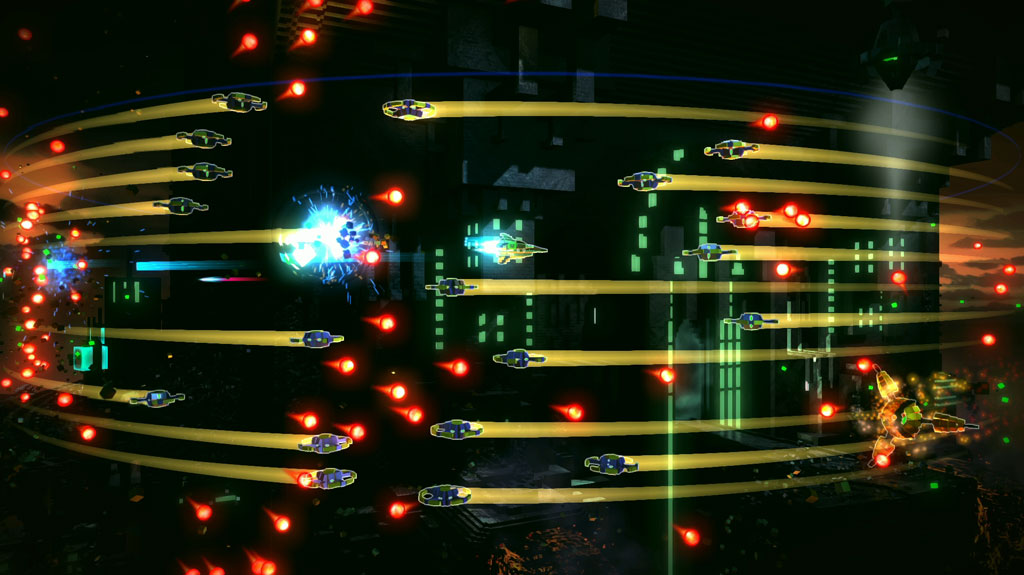 Resogun
Everyone knows Resogun, but I feel like its a great example of how an arcade-style game might appear to be simple (what could be simpler? shoot things, carry green men to green bar) but actually has huge amounts of depth. The scoring mechanisms in this game are so well put-together - whether its having to keep enough enemies on screen to keep up your multiplier, timing your overdrive to destroy the maximum number of enemies, having to use your boost at the right time both as a weapon and to move around the cylindrical play field and having to keep an eye out for the 'keepers' to make sure you don't lose any poor little green men, there's masses of strategy under the surface.
TxK
Yes, there's an OT which is still active, but TxK is a great example of flow (and I'm shameless in wanting to support the developers). The fluidity of the graphics and the pounding rave soundtrack are almost as important to the game as the way it plays, but there are little details in it which fit it right into the kind of experience I'm talking about - the quirkiness (how many games do you know that tell you when you've won a "NICE CUP OF TEA"), the sound design (chunky explosions make blasting satisfying) and the intensity - no level lasts longer than a few minutes and your focus needs to be so sharp that a half-hour session can feel like a few hours. In a good way. It's a lot more forgiving than Missile Command, though.
So….please share, reminisce, think out loud, etc! Oh, and I'm deliberately not defining what makes an 'arcade-style game', although for me there are a few common traits (permadeath, immediacy, simple controls, a high score table...).
(Or not. Honestly, it's more important than Titanfall. And more interesting than 30fps vs 60fps. Honest. (I'm joking, please don't shout at me, I'm just bitter because I have a PS4) )