First articles I have seen: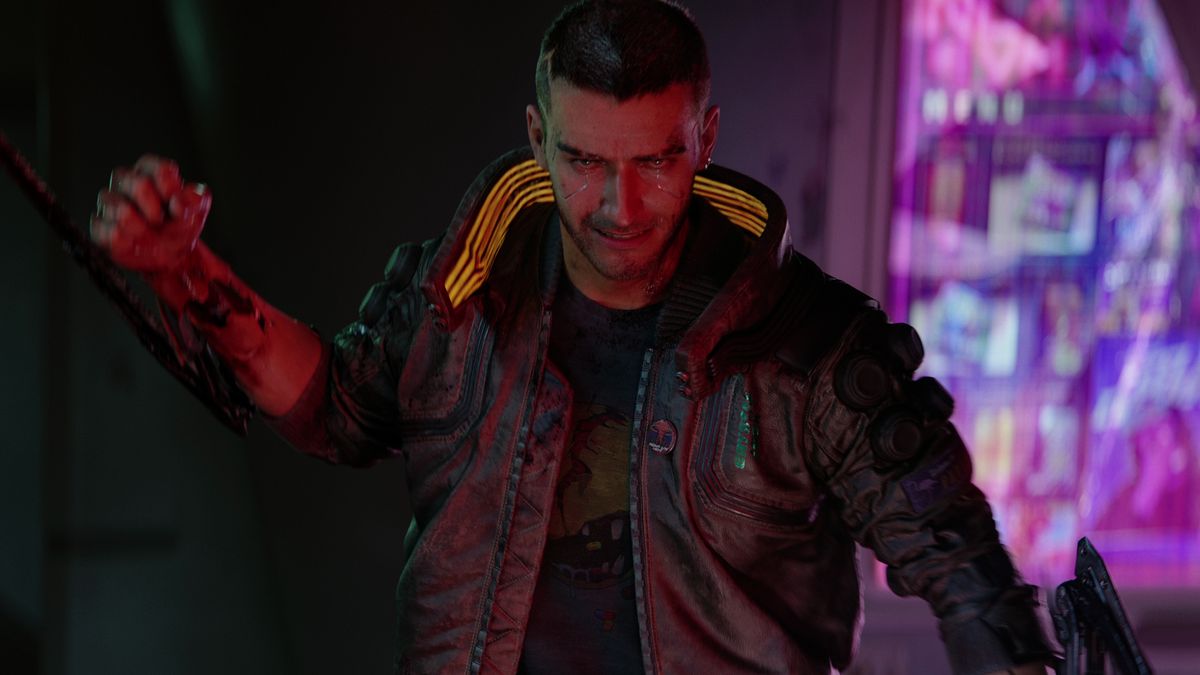 At E3 2019, we got a fresh look at Cyberpunk 2077 gameplay. Here's what we thought.
www.pcgamer.com
Keanu Reeves is pretty much Cyberpunk 2077's Cortana.
www.ign.com
In an E3 gameplay demo, CD Projekt Red showed off Pacifica, a new part of Night City, and the varying ways you can play through missions as V, the game's protagonist.
www.tomshardware.com
No jaws dropped on the floor it seems this time, but I guess it was expected. I think it
looks
reads very good.
Replayability should be great, and RPG system looks quite deep actually, considering some stats can influence your dialogue options (thats from an interview with Milest Tost).
Cant wait, we should see the gameplay in August and then thats only 7 months
E: if you find something I'll update the OP.
Easy Allies' is the best, most detailed and most enthusiastic so far:
Secret message from the collector's edition trailer, re:
when and why so late will we see the gameplay
:
Secret Message from the CD Projekt Red
Finally, after months of preparation, we can share with you two big things we have been hard at work on — CP2077's cinematic story trailer and a brand new gameplay demo! Yes, yes, we know — for now, the demo is only available to the lucky ones who managed to get tickets to E3 and the rest of you will have to wait until gamescom or the public dev Q&A unveiling stream at PAX in August. Yeah, we can already feel the bashing you're gonna give us online
. "Why are you not treating us fair", "why is the gameplay not being released right away?". The reason is we want to make the most out of the months of work we put into the demo and first showcase gameplay live at E3 and gamescom. Releasing gameplay right away would make the gamescom presentations pointless and would significantly limit our chance to build hype. Why do we need to build hype? To get more gamers interested in CP2077 and, hopefully, convince them to give it a go. We are putting our hearts and souls into making CP2077 a great game and we would like as many gamers as possible to find out about it and experience its amazing story. Also, hype can turn into sales (after all, we are not a charity), and good sales allow us to grow, take creative risks and deliver new, great games for you to enjoy.
And let's not forget about one more super important announcement — the release date. Less than a year from now, on April 16th, 2020, you'll finally be able to sink your teeth into Cyberpunk 2077.
As you probably noticed, we prepared 2 editions of the game. Why only two? Because when we pre-order ourselves, we don't like to go to Wikipedia to compare content. We have a simple deal: there's the standard edition, the one we think most gamers will choose, and a limited Collector's Edition. While we're pretty proud of the CE, we'd like to turn your attention to that first one. Why? Because we have really maxed out the physical capacity of the box with goodies. We think this raises the bar for "standard" and we hope you'll think so, too. Also, since pre-orders are live, you might be wondering if there's any point in placing an order now. Yes, if you want to give us some extra support. Pre-orders help us build anticipation — the more copies you pre-order, the more likely it is for us to get retail (both digital and physical) behind the game. Therefore, if you like what you see, we will appreciate you "voting yes" for CP2077 with a pre-order. If you are still hesitating though, we would rather you wait for more materials or reviews. Our goal is for you to truly enjoy CP2077 and not regret a pre-order.
Take care and looking forward to seeing you in Night City! CD PROJEKT RED team
Interview by the Doritos Pope with one of the Projekt leads: -
Keanu apparently recorded dialogue at CDP for 15 days and is the character with the most dialogue in the after (presumably) the Protagonist.
Also prepping early for the inevitable backlash (and taking full advantage of Valve's News Feed feature for those who pre-ordered
) Rockpapershotgun is coming in less than impressed with the demo's gunplay as well as what they see as 'Problematic' aspects regarding racial representation when it comes to the shown street gangs in the game. : -
archived 12 Jun 2019 16:57:56 UTC
archive.fo
Maybe Matt Cox from middle-class England should try and get a 1-2-1 with Mike Pondsmith so he can tell him where his vision of a dystopian future has gone wrong
Interview with the Lead Quest Designer talking about the struggles with keeping Keanu's involvement under wraps and the manifold nature of the quests and the challenges of branching storylines in an open world with branching game-play as well: -
Game Informer had a bit on some of their initial impressions from having seen the CP2077 Demo at the beginning of their daily E3 podcast
Game Informer editors share new impressions of E3 2019 gameplay for Cyberpunk 2077, talk about the reveal of a sequel to Breath of the Wild in the Nintendo Direct, and then interview John Romero (Empire of Sin), Josh Holmes (Scavengers), and Alex Hutchinson (Journey to the Savage Planet) about...
podcasts.google.com
I dare say once they've all had an opportunity to see it, there will likely be a more rounded discussion
Laymen Gaming gives their E3 Demo impressions: -
Short little interview on IGN where Keanu talks about getting involved in the project here: -
What is notable I think is that he basically only came on board about a year ago, which is interesting in the sense that the idea of Johnny Silverhand being in the game was a fairly recent development in terms of the overall project evolution.
Last edited: