https://www.wowhead.com/news/diablo-iv-monetization-explained-no-pay-to-win-328413
Season Pass and Season Boosts​

Diablo IV's monetization model will not be pay-to-win and won't include items that can be bought in exchange for player power.
Diablo IV will feature the Season Pass system, a "battle pass-style progression". Like Hearthstone and other games, the Season Pass will contain Free Tiers which can be progressed simply by playing the game. Players can also buy access to Premium Tiers, a second progress track.
As the name implies, the Free Tiers are free for all players. Premium Tiers can be bought to advance a second track that rewards players with additional rewards that won't increase character power.
Free Tiers will reward players with "gameplay boosts", better known as Season Boosts, which will help accelerate players' progress during the active season, for example by increasing experience gains.
Premium Tiers will reward players with seasonally themed cosmetics and premium currency which can be used in the in-game cosmetics shop.
Season Boosts are free for all players and can't be bought by purchasing Tiers.
Players can unlock all Tiers by instantly buying them - except Season Boosts. Additionally, players need to hit certain level milestones to apply Season Boosts.
In-Game Cosmetics Shop​

The in-game shop will feature only cosmetic items.
Players can preview cosmetic items in Diablo IV's in-game shop.
Many (but not all) shop cosmetics will be class-exclusive but can be used on all characters for the given class in the future.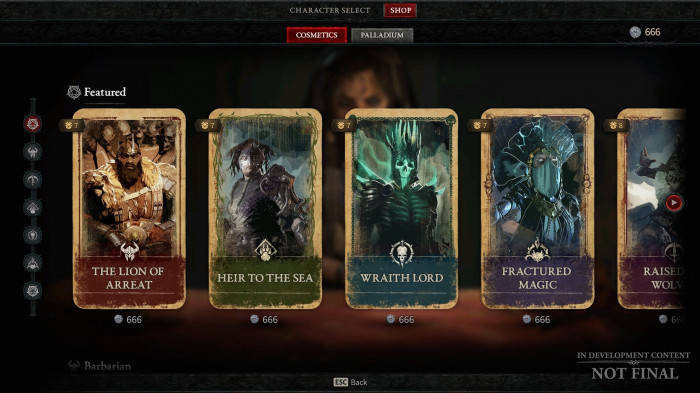 Cosmetics​

The following item slots can be transmogrified: Head, Torso, Hands, Legs, Feet, Main Hand, and Off-Hand.
Certain cosmetics will be themed around the active season and will only be available during that season.
Certain cosmetic types are exclusive rewards of the Season Pass. These types of cosmetics for example could be wings, banners, or character portraits like in Diablo III.
Cosmetics will be "grounded within Diablo's world", and players will be able to mix individual components to create a unique transmog, much like in World of Warcraft.
According to Blizzard, the best-looking cosmetic sets aren't exclusive to the in-game cosmetics shop.
So basically they're just selling cosmetics. It's not the Diablo Immortal system some people were FUDing it would be.