Yeah, you read right. And I'm sure I'm not alone.
This horrible ambiance between loneliness and an Anonymous Alcoholics meeting (all the other animals looking at you, like you did something wrong BUT I JUST PRESSED START, FOR GOD'S SAKE!), The music, trying to lure you into the whole "lounge new-age" shit, but always creepy as hell, the darkness of all the environments, the whole time-travelling mindfuck (I'm supposed to be a nice cool dolphin, trying to hit on some dolphin-whores, and then OH NO, YOU HAVE TO SAVE THE WORLD! YOU'LL HAVE TO PASS THROUGH COMPLEX MACHINERY AND STRUCTURES THAT HAVEN'T BEEN DISCOVERED FOR AGES! DON'T FORGET TO GO BACK IN TIME!)...
All this game is one giant mindfuck, glued to a best-of collection of kids' nightmares of the last decades.
Oh, and last but not least. If you DARE pass by an enemy and touch it EVEN A LITTLE, you'll be rewarded with the loss af a health point (that is okay) but also a dazzling "EEEEEUEUUUAAARRGGGHHHHHH" which looks more like a legion of mutilated babies shrieking together than a dolphin being hurt.
My only hope doing this thread is that someone comes and reveals me that this game never existed and that I invented all of this in my twisted brain, which would have spared quite a lot of nice kids back in the 90's.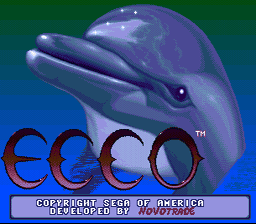 EEEEEUEUUUAAARRGGGHHHHHH