Two copies sold? That's not a bomb guys, stop trolling!!!
Mar 10, 2011
22,885
0
955
30
http://gamestalk.net/fate-extra-2/
Unfortunately, Famitsu's official site isn't working right now, so I have to resort to Gamestalk. There's the classic preview from Famitsu.com as well.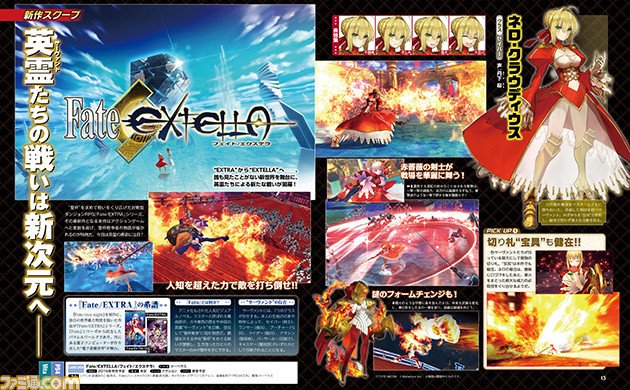 Following a countdown website this weekend, Marvelous has announced Fate/Extella for PlayStation 4 and PS Vita in the latest issue of Weekly Famitsu.

Fate/Extella is an action game that sees the curtain rise on a new battle. Playable character Nero Claudius (voiced by Sakura Tange), of the "Saber" class, is pictured in the magazine.

...

The game follows the after-story of the Moon Holy Grail War.

Servants (Playable Characters)

Nero Claudius (voiced by Sakura Tange) – A servant who fought through the Moon Holy Grail War. She also has a mysterious form change.
Caster Tamamo no Mae (voiced by Chiwa Saito) – A servant who uses various magic skills.
Saber Altera (voiced by Mamiko Noto) – Her first appearance in the main series after her appearance in Fate/Grand Order.

Misc.

Screenshots in the magazine show the characters taking out hordes of weaker enemies.

Development is 60 percent complete.
http://gematsu.com/2016/03/fateextella-announced-ps4-ps-vita