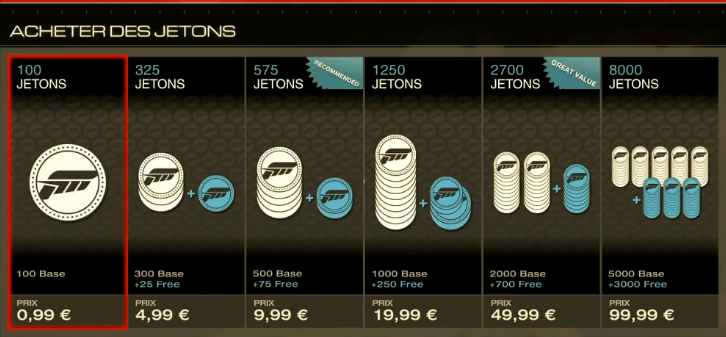 Grab from a french stream last night.
This is the price of token for Forza 5 if you don't want to gring your credits. Most of us are used to these table in most F2P and mobile game, but look closely... yes : the price are more expensive as you buy more tokens.
price per token
1€ => 1ct / token
5€ => 1,53 ct / token
10€ => 1,74 ct / token (recommended ! )
20€ => 1,6 ct / token
50€ => 1,85 ct /jtoken (Great Value !!! )
100€ => 1,25 ct /token
So Microsoft charges you more if you pay more. This is not the way to do it Microsoft, this is not how you do micro transaction especially not in a 60 dollar game.
Pay for gas if old.
Edit 1 :
I asked a

streamer

to go look at the token prices in the store

This is how it looked

so if my math is correct, that would be....

100T $1.35 74 Tokens/$

575T $6.65 86 Tokens/$

1250T $13.45 92 Tokens/$

2700T $26.95 100 Tokens/$

8000T $64.95 123 Tokens/$

20000T $139.95 142,9 Tokens/$

atleast the bigger packs get you a bit better value.
Yup, according to a quick google conversion: 65 US Dollar equals 48.28 Euro

So $65 for 8,000 tokens in the U.S. and 100 Euros for 8,000 tokens in the EU. wow.

Maybe they are heavy so the shipping costs are high?
Edit 2 :
Hi all, just wanted to quickly clarify the situation.

The pricing displayed for Token Packs in Forza Motorsport 5 is incorrect. As a result, transactions are not paying out the correct number of tokens. We are resolving this issue immediately and expect players to see the correct pricing structure and accurate token values later today. Any player that has purchased one of these packs will be credited the appropriate amount of tokens when the issue has been resolved.