Today we've gathered to pay final respects to my PlayStation 3.
Its story begins on a fateful Saturday morning in Japan. It was a sleepy, rainy day in Shizuoka Prefecture as the bright morning sunlight permeated the drizzly, overcast rainclouds, gradually turning them a brilliant white. With the growing light outside, I slowly awoke and pushed off the 7 layers of blankets I'd used to keep warm overnight -- Japan can get pretty cold in November and central heating wasn't to be had. Although the thought of camping out in Akihabara the night before had a certain appeal, the thought of simply abandoning my friends whom I'd travelled all the way from Florida to see seemed foolish in light of the prospect of sitting outside in the cold for hours to fight the yakuza and all the hired Chinese nationals for a system at the absolute earliest second. My camping experience, I decided, would be sufficient if done vicariously through Internet and magazine coverage.
Yes, all reports indicated that it was a madhouse and all of the systems got snapped up by eager customers either lined up or crowded around electronics outlets like Yodobashi-Akiba pictured above.
Anticipation for the system had reached a fever pitch
, and despite its hefty pricetag even in the Japanese market (50,000 yen or $430 for the 20GB), a total sellout seemed inevitable given the reports of Sony falling behind on manufacturing due to a shortage of Blu-Ray diodes.
So what's a game otaku in Japan for the PS3 launch to do? Although I'd gotten up at about 8 that morning, I was in no hurry to get out the door and rush on down to a game store in the rain only to be met with empty shelves. I debated with myself over a traditional Japanese breakfast consisting of bowls of steamed rice and
Choco Puffy
. My temporary roommates for those two-and-a-half weeks all had work that day, and the Shizuoka University Festival wasn't scheduled to take place until the following weekend. Since I wasn't to return to the States until after Thanksgiving and the PS3 launch there, it'd surely be totally impossible to find one without paying exhorbitant prices on eBay, I thought. Plus, Kutaragi-san had announced a pre-emptive pricecut on the 20GB model for Japan, bringing it in line with the 360 Premium pricing in the States. Despite the risks of importing and lack of any killer-apps until
Heavenly Sword
and
FFXIII
, it was hard to resist picking one up to fiddle around with.
So, at about 9:45 on launch morning, donning a jacket and with a standard black umbrella in my clutches, I was out the door on my way down to the nearest bus stop on Ooya-kaidou. It was far too rainy out and the PS3 far too bulky to simply ride my borrowed bike to the store and back, so it made for a leisurely hike. Riding the bus towards downtown and along Kanebou-doori parallel to Shizuoka-eki, I spotted my destination,
the A-Too outlet at Magarikane
.
As I walked in, I was somewhat struck by the eerie calmness of the scene. There were no bustling crowds at this local game shop, no hullabaloo whatsoever for launch. In fact, just the opposite: there were maybe 2 or 3 other customers quietly perusing the shelves in the narrow aisles. Undeterred, I walked up to the counter and asked if there were any PlayStation 3 systems, to which the clerk replied by asking if I wanted a 20GB or a 60GB. It wasn't sold out. I was in shock. I asked how much they were charging for a 20GB... 50,000 yen. Out came my wallet and five
Fukuzawas
(
it's all about the Fukuzawas, baby...
). At 10:24 that morning, I was a new PS3 owner.
Unfortunately, the launch lineup left much to be desired. I wasn't particularly inclined to shell out upwards of 7200 yen on
Ridge Racer 7
,
Gundam: Target in Sight
,
Genji: Days of the Blade
, or
Resistance: Fall of Man
, so the hardware alone was what I carried back with me as I attempted to keep the box out of the rain and under the umbrella.
Without any games, an HDTV and Blu-Ray movies, or ethernet port near the TV, my PS3 remained safely hidden beneath my bed for the remainder of my visit to Shizuoka. It wasn't until the eve of my departure back to the States that I finally decided to try hooking it up in my hotel room at Nippori for a sanity check. It wouldn't do to leave the country without at least making sure it worked, and it did to my no great surprise. The XMB was as advertised, though there was nothing I could really do with it. The journey back to Orlando was bound to be fraught with peril for my PS3, as I had little alternative to packing it in with my checked luggage and hoping for the best. Amazingly enough, it arrived in pristine condition when I received it at customs in Detroit. My biggest hassle there was over a convenience store pastry called pizza-mahn, which apparently contains meat. But that's another story. Now fairly confident with transporting a PS3 by air, I was fairly appalled to discover that the Detroit airline crew lacked the white glove approach of the good folks in Japan, inflicting several sizeable dents in the once-pristine box. Fortunately, the system arrived intact.
Hooking the PS3 up upon my return here to Orlando, but now with the network connection at the ready, I promptly downloaded all of the movies and game demos I could. What's some free entertainment after shelling out for some expensive hardware? As it turns out, you get what you pay for... The filler content ran out of gas rather quickly, so there the PS3 sat.
The next time it saw a good deal of action was when I flew home for the break between Christmas and New Year's, PS3 in tow. As a custom carrying case ran $60 at retail, I instead opted to carefully transport it in a backpack stuffed with grocery bags for padding. For Christmas, I received a 100GB 3.5" SATA hard drive, for the express purpose of installing in the PS3. Surely it would last beyond the lifetime of the console. How right I would be... Upon connecting the PS3 to my father's home theater setup, the system really came to life. The graphics on each of the demo titles was sharp and clear, as were HD trailers and rented Blu-Ray discs
Ice Age: The Meltdown
and
Silent Hill
. However, comparing it with HD-DVD discs on the same setup, no discernable difference picture quality could be noticed.
Yellow Dog Linux
was installed. This same week, I had some friends over to watch a movie and try out the PS3 for a bit. The GTHD and Resistance demos got some quality game time in, as did the NBA 07 demo when another friend visited.
In late February, I downloaded
flOw
and chilled out with it for a few game sessions. A purchase of
Virtua Fighter 5
was contemplated, but ultimately passed upon in light of news of a later 360 version in addition to Soul Calibur III remaining in its factory shrinkwrap on my shelf.
In late March, the
Folding@Home
client was finally released. I immediately awoke the PS3 from its hibernation to install the new app, setting it to the good work and contributing to
my score
on
Team NeoGAF
. Night and day it folded, crunching numbers at a shocking clip in the name of science. The PS3 was finally being truly put through its paces.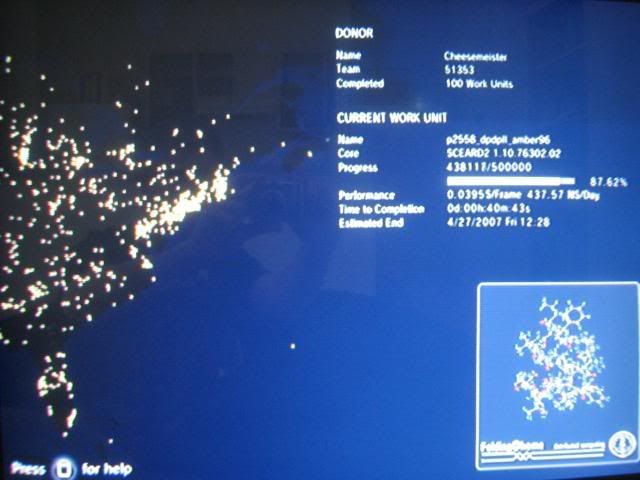 For over 6 weeks, the PS3 folded almost non-stop... Until it had completed 130 work units. On the morning of May 7th, I flipped the switches on the TV to check on the folding progress to find a frozen screen. This was fairly alarming. Resetting the system, the same problem occurred about 5 minutes after firing it up. This was bad. Attempting to run another application, I finally tried playing the Ninja Gaiden Sigma demo... which froze up after a short while. This was very bad. Now what's really odd about this picture freezing issue is that it seems the rest of the system is still rolling along in the background, music playing or XMB menu clicking in the background in response to controller input. All the same, a video game console is worthless without video output, and therefore the call was made to Sony this past Sunday despite my system's questionable warranty status. Although I knew the risks going in, I dread having to pay SCEA $150 to replace my system. Yes, that's the price to replace a PS3 out of warranty, which is absurd since there's a 1-year warranty and we're only 6 months from launch.
So, my Japanese launch PS3 may be gone, but it will not be forgotten. Its coffin will arrive from SCEA on Friday. This eulogy will be updated with the results of the customer service request for a replacement, be it a North American or Japanese system, covered under warranty or not, or simply returned in its broken state having been refused.
Cheesemeister's PlayStation 3
11/11/2006 - 05/07/2007
R.I.P.
Update 05/19:
Do not stand at my grave and weep
I am not there; I do not sleep.
I am a thousand winds that blow,
I am the diamond glints on snow,
I am the sun on ripened grain,
I am the gentle autumn rain.
When you awaken in the morning's hush
I am the swift uplifting rush
Of quiet birds in circling flight.
I am the soft starlight at night.
Do not stand at my grave and cry,
I am not there; I did not die.