Apparently, the new God of War with its Norse mythology setting has switched to shoulder cam, which made some members ask themselves if we will still experience fights against giant, titan-level bosses during the game.
In this thread, I want to show and discuss possible candidates for boss and semi-boss fights resulting from the new scenario, as well as recap some amazing details of the E3 trailer. But first of all, there is a question to be answered: Will the new shoulder camera prevent us from experience those fights in the first place?!
Well, if you thought that the new cam and / or setting will reduce the size of potential candidates being axed by Hippster-Kratos, guess again!
Now, first you have to know two things before I go into detail about those big new enemies. First of all, the premise is that it is not a given that Kratos is going on a killing spree to get his revenge on the Norse Gods like Thor, Odin and Loki.
We don't know anything yet about why Kratos turned up where he is now or who or what brought him there. So this game isn't necessarily about the classic "Kratos fights Gods and Titans and gets their mojo" approach, which made past GoW games so great.This is why I won't disguss fights against those well-known Norse Gods, we are all familiar with, thanks to Marvel
.
Furthermore, you have to know that the E3 trailer of God of War was packed with amazing details, some of them hidden well so they are popping up days after the show, here are some examples:
Now, here's the literally big one:
For those familiar with the trailer, this is the scene were we see the whole scale of GoW's landscape, and surely the approaching Dragon catches our eyes. So, while most of us looked at that Dragon, there was a "little" detail which could easily be missed, a potential enemy which seems to be the much, MUCH bigger threat for Kratos and his son: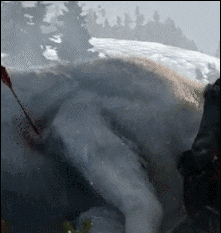 Yes, that seems to be some giant snake moving from the right to the left, and some of us think it's big enough to qualify for being the famous Midgard Serpent, also known as Jörmungandr or the World Serpent:
This indicates we'll be able to fight some of the trademark creatures of Norse mythology.
Here are some other candidates: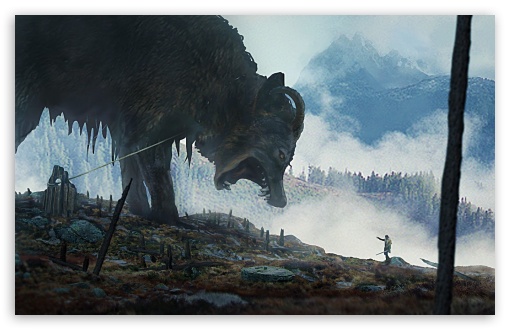 Fenrir
Surtr, the Devil Giant with the flaming sword
Now, those three are the "big ones", as they take a major role during the event of Ragnarök, but as you might know, the norse mythology speaks of nine worlds, each having different kinds of inhabitants, like the Giants called Jötunn or Jötnar.
tl,dr: I have no doubt that GoW will deliver amazing epic fights against giant enemies.
Are some of you familiar with other potential enemies standing in the way of Kratos and hin son?
EDIT
Apparently, Eurogamer made a nice video which summarizes all the findings so far:
https://www.youtube.com/watch?v=WT2xbPzYqsQ