thinks Halo Infinite is a new graphical benchmark
This is originally a 2009 game developed and published by Capcom for PC, Xbox 360, and PS3 and than Switch, PS4, and Xbox One versions were released in 2016.
Larger picture, RE8 hype and the recent spring sale on PSN got me to RE5 again. This game keeps you on a momentum trip going forward, there's little to no backtracking which means you are done with locations and never return to them which is a major change for the franchise even by RE4's standards. You aren't spending time collecting keys to a mansion or police station storage room for two hours like in RE1-3. Macho gamers will appreciate this thriller aspect.
You can move so much more faster because of the revamped inventory management system that makes you more deadly.
After every chapter you get context on what happened.
Plot wise, you play as a confident Bioterrorism agent (Chris Redfield) entering a village in Africa with infected people scrambling.
At this point in the game, your inventory is low, you just found your first gun with horrendous power and overall the story is in heavy development.
There's 6 main chapters spread across 15-20 hours of gameplay in Africa, Chris and his partner must track down the minion (Irving) of the main villain (Wesker) and save the world from chaos.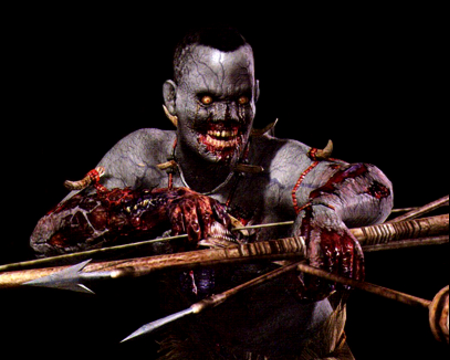 Controversial decision to not have traditional zombies. I won't defend the decision.
I love that despite being a thriller the game still has a classic horror feel to it like restoring health under pressure, and solving basic puzzles.
Resident Evil 5 is all about speedy gameplay and gives a serious nod to games like Gears of War, some consider it Capcom's worst game ever. The plot doesn't connect to previous mainline RE games and that can give you a headache trying to connect the dots and it's clearly meant for people that played other Resident Evil games not apart of the main series.
I believe RE5 is better than a 69, obviously people hate the controversial decisions like having a partner, no connection to Raccoon city, pace etc. but stepping back and looking at RE5, is a powerhouse of originality and a respectable Resident Evil installment, it's RE4 personified. I give the game a 9/10 hell yeah and it's clear Capcom is running in a completely different direction with RE7, and the upcoming 8.
Chris is cool, discovering the mastermind of Umbrella and battling him is amazing and I have a feeling we'll see an action adventure open world game from Capcom based on RE at some point. What does GAF think of RESIDENT EVIL 5?