Jun 17, 2006
11,649
0
1,170
47
Since the demographics in the OT are a bit more mature than other parts of GAF, let's share the love for fine wristwatches and timepieces.
I was first attracted to wristwatches when I saw this one in a documentary about 20 years ago:
it's an Omega Speedmaster Professional, also called the "Moon watch" because this model was the first non-russian watch to go into space and even went to the moon with the Apollo 11 crew.
Extensive but interesting writeup on the "watch" History of the NASA:
http://home.xnet.com/~cmaddox/moonmovement.html
That watch was WAY out of my price range then and still is now, but it got me started on watches with a certain history. Also, my focus shifted from Pilots watches to Divers watches, for the sheer ruggedness and ease of reading them.
To make a long story short, with increasing age and income bracket, I have been able to cater the fetish for a few years now. My collection conssits of the following memorable ones at the moment:
An Orsa Sea Angler, a limited Edition run of a Canadian dive watch for members of a watch forum I post at, only 25 pieces were made in total, of this particular model only 10 were produced.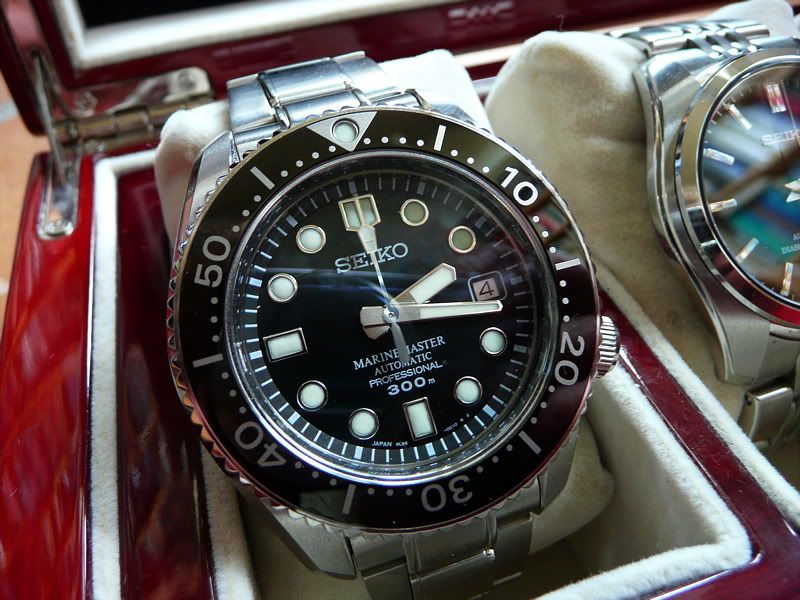 A Seiko Marinemaster (Ref.Nr. SBDX0001). This watch is the re-edition of a classic Seiko Divers watch. The most memorable points about this watch are the movement, which is only used in two models within the whole Seiko watch range, and the case of the watch. the body of the watch is milled form a single piece of steel, no caseback on this. Seiko is known for its affordable watches to the general public, but there are several high-class models in the collection that are only sold in Japan, unfortunately. Here's a shot of the beautifully executed hands and dial of this model: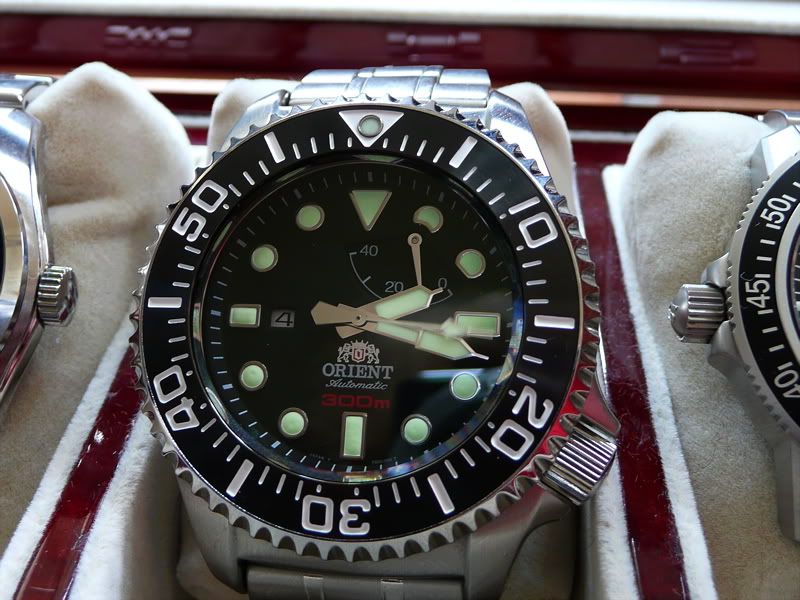 An Orient 300m Dive watch. Also using an unique movement, this watch is by far the heaviest of my collection, weighing in at around 200 grams. Attributing to the weight is the sapphire crystal used on this, it's 5 millimeters thick. Here's a size comparison with a standard-sized mens watch: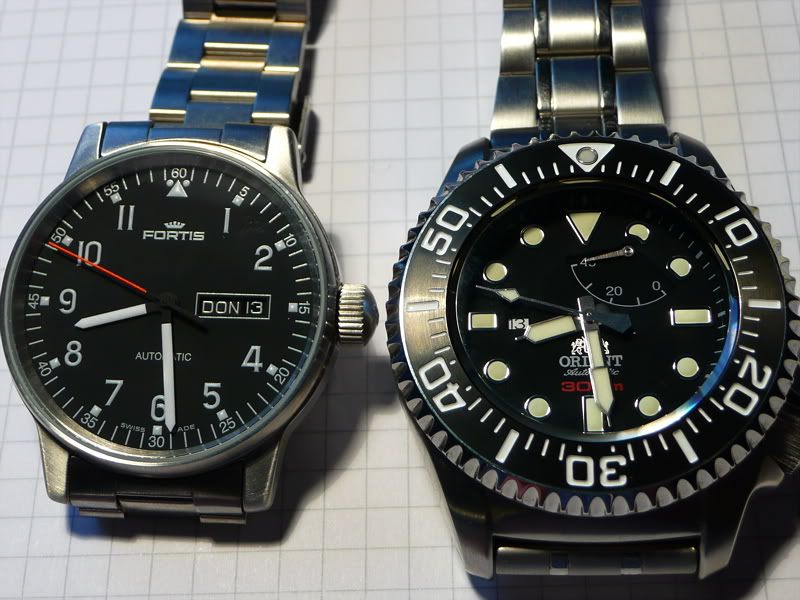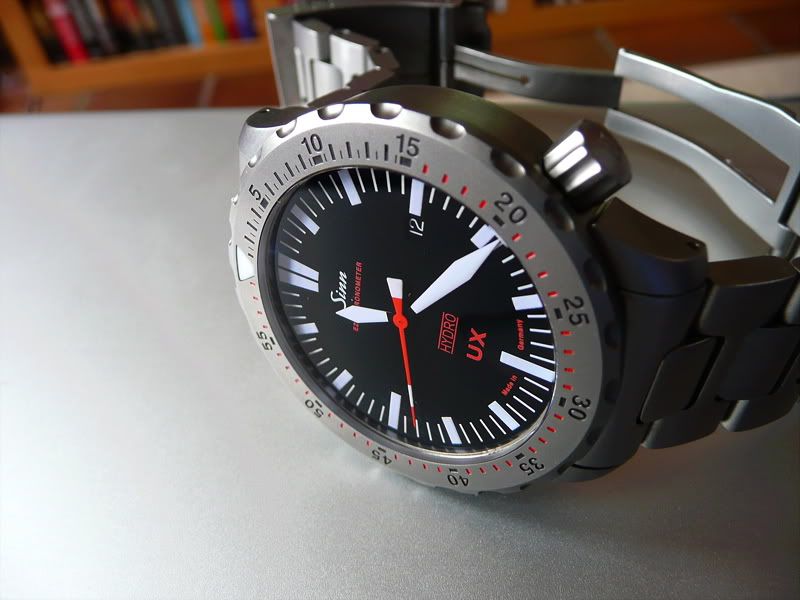 A Sinn UX. Made by a german manufacturer, this is the only quartz watch in my collection. Interesting about this watch is that the case is filled with teflon oil, resulting in a gorgeous readability of the dial even under extreme angles: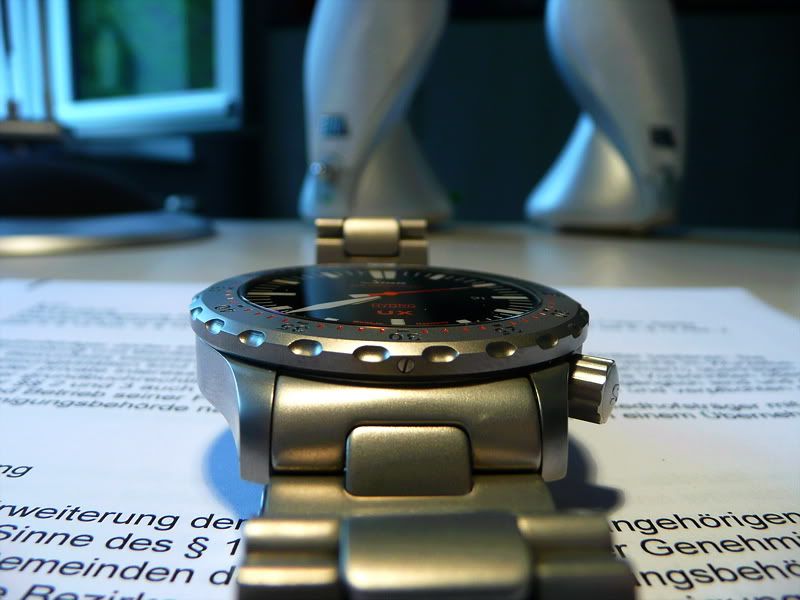 Originally intended for divers to work against refractions while in the water, this makes a great watch for meetings, as a quick glance will tell you the time wasted already :lol . The movement used in this watch is among the most accurate non-radio controlled movements in the world, with an accuracy of +/- 4 seconds a year.
Also from Sinn, an EZM 3 automatic wristwatch. I bought this one to have a smaller alternative to the watches above around. It has become my daily watch in the new job as it fits fine under shirtcuffs. The case of this watch is filled with Argon gas to prevent oxidation of the movement. The watch also features a small capsule filled with copper sulphate which serves as a backup with the same purpose (the bluish spot):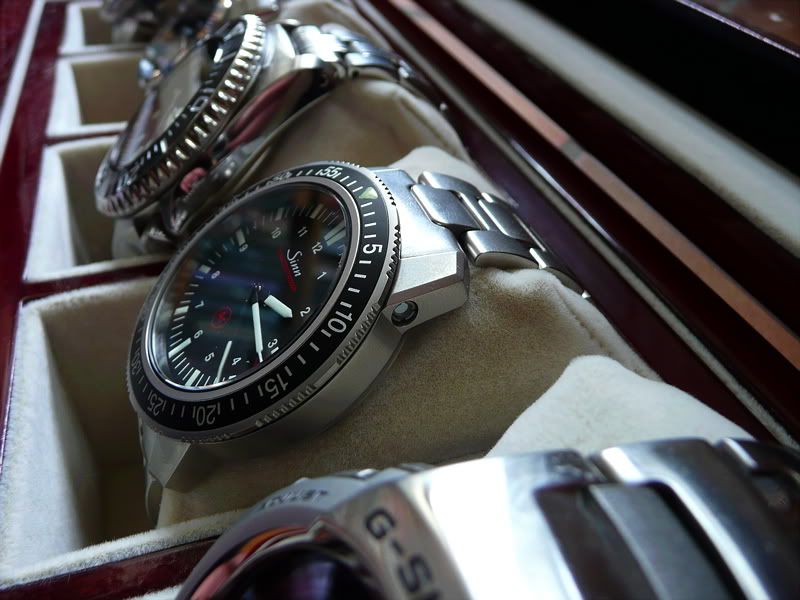 So, if you share this hobby or want to know more, feel free to post your watches/collections/questions/whatever!:lol