With Microsoft (and potentially Sony as well) going the extra mile to distort public perception towards their anti-consumer next-gen entertainment hubs through astroturfing initiatives on GAF, Reddit, Facebook and elsewhere, I think we as self-interested gaming enthusiasts should give them a taste of their own medicine when their new toys launch this November.
This is what I propose.
First off, we need to identify the most high-traffic retail location that will be holding launch events for the Xbox One in our local communities. Whether this is a Best Buy, GameStop, GAME, HMV, Future Shop, Walmart, Target, Microsoft Store, Toys R Us... whatever it may happen to be. Ideally, you want the store that will be allocated the largest quantity of systems on launch night.
Obviously, the same logic will also hold for the PlayStation 4 if it is equally guilty of pushing an anti-consumer agenda... just replace the Microsoft Store up above with Sony Store locations.
Once you have identified that store, you will actively seek out when system pre-orders will be available to the public and you will put the minimum deposit down to secure yourself a system. Whether it's $50, 100 Euro or whatever it might happen to be.
The intention here is to artificially misrepresent your purchase intent for these systems... when you have no intention of purchasing them at all. This is no different than what Microsoft's armies of astroturfers are doing. They act through misinformation and distortion and so will we.
Your deposit serves an additional purpose. It will ensure you can hold a visible place at the head of the order line that will enable you to communicate with other people in it. And potentially the media as well. You will have a paid deposit pre-order receipt so GameStop or whomever your retailer of choice happens to be will not turn you away.
If you have friends who are similarly outraged, encourage them to do the same. It will give you a larger assembly of people and eat up pre-order allocation for these systems. You can also place pre-orders at multiple locations should you choose even though you can only physically be present at your chosen store at launch.
Spread the word of this initiative at your local indie & mom-and-pop game stores whose very livelihoods are now threatened and under attack and you may even be able to mobilize a large group.
On launch night, you will show up hours in advance with a printed stack of the Xbox One "You Cannot" forms printed out that can be easily distributed.
Focus your efforts on parents, college students and the media should they arrive. Hopefully we'll have T-Shirts made up like this one.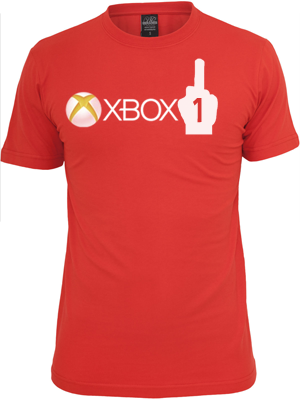 Don't be disruptive or incite gamers once you're in line. Some people for whom money and consumer freedoms are of no concern will be bound and determined to buy the system no matter what you do. You will be there to inform and make a statement to those who aren't making fully informed purchasing decisions.
Lastly, once you actually go inside at midnight with your pre-order deposit, you will simply turn over your purchase receipt and ask for your money back. If the retailer's policy prevents you from reclaiming your deposit, purchase the lowest-margin item you can find (preferably a digital marketplace card for iTunes, Nintendo eShop or something similar) and advise the retailer that they will not get your business until they no longer stock the Xbox One (and/or PlayStation 4) or these anti-consumer policies are changed by the system manufacturer.
Imagine their reaction if you have a large group of like-minded individuals at the head of the line... all turning over their pre-order receipts and leaving empty-handed after waiting hours in line JUST to make a statement.
Anyone have any ideas/suggestions to contribute to the above plan of attack? Should we look at registering a domain or setting up a page on Facebook to build interest?