General Info:
Publisher:
Microsoft Games Studios
Developer:
Lionhead Studios
Platform:
Xbox 360
Price:
$59.99, and $69.99 LCE
Release Dates:
--North America: October 21st
--Australia: October 23rd
--Europe: October 24th
Players:
1-2 On/Offline
Ratings:
PEGI: 16+
ESRB: M (Mature)
OFLC: M (Mature)
BBFC: 15
Official Websites:
UK Website
US Website
Lionhead Website
Tales of Albion, three short stories detailing the events before Fable 1, after Fable 1 and right before Fable 2. Requires Microsoft Silverlight 2.0.
Official Site with flash adventure where you can win items and gold for your game
Boxarts:
Standard Edition:
Limited Collectors Edition: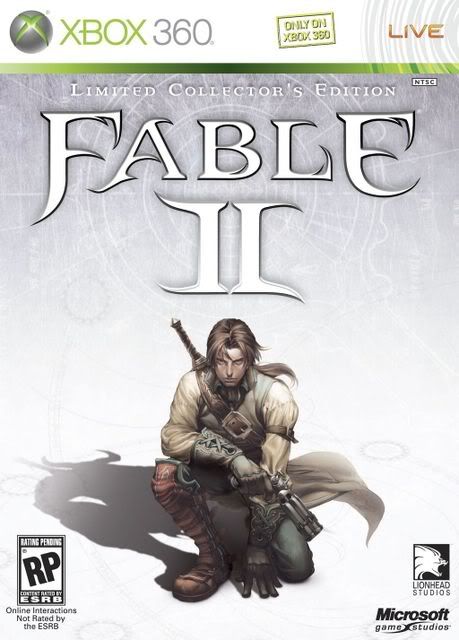 Wikipedia said:

The Limited Edition features :

* 1 token card for in-game content (downloadable over Xbox Live)
* 1 Live trial card – 48 hours
* Bonus disc containing the "Making of Fable 2"

An Xbox Live account is required for the following items:

* "The Wreckager" Legendary Cutlass Weapon
* "The Hall of the Dead" Dungeon
* Otherworldly bonus - advertised with image of an outfit reminiscent of Master Chief and a look alike to the Energy Sword found in Halo.
Features:
One Button Combat:
All combat is designated to a single button for the three forms of attack. Melee(X), Ranged(Y) and Magic(B).
Wikipedia said:

All combat is context specific, so that, if a player is on top of a tower, pressing a particular button may cause the player to throw an enemy off of the tower rather than attack with a weapon.


Additional features are to be included:

* Positional advantage: if an enemy is above the player such as on stairs, they have a tactical advantage
* Skill increases: better combos and flourishes become unlocked as the character progresses
* Weapon specific attacks: the character's combat style will change according to the kind of weapon they are using.
* Ranged weapon targeting: while using a gun, the player can aim more accurately by using a crosshair.
* Unlike the first game, Fable 2 will not have a mana bar. Instead, the player has to charge a meter, thereby unlocking the ability to cast higher level spells.
* If the player presses and holds the X button he will block, and holding down the button while moving the analog stick will unleash a flourish.

Weapons include: guns, axes, swords, hammers, pole arms and maces. Longbows will not be in Fable II due to the appearance of guns. In Albion, however, crossbows will still be available.
Dog:
Wikipedia said:

Early on in the game (approx 45 minutes real time) the player will encounter a pet dog that will stay with him or her for the rest of the game. Every dog will be unique in some way and will change appearance and personality depending on a variety of factors, including the player's alignment. Obeying three built-in laws (do not irritate the player, unconditionally love the player and self-preservation), the dog features advanced AI. Behavior is context-specific; the dog will stay much closer in towns or when the player is hurt in battle, and if the player goes to a shop the dog will wait outside until the player leaves the shop. It is, to a degree, trainable using expressions.

The dog will assist the player by performing a variety of tasks, for example:

* The dog can alert the player to threats without alerting enemies of the player's presence; as such the dog has replaced the mini-map which was present in Fable.
* The dog attacks whichever enemy the player is most vulnerable to. If there are two enemies ahead, one with a gun and one with a sword, a player wielding a sword would be vulnerable to the enemy with the gun, so the dog would attack the gunman.
* The dog also uses many different barks, growls and whines each informing the player of something of particular interest or importance.
* The dog will be programmed with advanced AI so it can gradually learn different behaviors. For example it will eventually know how to call the player's attention in a time of threat or to let the player know of any hidden treasures.

Some of the interactions players can have with their dog include buying toys, playing fetch, rewarding or punishing their dogs for their actions, and hiding from it.
Co-op
*Players will be able to invite another player into there game at any moment of play online or offline.
*Offline co-op guest can be chosen from either a prefab character or can be imported from an existing Fable II save on the systems harddrive or memory card.
*These second players will not have a dog and, if the safety feature is turned off, can do anything they want in your world leaving a permanent mark.
*Host players will be able to choose how much gold, experience and renown their guest will receive while playing in their world.
*Albion Orbs are purple orbs that will represent XBL friends playing in their world in realtime. Players can initiate coop via these orbs and also exchange items.
*All experience, gold, and renown a guest player accumulates can be imported back to their world.
*Clothing and armor no longer have any kind of defense rating, all armor/defensive stats are under the toughness skill.
*Weapons and clothing/armors can have slots to equip augments.
Miscellaneous:
*You can play as either a boy or a girl, starting at childhood and advancing to old age.
*Age is based on quests done and story events, not experience like the original. The max age is 50.
*Fable II is set 500 years after the events of the original Fable.
*You can get married, have sex and have children. As well you can have same sex relations and marriages.
*You can buy every building, cave and dungeon in the game.
*Fable II's world is said to be 10 times the size of the original.
Screenshots:
(Click to Enlarge)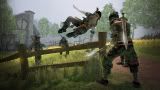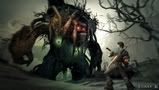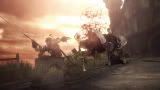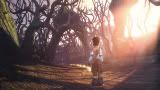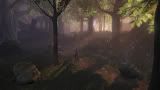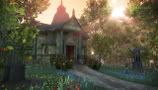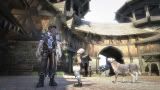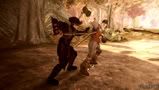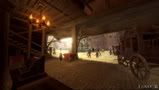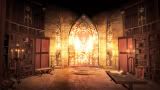 Videos:
E3 2008 Trailer
HD
,
SD
The World HD(Right Click Save As)
GT Peter Molyneux Interview
HD
,
SD
E3 2008 Dev Walkthrough Pt. 1
HD
,
SD
E3 2008 Dev Walkthrough Pt. 2
HD
,
SD
E3 2008 Dev Walkthrough Pt. 3
HD
,
SD
Lionhead Dev Diary 1 Emotions in Action Games
HD
,
SD
Lionhead Dev Diary 2 Research, look and feel of combat in Fable II
HD
,
SD
Lionhead Dev Diary 3 Central Technology Group
HD
,
SD
Lionhead Dev Diary 4 World Design in Fable II
HD
,
SD
Lionhead Dev Diary 5 Magic and Multiplayer
HD
,
SD
Lionhead Dev Diary 6 Art and the Hero
HD
,
SD
Lionhead Dev Diary 7 Music and Audio
HD
,
SD
Previews:
IGN: The First Three Hours
Gamspot: Hands On
1UP: Dual Hands On
Reviews:
Gameplayer: 9.5/10
Eurogamer 10
OXM US: 9.5/10
Edge: 9/10
Gamezone German: 9.1
Videogamer.com 9
CVG 9.2
Consol.at 90%
Arstechnica: Verdict Buy
Gamepro Germany: 88%
RPG Site 9.6
OXM UK: 8/10
Kikizo: 9/10
Planet Xbox: 9.5/10
Daily Game: 7.8
Gamesradar: 9/10
IGN UK: 9.5/10
IGN 8.8
TXB 8.9
Planet X360 9.5
Download Content
:
Knothole Island:
Out now for 800MS Points for Premium Content Package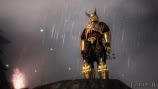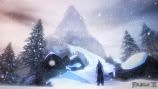 History of Knothole Island
Hundreds of years ago, the tribe from Knothole Glade discovered the existence of an island far off the mainland said to offer its inhabitants full control over their weather. Tired of constant Balverine attacks and damp, dreary weather, the tribe elders decided they would find this mythic island and settle there. The ancient civilization who originally lived on the island created the magical artifacts that control the weather, and hid them in dangerous caves so that their warriors would be tested every year.
The Chieftain
He's middle-aged and a typical, slimy politician. He takes credit for everything the Hero does when things go right, and is quick to blame anyone else when they go wrong. Puffed up, avaricious, self-important, uses big words.
Jessica
Owner of the Box of Secrets shop, where explorers can trade for extraordinary items she has collected over the years. She's independent and one of the few people who stands up to the Chieftain.
Gordon
A shy inventor who is sent to mainland Albion in his submarine to find a Hero to save the island from the freezing weather. He spends most of his time creating incredible items such as the Flying Lute Axe, and having spent all his life on a small island, is amazed by the bridges and cranes he sees in Bowerstone.
Key Features
* Embark on 3 unique quests set in 3 unique dungeons.
* Unravel the mystical secrets of the resurrection shrine.
* Try on a whole new range of outfits and look like an armoured knight, an assassin, a barbarian or a leather-clad biker, among many others.
* Brandish 6 new weapons.
* Dozens of unique potions that will drastically alter your appearance.
* Customise your weapons the way you want with the new augment tool and a whole new array of augments.
* +50 additional leaderboards.
See the Future:
Out this May for 560MS Points for Premium Content Package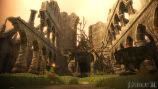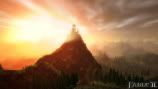 See the future
Players will be given the chance to heed the call for a hero to restore color and balance to the world, or let Albion fall to the wayside. Those who emerge victorious will receive the ultimate reward: a quest that provides a vision of Albion's future and what lies ahead for those born into the heroic bloodline. The fantastical new quests in "See the Future" will bring players face-to-face with new characters, creatures, events and legendary artifacts!
Murgo is back
Having first met him during the childhood sequence of Fable II Murgo returns to Bowerstone Market to bring an amazing array of new wares, including potions that can transform canine companions into new breeds.
The Ghosts of the Snowglobe Quest
Holding a disturbing secret, the small model village inside it was once a real town in Albion. The people who once inhabited it are now ghosts condemned to endless torment until the shadowy threat that cursed them is defeated.
The Cursed Knight Quest
Forever banished to a land beyond the dead, the Cursed Knight awaits a hero who has the strength and will to dress up in convincing costumes, even imitating a hobbe or balverine, to save him from his fate.
The Colosseum
The Colosseum puts even the Crucible to shame. Only the greatest heroes have triumphed here. Players' abilities will be put to the test to prove themselves in combat once and for all, to win the ultimate in prizes.
In addition, "See the Future" offers free unique items to all, including Welley's soldier helmet and other clothing, a braided ponytail and other hairstyles, psycho Jester make-up, a new hero expression, the back flip trick for canine companions, and a collectible Murgo the Trader gold statue.