DONT BE AN IDIOT AND PLAY THE GAME WHILE DRIVING. DON'T GO INTO RESTRICTED AREAS. WATCH WHERE YOU'RE GOING.
Also Known as:
Pokemon GoUpgradeTheServers
Pokemon GoToChurch
Pokemon GoInStrangersYards
Pokemon GoDriveWithYourPhoneOut
Pokemon thereGOesMyBattery
Pokemon GoToTheGymButNotThatKindOfGym
Pokemon GoWalkAroundTheParkLookingLikeACreep
Available for: Android [4.4.4 or later] and Apple [iOS 8.0 or later] devices
* July 12th 2016; updated to 1.0.1
- Trainers do not to have to enter their username and password repeatedly after a force log out
- Added stability to Pokémon Trainer Club account log-in process
- Resolved issues causing crashes
- Fixed Google account scope
Pokemon GO is now available in many different countries! Please check your regional app store to see if it's available!
Welcome to the World of Pokemon aka Earth. That's right, for the first time, Pokemon are right here on our own planet! They're in your house! Outside of your house! They watch you while you sleep!
When you first start up your game, you'll be prompted to log in with either a
Pokemon Trainer Club Account
or a Google/Apple(?) account. We've got a lot of reports that the PTC is being hammered so it might not be a bad idea to just log in with your regular app store account.
After logging in, Professor
bishounen Rick Sanchez
Willow will give you a real quick rundown of everything. Bulbasaur, Charmander and Squirtle will appear at your feet and you'll start the battle sequence. Essentially for capturing Pokemon in this game, you'll be flicking the Pokeball towards them and hoping for a capture. So far it's been relatively easy to capture any Pokemon although you may go through a few balls. You start off with around 50 so you wont have to worry too much for a little bit.
why he dress in layers though. its too hot out for that.
After catching and entering your username, you'll be free to start exploring! Basically, simply walk around with the app open and your phone will likely buzz when there's a Pokemon that has appeared!
Before you ask what the "nearby" thing is...we haven't really figured it out yet. It seems to indicate the distance away a Pokemon is, but some people have seen them despawn, or just not be accurate at all. It's best to just keep it as a reminder of what Pokemon may be in your area than what you'll be able to actually capture.
You'll want to capture more of the same Pokemon as well because you'll get "X Candy" which is how you'll evolve and "train" your Pokemon.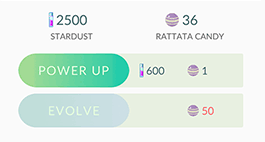 Each capture usually grants 3 of that Pokemon's candy (evolved stages may give more?) and if you have extra mons, you can send them to the Professor to get one of that type of candy as well.
It might be a good idea to hang onto extras because.....
You gotta fight for what you believe in! Pokemon Gyms are available in random places throughout our world (likely similar spots in Ingress) which you can challenge, train or take over.
You wont be able to do so until Level 5 though so make sure you capture lots of Pokemon!
When you challenge a Gym for the first time, you'll get to choose a team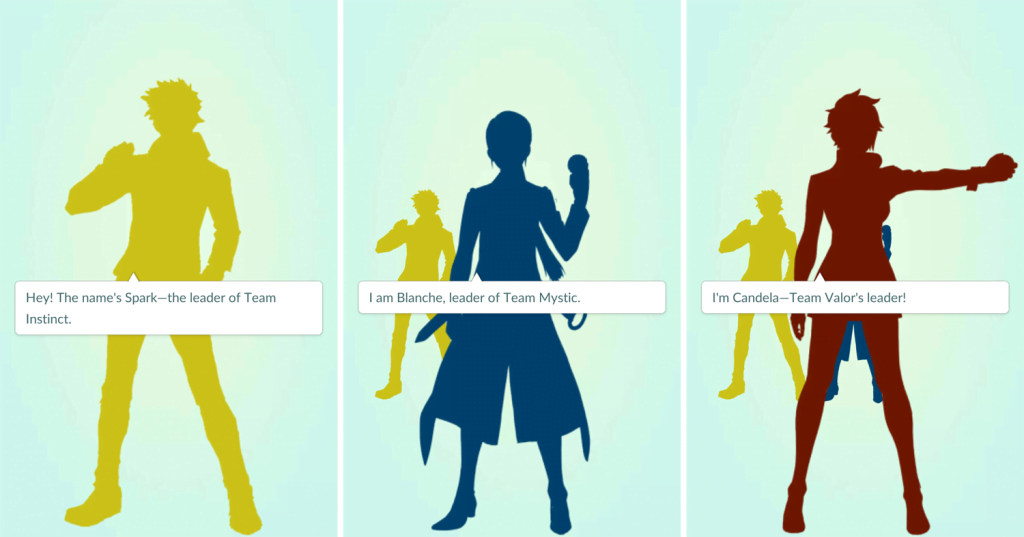 When challenging a gym, you'll be fighting a Pokemon left there by another player. If there isn't one, you should be able to simply capture it..and leave your own Pokemon there to protect it! (that's why you might want to hold onto stronger extra Pokemon!)
In battling, you can either:
Do a 'Fast Attack' – tap your Pokemon to perform this move. This charges your 'special meter'.

Dodge attacks – swipe left or right on the screen when your opponent strikes to avoid taking damage

Do a 'Special Attack' – once that special meter is charged, press and hold on your Pokémon to perform the move. This will do considerably more damage to the opponent!
A Pokémon faints when all of their HP is depleted, and a battle won when no more Pokémon remain on the opponent's side. Damage depends on your Pokémon's 'CP' (Combat Points). Higher level Pokémon have a higher CP rating. This number differs from Pokémon to Pokémon (even those of the same species). You gain more access to more powerful Pokémon with higher CP the higher your trainer level. However, evolved Pokémon tend to have a higher CP than unevolved ones, and so forth. Type advantages and your Pokémon's moveset will come into play as well.
If there's other players in your area of the same team as you, you can team up and fight the enemy Pokemon to capture the gym for your team. If you encounter a gym of your color, you can leave a Pokemon to help defend it, or train there and power up your mons!
PokeStops are the other locations you'll find in the world. These places are simply checkpoints you can visit and get items from. Simply get close to one, tap the icon and spin the image to receive 3 items. (You should be able to visit again in 5-10 minutes)
You can get lots of great stuff from PokeStops like more Pokeballs, incense (to capture Pokemon!) and even eggs which you can incubate and hatch.
They mostly seem to be at churches or memorials throughout many cities, so check there first. You're bound to find some.
Sponsored Locations
Sponsored Locations are PokeStops that a company has paid for to appear in the game. Basically, this should simply mean that the PokeStop is at a physical store, in the hopes you'll visit and maybe buy something.
So you're probably wondering about Legendary Pokemon like the birds and Mew/Mewtwo. Well.....so far we've gotten no indication of where they could be, or if there's more than one or anything really. So stay tuned I guess? If you see one, please let us know and provide some screenshots. Similarly, someone reported they found a shiny but never replied back. Let us know please!
Pokemon Go Plus is an extra accessory you'll be able to pick up for Pokemon Go at the end of July. Costing $35, you can wear it on a wristband or clip it to your shirt. The accessory connects to the game via bluetooth and from what we understand:
- You can get items from PokeStops by pushing the button when it vibrates. You'll maybe have to pick them up in the game, but they'll likely be auto collected basically and go right into your inventory.
- You can capture Pokemon by hitting the button without taking out your phone. However,
you'll only be able to capture Pokemon you already have
.
- We don't really know
what
exactly you might be able to do with it right now however (can you get steps in for your eggs? Will it notify you of gyms nearby? What's the vibration difference between Pokemon and Stops? etc)
- the accessory was up on Gamestop with a July 31st release, however it doesn't look like they're still taking preorders. It'll likely be available at all retailers but with how popular the game is, you may want to plunk some money down soon!
FAQ
- Why can't I find X Pokemon?
Different Pokemon appear all throughout the country and world! Try checking out new places if all you're getting is the same Pokemon. Additionally, scope out PokeStops and hope you get some eggs, which can hatch into any Pokemon.
-What do the feet mean on the nearby tab?
It's basically a form of distance on how far away that Pokemon is. 1= 20 meters, 2 = 100 meters and 3 is about 1 kilometer (about half a mile). This can be in any direction, but you'd likely find them walking towards tufts of grass
-How do I fight gyms?
After getting to level 5 access a gym and select your team. You can fight other gyms and take them over, or you can train and add Pokemon to one held by your team. If there's animations happening around it, it's under attack. You might be able to fight with someone or have to defend it!
-Why isn't X working?
Be patient, The game is under a lot of stress because of how many people are playing. If something isn't working, you might have to simply come back later. If something freezes, wait a while, kill the app and try again.
-AR is bugged for me halp!
In battle you can turn off AR in the top right to display a generic grassy background. This works really well if you're trying to go after a Pokemon like Zubat that's small and flaps all around.
-What does CP mean? What does the XL/XS/whatever mean for the Pokemon?
CP is "Combat Points", think of it as a Pokemon's "level" from the main games. CP is how strong they are when attacking and is modified based on several factors including the size, weight, species, and even your trainer level. Your level I think is the most important because you wont be finding really good mons until you begin to level up. CP doesn't matter much on a overall scale, but it's useful when taking on a gym so you don't get btfo by a Raticate. But you can fight stronger ones regardless of your CP...and your stronger CP mons can be taken out by babbies.
Just a few things to throw out here too; right now there's no "softbans" for people playing while driving.
DONT BE AN IDIOT AND PLAY THE GAME WHILE DRIVING.
If you'd like it on to see where Pokespots are around you, you should look for a car mount that holds your phone somewhere on your middle console in your vehicle. Outside of looking where you're going, don't be a ass and play and get in an accident. I don't want to see any articles about that.
--------------------------------------
Helpful Companion Apps
- Google Opinion Rewards [Android Only]: Do quick surveys which give you Google Play credit that you can spend on items in the Shop.
- AchieveMint [iTunes Only]: Gain points while walking and doing other healthy activities including looking for Pokemon. You can turn the points into gift cards.
- Walk for a Dog: While out walking, you can walk for a local animal shelter and the app will donate money to them. You're out walking anyways, and you can help some puppers.
- Charity Miles: While out walking you can choose a charity and a corporate sponsor will donate to them based on how much you've walked/ran/biked.
- At participating
Red Robin
restaurants, you can get $3 off $10 if you show your waiter your Pokedex in Pokemon Go.
[Source]
- T-Mobile announced that on July 19th, players will get free unlimited data on Pokemon Go, Free Lyft rides up to $15 to get to a PokeStop or Gym, a Free Wendy's Frosty, 50% off select accessories at T-Mobile stores, and will be entered into a drawing where 250 people can $100 in PokeCoins and 5 people can win a trip to anywhere in the US for themselves and a friend!
[Source]
- RadioShack is offering 25% off all powerbanks if you capture a Pokémon in their store.
[Source]
--------------------------------------
Trailers:
[
]
[Thanks to
DailyPokemonCommunity
and
Serebii.net
for some of the images and details of the game.