Boy, this is a massive game for the Sonic series, as it is what I consider the 'start' of the fabled 'Dark Age of Sonic'. Games that fit among this start with Shadow and continues until Sonic Unleashed launched in 2008.
So, what is so bad about this game?
I mean, LOOK the damn cover XD! Its a small cartoon hedgehog packing heat; it was going to fail regardless of its quality :'). But that is jumping to conclusions. So, lets dive into this trainwreck of a game and pick apart what makes it tick.
I'm not alone in covering this mess, with
NeoGaf Member Village
helping me out
! Here is his introduction to this mess of a game
.
Village:
This game is, a massive disappointment and an exercise in...well, doing to much. To be quite honest , a lot of sonic could actually learn that lesson. But to keep the focus on this game in particular, the sad part is, there are very " simple" solutions to a lot of thematic issues presented in this game. We'll get to that in a bit.
- - - - -
Some history and background before I continue; this game was concieved on the idea of Naka and Sonic Team USA trying to make the series appeal to older gamers. In addition, they wanted to explore the backstory of Shadow the Hedgehog, a character they had a lot to cover based off events in Sonic Adventure 2 and with the idea of him losing his memories in Sonic Heroes......its ripe for a game staring him.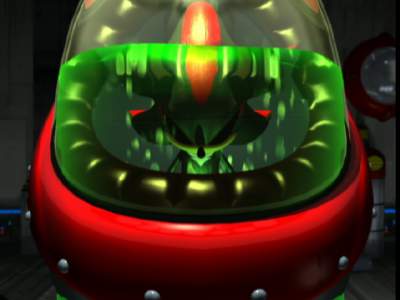 Sonic Team also wanted to explore shooting mechanics within a game title before but unlike past Sonic Team ventures where if they had a new concept, they made a new IP that fully explores it (Billy Hatcher, NiGHTS, Ristar, Burning Rangers, Samba De Amigo, ect)......they tried to make the idea work within the Sonic series.
So, what does this mean? Because of the above, they had the bright idea to give a cartoon hedgehog guns. Yep.....instead of using chaos powers that he has and fleshing out his Chaos Spear ability into a really cool mechanic, they just give him guns.
This issue will appear in future Sonic titles during this Dark Age of Sonic, throwing concepts and ideas into the series without serious thought.
So, lets get to the story, as considering how its going to explore the darker elements of Sonic introduced in Adventure 2 (the ARK, experimentation, military, ect)......it must be done well, right? ......Right?
Guess not, huh
?
- - - - - - - - -
I'm going to let NeoGaf Member Village take the floor with this section, as both of us have ALOT to say about horrid the story is.
Village:
This games story is is an perfect example, of the biggest issue this whole game.
Its actually quite simple, kind of star wars-ey in its presentation, and not horrible. But crowded buy a bunch of unnecessary mess that deludes the whole thing.
Again, this could be a description of a lot of sonic games.
The story is as follows, Shadow is chillin. His alien dad comes up, tells him he's an alien, the alien attacks the planet trying to get the chaos emeralds. He goes on an adventures with his friends, reminding him why this planet has value and why he chooses to live on it. Has his bi-weekly PTSD maria flash back, faces his dad, beats his ass, blows up the aliens. The end.
And on a more "technical level", they find out that shadow's powers, design, and a lot of other stuff is a result of Dr. Gerald working with black doom rather than him getting inspiration old pictures of Echidina myths. I actually like this part, because it retroactively makes Sonic adventure 2 make a lot of sense. There were a lot of very reasonable questions in sonic adventure 2 as to why the plot went the way it did.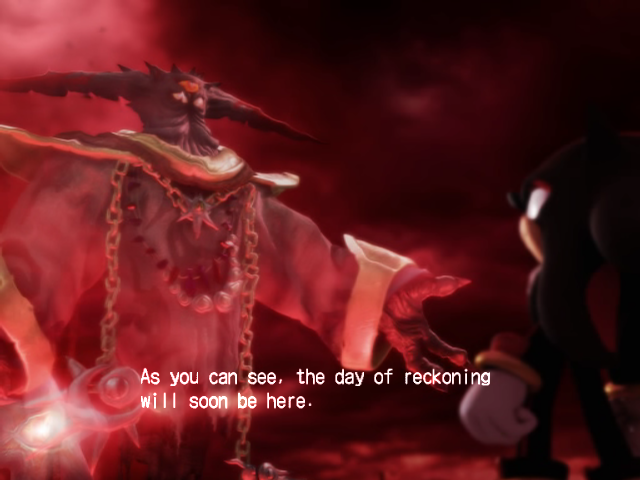 And not only that, it shows the differences with shadow as a character from the rest of the cast, explaining why he is designed the way he is. While the "Shadow looks like Sonic" baton will be thrown forever, heck even by Sega themselves sometimes. His design is fairly striking and unique as sonic character goes, and still kind of is to this day. And its explained, and while it wasn't necessary... its kind of cool.
So at this point, you might be like "Village, you just described only the good pathways and the one ending and a flash back section", Yes.
The game's own final ending shits on your work by denoting the true ending was hanging out with your friends, facing your dad and winning the day. And there is where we get to the bad part of the narrative, everything the hell else. Completely unnecessary fluff, instead of trying to design a game with multiple pathways. Why not just focus the story down, into more complete well designed sections, that allow for endearing interactions with the characters, and comes to a nice conclusions. If Eggman getting karate chopped to death was a joke ending rather than a legit one, not only would people be lessed pissed because of gameplay time. Well' get to that in the gameplay section. It wouldn't have this air of a bad ending.
This game did way too much, when there was a simple endearing concept in there, and its sad.
As an add on, whats even weirder, is that sonic 06 in its monster design and some character interaction. Maybe hint at one of my favorite concepts... in everything. Gods are just aliens people at the time didn't understand. And maybe the monsters presented in sonic 06 were just a weird form of the aliens from shadow the hedgehog.
I don't think that is going to get explored, but its weird and sort of related.
I agree with a lot Village's points honestly, as the game hold promise for its story but how it does things really leaves alot to be desired
. But the story has a so-bad-its-good story at times, in the sense that we got a lot of really funny lines out of it. If I try to take it seriously, I....just start laughing to a bit.
Thankfully Sonic 06 fixed Shadow's character a lot.....but that game was quite horrid sadly :l.
- - - - - - -
So, how is the gameplay? Its Sonic Adventure 2......but with guns and worse control
!
Sounds great doesn't it
?! No it doesn't, it sounds horrid X(.
But, the combat elements with the guns work very well, as every gun almost always locks on to your foes and ammo is far from rare, leading to it not being an issue at all. Unlike other platformers with gunplay though, Shadow lacks strafing and the weapon wheel that Ratchet & Clank has, making the weapons lack personality.
Its a fun mechanic, but not fleshed out enough honestly. So, the core gameplay is Sonic Adventure, but with no gimmicks. You are just controlling Shadow and that's it; you can hop into rides if you want but they are so useless, there is no point to them.
Shadow can run very fast, spinjump, homing attack, spindash (though it sucks), slide and even has a few punches/kicks (which are useless). The problem isn't what he can do, but how badly the movement controls are. In Sonic Heroes, you have three formations and the speed one felt uncontrollable. That was fine, as you could swap to the Power or Flight formations for more careful movement.
Here? Its just the Speed formation but even worse regarding its handling. You will be slipping and sliding all over the damn place X(. Leading to your deaths being common, frequent and annoying.
The camera is an element I really loathed during my first two playthroughs of the game, but the most recent one....its better then Heroes at the very least.
The big gimmick here is the mission system, as every zone has two/three missions that lead you down one of three paths; good, evil, neutral. Good and Evil are mostly collect X amount of things/kill x amount of things while neutral is just running to the goal ring like in most Sonic ventures.
.....But these missions can be a real pain for a lot of reasons.
1) The missions can be BS a lot of the time: Lost Impact can go f***k itself for all I care X(. You have to kill exactly 35 foes and if you miss ONE of them, you have to backtrack throughout the entire level over and over and over and over...........and then you find out you spent a good hour in the level. Sounds like a lot of fun, doesn't it.
2) You have to go down the same path twice to get both endings: Each path has two endings (five paths) and you can't just start the level at the level select, no....you have to play through the entire paths AGAIN just to clear that dark mission you missed.
3) Story is a mess and it has a TRUE ending: This is the real kicker; the story has a true ending. Yes, the game billing itself on multiple paths and missions for YOUR Shadow......has a true ending. SEGA can't have Shadow be a bad guy NOOOOOOOO, he has to be a hero after all!
So, for the three reasons above, the mission system is stupid, pointless and dumb.
......But before I comment on the visuals and music, lets some more thoughts on the gameplay
.
Village:
As mentioned before, well instead of creating a bunch of unnecessary pathways, focusing the level design would have fixed many of the issues. And focusing shadows combat. Shadow himself suffers trying to be an action game and a sonic game. And I don't think those two things exist in the same levels. Sonic Unleashed got close in separating it, but thematically ruined it for many with the Werehog and they weren't that good to begin with, and given it was game with sonic's name on it. Most people just kind of wanted to run.
Shadow didn't have this problem. There are no other shadow games, they could have hypothetically speaking just made it a more traditional character action game. I mean its not like a edgy yet cheesy game came out in a similar time period that had characters with similar powers and move sets could have been an example for this sort of thing.
Oh... oh, wait what. huh maybe you could have.... not rushed your development cycle and took pointers and made like at least a competent type of game working with the powers your character already has, and you prevent him from using in game. In such way that provides a fulfilling experience both game play and story wise. Maybe rushing that dev cycle ruined a lot of sonic games, maybe they should have been willing to take a few more pointers.... maybe.
This game is a disappointment sandwich.
So the guns, I actually don't mind. Some of the guns, being the alien weapons. Its the presentation of the normal human ones that bother me. Whats worse, is that the alien, and secret unlockable weapons in this game are way better and more interesting. Like a katana, you can get a katana in this game. Its rad as shit. And like this sucking up Billy Hatcher inspired chicken gun which... plays extremely well.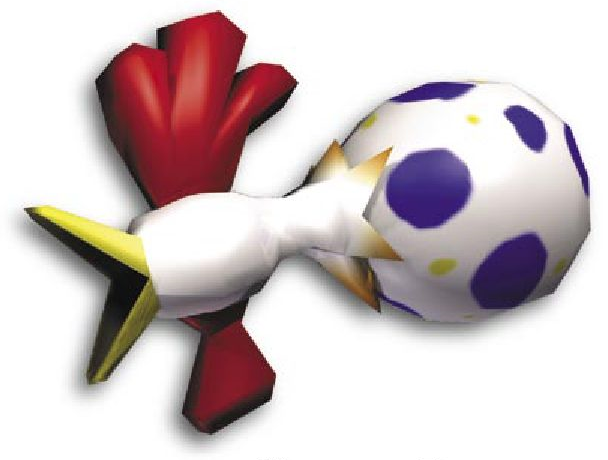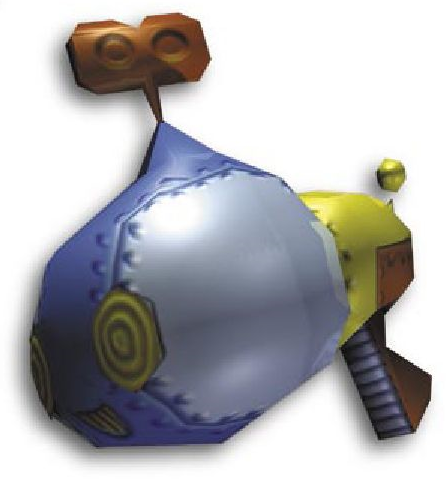 If they would have actually gave shadow a legit combat system, and then you could optionally pick up alien weaponry, and have fun joke unlock weapons, that would be great. But no. God no. We can't have good things.
Lastly the movement, its Heroes movement so its ass. Even as a child I felt how hit the Heroes movement was. I didn't know what to call it, I just knew that Sonic Adventure 2 felt better, and it does, because the characters have weight, and they stop, and they don't feel sliding, despite because of being a Dreamcast game, features characters actually sliding. but here you feel like you are on skates, but not in good jet set radio future kind of way. Just, like you are on soap, and not the shoes, just soap.
- - - - - -
The game has some fun level tropes, like the cyber theme in Digital Circuit, the sky ruins theme of Sky Troops, and the Ark levels ASIDE from the Doom and Lost Impact. They lead to things being fresh and unique from the bright locations from Sonic Heroes and have some semblance of Sonic, even if its still coated in bleak colors.
I really like Sky Troops and people did too, as it got remade into Sonic Generations as a Modern Sonic level.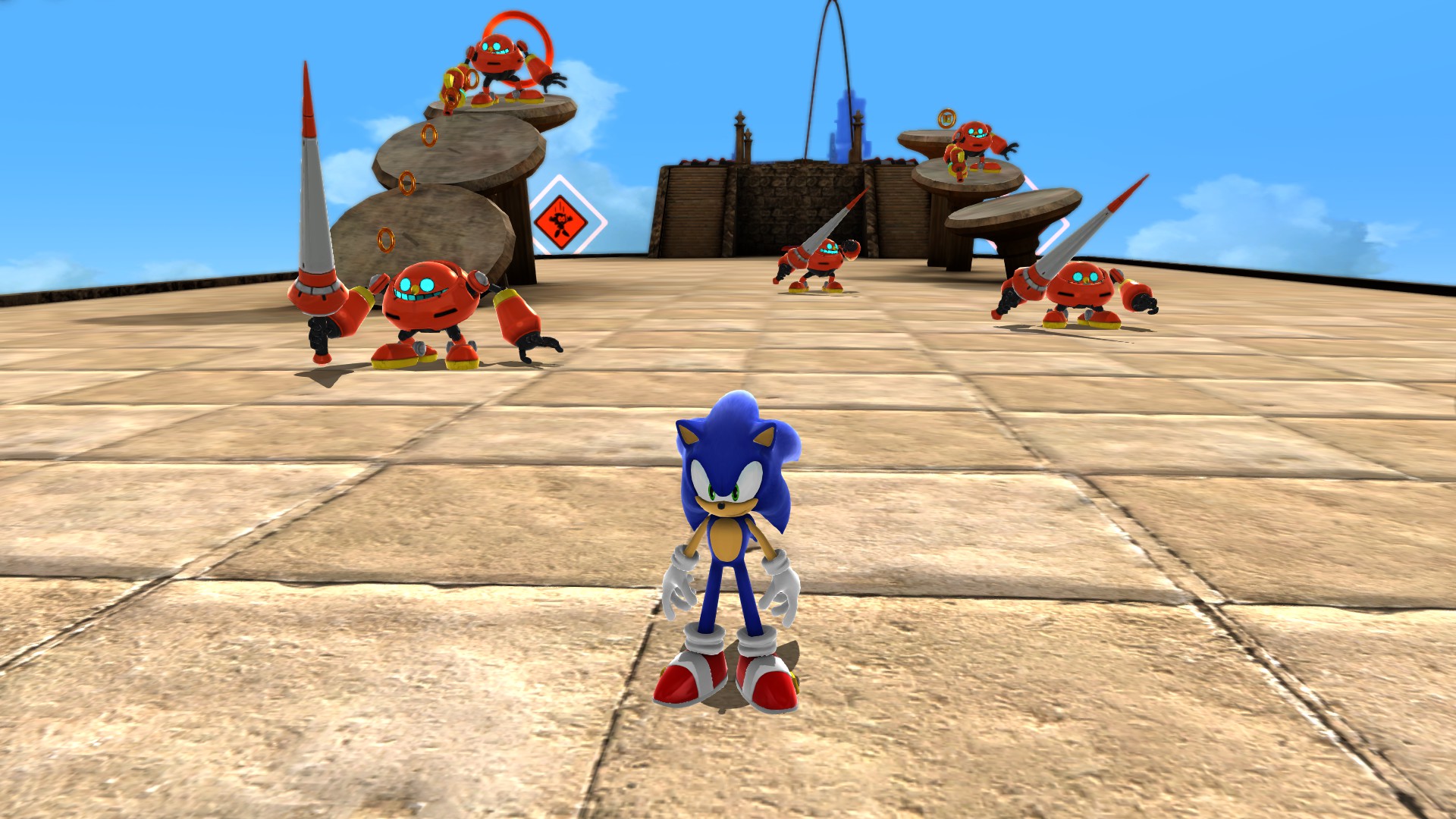 The music in the game is very strong as while many tracks kinda overlap each other, a handful really stand out.
Gun Fortress:
https://www.youtube.com/watch?v=Wo44M2uW5RY&index=38&list=PLvNp0Boas7217wlSWYj25AHEB-oYZ_Q-T
Sky Troops:
https://www.youtube.com/watch?v=ETVMXs8EerQ&index=28&list=PLvNp0Boas7217wlSWYj25AHEB-oYZ_Q-T
Cryptic Castle:
https://www.youtube.com/watch?v=8jcwSlHVfas&list=PLvNp0Boas7217wlSWYj25AHEB-oYZ_Q-T&index=20
Westopolis:
https://www.youtube.com/watch?v=Ai_OJy_0qkY&index=10&list=PLvNp0Boas7217wlSWYj25AHEB-oYZ_Q-T
I Am All of Me:
https://www.youtube.com/watch?v=8V1pMQKDPco&list=PLvNp0Boas7217wlSWYj25AHEB-oYZ_Q-T
All Hail Shadow:
https://www.youtube.com/watch?v=KqphtVEiwg4&index=6&list=PLvNp0Boas7217wlSWYj25AHEB-oYZ_Q-T
Digital Circuit:
https://www.youtube.com/watch?v=RglxkcgMXPQ&list=PLvNp0Boas7217wlSWYj25AHEB-oYZ_Q-T&index=15
Gun Fortress is one I want to highlight, as this GUN base being on the final verge of attack would be action packed, right? No, its a slow, sad piece that really hits the note that "Its all over man".
Village:
I find a lot of the levels generally to be some of the most visually interesting in Sonic, I really enjoy the music, the
Black Comet
and the gun base themes are two of my favorite sonic tracks in general.
Back to visuals, this game has Tron internet levels, this weird alien infested ancient ruins, radio active streams, a dark carnival, a haunted castle. A non completely ruined space colony arc, and a even more damage arc, where you play the level on falling pieces of the space colony.
Yes, like Bayonetta. No bull shit, this game, has Bayonetta shit in it. Before Beyonetta came out. You just start the level are you are falling and I remember ... how old was when this game came out... like 12? I remember 12 year old me loosing my shit. Games like "move your ass" And its not floating, the stuff will fall you will die. Move ya ass.
Again, interesting ideas, surrounded by dumb bullshit.
Gotta agree with you Village; despite how bad the core game is, its level design and ideas hold a lot of potential and when the BS mission system isn't in the way, the game can be really enjoyable at points
.
- - - - - - - - -
Presentation though, its one of the weaker Sonic games. It looks very dated, with bright character models ripped right out of Heroes and Adventure 2 alongside the stages being covered with muddled assets and textures.
Some places could look nice, like Sky Troops and maybe the Ark levels. But the game as a whole is one of the few Sonic games that really looks ugly. Super Shadow is a great showcase for this, looking really horrid compared to Adventure 2 on the Dreamcast......which came out four years prior :l.
This game got a short development cycle (and it was Sonic Team USA's final project before being shut down I believe), so the visuals look weak is understandable.
Village:
Game looks rough. I feel like a lot less time should have been spent on making extra levels, and just polishing what you had into something worth selling.
- - - - - - - - - -
My thoughts on this game is that......its really weak and in many cases is worse then Sonic 06. The visuals look dated, the music isn't as good and the controls ironically are better in 06 then in Shadow.
But, I appreciate what Shadow TRIES to do with the level progressions system and if they did it better (gut the story and have the paths linked to goal rings instead of stupid missions), it could of been great.
However Shadow the Hedgehog is a very weak game that while funny at times, really is just a poorly put together title that sadly is just an indication for a much worse title looming on the horizon.
Now, lets hear Village's Final Thoughts on this trainwreak:
"My thoughts are simple, its a game that thought it could wow you with its quantity more than its quality and failed. A game with out actual substance, but potential. A game that should have been more focused, and took lessons from its peers. Maybe things would be a bit different.
So on that note, I shall use this section to look towards to future. This should be attempted again, I mean not ... as it is. We just talked hot shit about this game. But a focused, title with one of their most popular characters, that doesn't have to be expensive, with a well excited combat system and doesn't have the obligation to be sonic go fast because its not sonic. They should have tried this again...years ago.
Even more so now, considering they have worked with a studio, who is good at making pretty good action games on a budget. That transformers game, basically has spindash combo's in it.
That's my piece."
- - - - - - - - - - - - -
So, are we going to be talking about Sonic Rush next? No, as I want to get one more horrid title out of the way first. Lets talk about something really head scratching; fucking up Sonic 1.
Yes, it IS possible to mess up porting the most ported game of all time and Sonic Team themselves are to blame. Lets see the Genesis of quite the horrid port.