Sonic Rivals and its sequel continue my Sonic 25th Anniversary Retrospective!
This game is interesting, as not only is a new Sonic handheld series (alongside Sonic Rush at the time this came out) but also was developed by a western studio (Blackbone Entertainment) headed by Izuka (creative head and producer at Sonic Team). This is also the first and currently only Sony-exclusive Sonic series for their handhelds.
You can play this on your PS Vita/PlayStation TV if you have a NA PSN account, as both are compatible with the digital versions of the games. They are 5.99 per game, so not a bad deal for the games
.
With all of that in mind, lets race some rivals and race to win!
- - - - - - - - - - -
Not much development history on this but Blackbone's Vancouver studio wanted to work with Sonic and after showing a pitch to Izuka, he gave them the go to develop this spin-off. I would assume that also figured that they wanted to support Sony's PlayStation Portable, so they started making Rivals for that reason too.
The original did decent on PSP and that pushed SEGA to fund a sequel that came out a year latter. That also did well enough but nothing on the level of critical success and sales levels that the Sonic Rush games got.
Blackbone has a nice connection with SEGA, as they made a lot of the Genesis ports to iOS and consoles, alongside also heading production of various SEGA Compilations on PS2, PSP and PS3/360.
A fun fact, they also made a series called Death Jr., one of the earliest 3D platformers on the PlayStation Portable and was present day-one when the PSP launched in EU/NA.
They knew how to play with the hardware, so that must of been a factor in SEGA allowing them to make a full-on Sonic game.....sorta like how SEGA was impressed with Travelers Tales in the 16-Bit Era and that pushed them into making three Sonic titles (
3D Blast
,
Sonic R
,
3D Blast Saturn
).
So, this played a role in no future Rivals games being produced and it lead to the Vita not getting future handheld Sonic's (outside of Nintendo's exclusivity deal anyway). The Vita did get Racing Transformed, which I will touch on latter. Needless to say, love that game and its great having a strong portable version of it.
Edit: This is a major thing I glossed over, so I'm sorry everyone; the games never came out in Japan. I have no idea why but yes, they never released over in Japan (something that even the Boom games were able to get done). A twitter user named 'LotsaNintendo' pointed this out and I'm so sorry I never put that on the OP.
- - - - - - - - - -
The core gameplay for Rivals is that its a 2D Sonic game, but with a focus on racing with a rival of Sonic's or one of the playable characters. This idea was a core point for the original Rivals, as every playable character in the original was a rival across all the Era's (Classic: Knuckles/Metal Sonic, Dreamcast: Shadow, Modern: Silver). Other characters joined the line up in the sequel like Miles 'Tails' Prower, Rouge the Bat and Espio.
Every character has a special ability that activates depending on the game. In the original Rivals, you had to touch a star icon to activate it but in Rivals 2, its mapped to how many rings you collect.
Sonic has a boost, Silver can mess with player controls, Knuckles has a ground pound that stuns, Tails can fly for a short while, and Metal Sonic can copy people's abilities for example.
You also have an item system which can be used defensively or offensively. It makes some items have strategic means, like you can use the fireball as a fire shield or as a weapon. Makes them fun to use
.
- - - - - - - - - - - -
The level design for this game is.....well, okay. Not amazing, not great, just okay. It has the series trademark high/middle/low paths and netting those allow for faster runs and thus allows for really fun racing!
But......could of been more refined as spike placement, foe placement and some level hazards being in some really odd spots in the levels.
I will say I liked the final zones in both Rivals games; Meteor Base Zone and Chaotic Inferno Zone. They ignore the racing element and they are normal Sonic zones; run to the goal ring in a set amount of time. This makes them the funnest levels in the game and the level design feels far less cheap in comparison to other zones.
Rivals 2 does need to be pointed out in this section, as due to the new characters and learning from the original, the level design is more 'Sonic' like, leading to them being more open and enjoyable to run through compared to the original rivals.
Overall, both have issues and they are far from perfect, but I enjoyed my time with both games gameplay and level design wise
.
- - - - - - - - -
The game has a story mode in both games but Rivals 2 is the very first handheld Sonic to have the 2005-Early 2010 voice cast fully voice acting in a handheld game.
The story in Rivals 2 is Eggman Nega from
Sonic Rush
being re-told as a being from the FUTURE and Silver is involved and.......its a bit of a mess :l. Nothing on the level of 06 or anything, but could of been a bit better honestly.
I appreciate the effort that went into the voice acting and they do a good job voicing everyone
.
- - - - - - - - -
The last element I want to cover is the card element and the presentation.

The cards are earned as you complete cups, single races and story mode sections. They are celebrating the history of Sonic going back all the way to Sonic 1 too the present being.....
Sonic 0....6
:l. I REALLY want to get that Elise card XD! No I do not X(.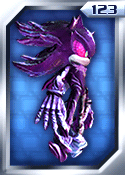 Anyway, its a nice way to honor the series across the ages and it makes sense, considering the original Rivals released on Sonic's 15th Birthday, the year as the enjoyable
Sonic Riders
and......two messes
old
and
new
released :l. Rivals and Riders were the bright spots of 2006 for Sonic.
The visuals are quite nice on the PSP though
.
They are bright, colorful and the level backgrounds are quite detailed. It captures the feel of Sonic and it does a great job fitting within the world of the series.
Musically, its one of the weaker Sonic Soundtracks but I enjoyed tracks from both games.
Forest Falls Act 1:
https://www.youtube.com/watch?v=mEWAT9Kqyz8&list=PLnZc6WBQn4V_tlhZ457Pp0Vl5jw4yHiKF&index=4
Forest Falls Act 2:
https://www.youtube.com/watch?v=vrVYwOHPWzI&index=5&list=PLnZc6WBQn4V_tlhZ457Pp0Vl5jw4yHiKF
Colosseum Highway Act 1:
https://www.youtube.com/watch?v=8UG46BXso_4&list=PLnZc6WBQn4V_tlhZ457Pp0Vl5jw4yHiKF&index=7
Sky Park Act 1:
https://www.youtube.com/watch?v=L2hWLrsQ4zg&index=10&list=PLnZc6WBQn4V_tlhZ457Pp0Vl5jw4yHiKF
Crystal Mountain Act 1:
https://www.youtube.com/watch?v=697gmZFMAmI&list=PLnZc6WBQn4V_tlhZ457Pp0Vl5jw4yHiKF&index=12
Meteor Base Act 1:
https://www.youtube.com/watch?v=wR0BPfNwrlY&list=PLnZc6WBQn4V_tlhZ457Pp0Vl5jw4yHiKF&index=18
Race to Win (Blue Coast Zone Act 1):
https://www.youtube.com/watch?v=lw0JeQj2Gd4&index=3&list=PL6E169509E39FBB4D
Blue Coast Act 3:
https://www.youtube.com/watch?v=gjM4LNUA28o
Neon Palace Zone Act 1:
https://www.youtube.com/watch?v=2wgz-69pNnk&list=PL6E169509E39FBB4D&index=9
Neon Palace Zone Act 3:
https://www.youtube.com/watch?v=W9GXe63Zw1U&list=PL6E169509E39FBB4D&index=11
Frontier Canyon Zone Act 1:
https://www.youtube.com/watch?v=Zp8p18d_Vuk&list=PL6E169509E39FBB4D&index=12
Mystic Haunt Zone Act 1:
https://www.youtube.com/watch?v=jDq_KSl0nNM&list=PL6E169509E39FBB4D&index=15
Chaotic Inferno Zone Act 1:
https://www.youtube.com/watch?v=P1ux5y-rDAY&list=PL6E169509E39FBB4D&index=18
Chaotic Inferno Zone Act 3:
https://www.youtube.com/watch?v=LHDtQMa6Ap8&list=PL6E169509E39FBB4D&index=20
Ifrit:
https://www.youtube.com/watch?v=J22AC0LgkoQ&list=PL6E169509E39FBB4D&index=26
They are rocking and push the racing tone but they kinda blend into each other. Overall decent soundtrack but could of been better.
- - - - - - - - - -
So, what's my overall thoughts on this series of Sonic? Its decent and a fun spin-off series that has Sonic appear in is rare Sony-only venture. They offer a lot of fun and are impressive for what it is; fun racing game that is also a 2D Sonic title.
But it isn't as strong compared to the Rush games and its a bit underwhelming. Going to be honest, played more or less every single handheld Sonic platforming title and this was the one that made me feel the most 'meh'. I still really enjoyed parts of both games, but not the best handheld Sonic I've played
.
- - - - - - - - - -
Next up for the retrospective is a sequel to Sonic Rush! Lets set sail for adventure with a rushing adventure
.