Square Enix said: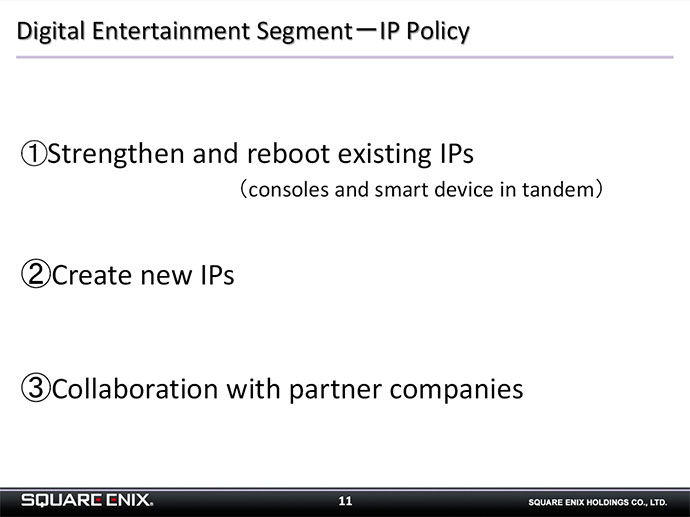 There are three key IP policies.
First is to strengthen and reboot our existing IPs.
We would like to focus on how to utilize the numerous assets of content that we have nurtured so far, and apply them to the latest trend.
As for the platform, we would like to use consoles and smart devices in parallel.
Just focusing on one platform is not enough. We believe it is significant to serve both platforms, if we are to offer game content and services that appeal to the new generation.
The second policy is to create new IPs. I cannot disclose much at this moment, but we are working on various initiatives, including some experimental projects.
So far, we have created IPs for a wide range of platforms, including consoles, smart devices, PCs and publication. Based on this strength, we will actively work on creating new IPs in FY2016/3.
The third IP policy is to collaborate with partner companies. With so much changes going on in the market, we will suffer a big opportunity loss if we try to do everything all by ourselves.
Through collaboration, we will utilize the strengths of other companies which we ourselves lack, and grow the size of the business. A good example is "DRAGON QUEST HEROES,"
So far, we had not worked on a full-scale action RPG. However, we were able to create a new style for "DRAGON QUEST" through collaboration with Koei Tecmo Games.
Based on this success, we want to collaborate more with partner companies, both in and out of Japan.
Source:
http://www.hd.square-enix.com/eng/ir/library/docs/150512/page05.html
Edit:
They list Star Ocean 5 as an example of rebooting IPs:
We plan to make use of our IP in multifaceted approach, in "DRAGON QUEST HEROESⅡ," and "STAR OCEAN 5,", as part of the efforts to strengthen and reboot our existing IPs, as I mentioned earlier.