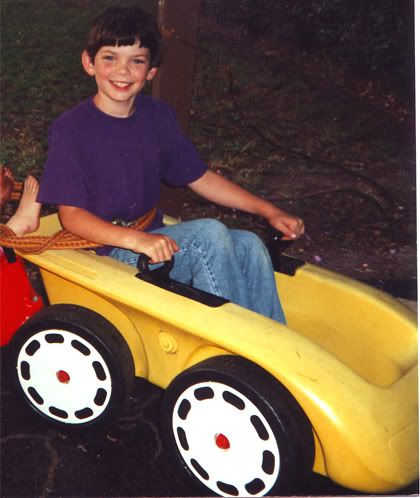 I had one of these back when I was very young in the late 80s/early90s. (That's me in the picture at age 9, I think.) It was THE coolest toy car you could ask for. My parents sold it long ago and I've spent YEARS trying to find another one to no avail. I have NO idea what it was called but my parents swear it was made by Little Tikes.
Awesome Features:
-Front Wheel Drive
Powered by pedals and thus vicariously the driver, this little car could pack some monster punch as long as you had the energy! A metal pedaling rod connected the two enormous front wheels on this amazing toy.
-Lever Steering
You'd use the levers on the sides of the car to pivot the back wheels. My dad remembers trying to figure out the ingenious engineering behind it but he never could. While driving the car around you'd press and pull these levers to power slide and direct the car.
-Plastic Wheels
PERFECT for drifting and burning out. Since they had NO grip what-so-ever if you started pedaling really fast, the car wouldn't move at all. Then you'd crank the levers one way and the car would just rocket off.
I have looked and looked, but I have never been able to find another one of these toys. Toy Wizards of NeoGAF, I am at your mercy. If I could find another one of these I would buy it in an instant. Even the schematics for the Lever Steering would be an amazing find, as I desire to build a much larger version that my much larger self could pilot. Not only that but my future children deserve to know the glory that is this toy car. I've searched Google, Wikipedia, the Little Tikes and Playschool (just in case) websites, looked all over pedal car retailer sites, ebay, Amazon... For the love of God there has to be someone out there who knows about this thing! Please help!
(And just because I know someone will ask, the foot belongs to my little sister, who I was pulling in a Cozy Car behind me - hence the rope tied around my waist.)