I've raved about this game a small handful of times on here whenever topics about horror games come up, but as it's almost October I decided I might as well try playing it again. I checked and searched as much as I could on this forum, but I don't think there was ever a topic made about the game here on NeoGAF. For better or worse, searching it up just lead to me finding my own posts (and the posts of one other ex-member) raving about it. This is understandable, as the game was released in 2000 for PC, and was only released in Korea... But it is a damn shame.
White Day: A Labyrinth Named School remains the scariest game I have ever played.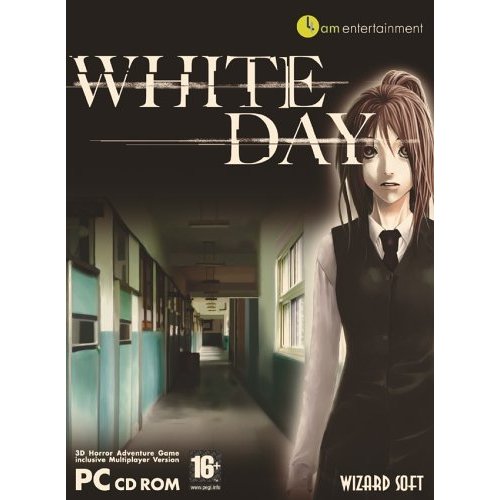 Before
Amnesia: The Dark Descent
and
Penumbra
, there was White Day. I mention those games as I feel Frictional borrowed a lot from the game White Day. They are incredibly similar in quite a few ways, though I feel White Day still remains far scarier than either of those franchises and pulled off the, 'I'm a defenseless hero hiding in the dark' mechanic far better 10 years before Amnesia came out. The game was incredibly ahead of it's time, using a lot of real-world logic for various actions and puzzles in the game and stirring up an atmosphere that I feel has been unmatched by any other game to this day.
White Day stars a young Korean student who has a crush on a local beauty. A chance encounter leads into her forgetting to pick up her diary. Being a noble gentleman with a crush, he sneaks into the school at night to plant the diary and chocolates into her desk. Totally logical. The holiday White Day is upon them, which is similar to Valentine's Day, but in Korea (and some other areas in Asia) White Day is the day where boys gives girls chocolate, while Valentine's Day is the day girls give guys chocolate. But as he sneaks in, he gets involved with a insane janitor who seems to have snatched some students into school and viciously beat them to death. Worse yet, something is wrong with this school. It seems the school years ago used to be a war hospital that doubled as a secret torture ground for prisoners which was then later converted into a school... And the spirits are getting restless. As the game goes on, the school slowly begins turning into some abstract and terrifying labyrinth that just continues to grow and grow into utter madness.
The game was so terrifying that many people emailed the developers saying they couldn't complete the game because of how absolutely frightening it was. They released some patches for the game that changed the scare levels dependent on what difficulty you choose.. There are more healing items and far less scares on very easy mode, but less save points and items on Hard difficulty mode, but more story and scares. Though not all scares will be experienced in a single playthrough regardless, as the game features quite a few randomized scares that may or may not happen in a playthrough. And these aren't just 'booo did I scare you' jump scares, these have to be some of the most well-done psychological scares I've ever experienced.
The game essentially has four enemy forces against you. The first is the Janitor, who wanders the school randomly. He is not scripted in most cases, and is just as fast as you. You can hear him coming by these jingling keys, and when he spots or hears you he'll give chase. You have to out-maneuver him and hide... But the darkness is not much better. Strange paranormal occurrences are happening in the school. In the dark is where things start to get really messed up, and anything from something crawling through the vents or a human anatomy doll coming to life can happen at any time while in the dark (not helped your sources of light are EXTREMELY limited. Your main source of light is a box of matches, which dim out quickly and constantly and only shine light about a foot or two in front of you.). The school itself is like an enemy, full of progressively twists and turns, environment hazards, and is progressively getting stranger and more dangerous. Finally, if you play the game on Hard Mode, there's additional notes containing ghost stories, as well as the ghosts of these stories being in the school, also randomized somewhat (from a girl who crawls on ceilings to something that comes out of the schools backyard pond). From all of this, you are completely defenseless and can only hide and run.

The game had a complete mastery of atmosphere, scares paying off, and though outdated graphically boasted some extremely ahead of their time ideas. The team unfortunately was disbanded shortly after the game was released, there was an English version planned at one point but it was cancelled as they went under.
And because of this, and the small number of sales, the game has become incredibly hard to find for sale and is relatively unknown still, though in several circles of horror enthusiast it is known as one of the, if not the, scariest games of all time, and in my opinion it's the scariest to exist (and I've played a lot of horror games).
However, the game has become abandonware and now there are no holders to its rights or any copyrights on it, making sense as it didn't sell well, only was sold in Korea, and is 12 years old. Some people have put together an english translation patch for the game earlier this year, which
you can get here.
This is seriously one of the scariest games you'll ever play, and it's almost time for the season of Halloween. I welcome everyone to test their wits against this game, and see if you can disagree that it isn't the scariest game of all time. Try the hard mode, and see how it goes for you. It only gets scarier the further along you get, and if you want a real challenge try 'Real' mode (even more scares, die once and you get a game over, have to escape the school before midnight or else you lose). I'm going to keep my own game diary of my events in the game. I think this could be fun and bring some attention to a hidden gem that really deserves it.
If you have problems running it, check the FAQ first:
http://home.1070444.n5.nabble.com/FAQ-td113.html
And if nothing works, you can try asking for help here.