Aug 10, 2014
1,545
1,632
605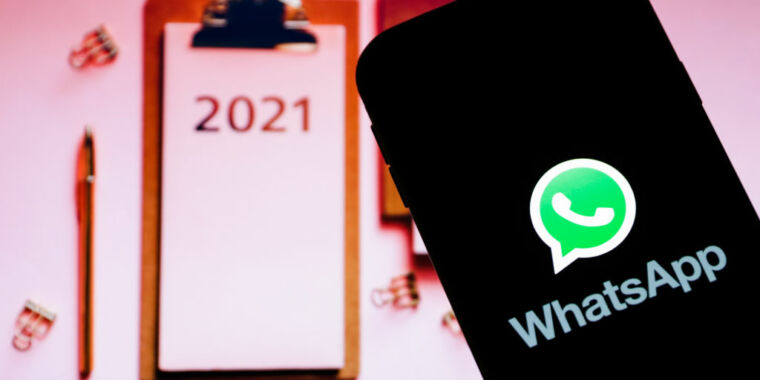 The Facebook-owned messenger with 2 billion users revamps its privacy policy.

arstechnica.com
WhatsApp, the Facebook-owned messenger that claims to have privacy coded into its DNA, is giving its 2 billion plus users an ultimatum: agree to share their personal data with the social network or delete their accounts.

The requirement is being delivered through an in-app alert directing users to agree to sweeping changes in the WhatsApp terms of service. Those who don't accept the revamped privacy policy by February 8 will no longer be able to use the app.

...

In 2016, WhatsApp gave users a one-time ability to opt out of having account data turned over to Facebook. Now, an

updated privacy policy

is changing that. Come next month, users will no longer have that choice. Some of the data that WhatsApp collects includes:

User phone numbers
Other people's phone numbers stored in address books
Profile names
Profile pictures and
Status message including when a user was last online
Diagnostic data collected from app logs

Under the new terms, Facebook reserves the right to share collected data with its

family of companies

.
Facebook is also currently being
sued by the FTC
for anticompetitive conduct.
The FTC is seeking a permanent injunction in federal court that could, among other things: require divestitures of assets, including Instagram and WhatsApp; prohibit Facebook from imposing anticompetitive conditions on software developers; and require Facebook to seek prior notice and approval for future mergers and acquisitions.
The complaint alleges that, by 2012, WhatsApp had emerged as the clear global "category leader" in mobile messaging. Again, according to the complaint, Facebook chose to buy an emerging threat rather than compete, and announced an agreement in February 2014 to acquire WhatsApp for $19 billion. Facebook's acquisition of WhatsApp allegedly both neutralizes the prospect that WhatsApp itself might threaten Facebook's personal social networking monopoly and ensures that any future threat will have a more difficult time gaining scale in mobile messaging.
WhatsApp is very hard to go without in many parts of the world. Literally everyone I know where I live uses it and even some who have now moved to other countries and other continents still use it. The data collected in this new un-privacy policy is pretty extensive and I fear I might be forced to accept it.
Last edited: