UPDATE:
Trailer has not been posted online. Check below for a summary.
Trailer summary as far as we know translated from Japanese viewers who went to the event.
Adds more to the Eraqus-Xehanort conversation.
Eraqus to soon become Master, Xehanort talking about Keyblade War (see below)
The new attraction flow we have a screenshot of
More footage of Tangled and Hercules Worlds
More normal combat in general
A new nobody that shares a theme with Marluxia
A touching scene with Sora, Axel, and the ones who reside in Sora's heart sharing a tender moment.
Rough Translation from KHInsider of the Full Eraqus-Xehanort conversation in the new KH3 Trailer:
New lines of dialogue are in bold
Xehanort: Have you heard of the Ancient Keyblade War?
Eraqus: Of course I do.
Xehanort: That thing where long, long ago, Keyblade Wielders struggled over the light
Eraqus: Yeah, the Master's favorite story.
Xehanort: I guess they wanted to use the light they'd struggled for to make Kingdom Hearts appear, and do something
Eraqus: Guess so… I can't understand the reason why anyone'd start a war
Xehanort: So, you know of the Lost Masters
Eraqus: What's that?
Xehanort: They're the ones who started the Keyblade War.
Eraqus: Never heard of them.
Xehanort: No, more like, it was for their sake… I think.
Eraqus: What are you even talking about?
Xehanort: You can drop the facade.
Eraqus: Know what?
Xehanort: On that land shall darkness prevail and light expire. You'll soon be up for masterhood candidacy, there's no way you don't know.
Eraqus: Well.
Xehanort: The staring eyes see all. The future, it's already been written.
Eraqus: Who's to say I can't change it, and maybe Light will prevail.
Xehanort: You're rather confident. But aren't you at a disadvantage in this match?
Eraqus: But unlike Darkness, there is more to Light that meets the eye. You might be surprised.
Xehanort: Oh, I hope so.
Kingdom Hearts III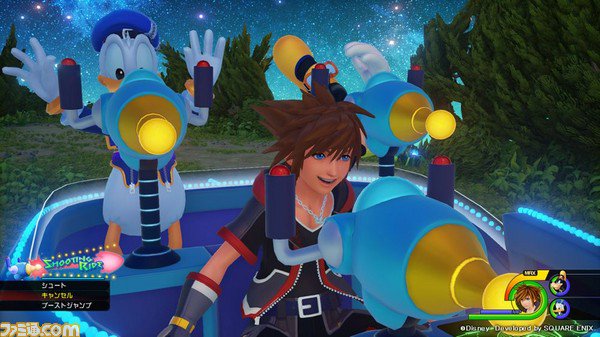 Kingdom Hearts 0.2 A Fragmentary Passage
Kingdom Hearts Dream Drop Distance HD
During the special "Kingdom Hearts Premium Theater" event, they'll have a talk show and we'll also get to see the latest footage of the Kingdom Hearts series. Disney hope to make it into a special experience that can reach the hearts of Kingdom Hearts fans.

As far as the schedule goes, it'll be held twice on November 3rd. The first one will go from 13:00 to 14:30 JPT and the second will go from 16:00 to 17:30 JPT. The two showings will feature the same content.
I thought it'd be appropriate for us to have a thread to discuss the news to come out of the event and possible streams and photos people are able to grab from it.