WARNING!!
This thread is crazy indeed.
Original:
DigitalFoundry said:
We've seen Rise of the Tomb Raider in action on Xbox One X - so we thought we'd put that knowledge to use in assessing the reveal trailer for the enhanced version of the game. John is your guide through this comparison.
UPDATE 26/8/17 2:00pm: Digital Foundry has returned from Gamescom and the first order of business is to take a good, hard look at the press assets Square-Enix has revealed for the Xbox One X version of Rise of the Tomb Raider, and to see how they compare with the existing versions of the game. John Linneman has compiled all of his findings into the video analysis below and we've also provided PS4 Pro and PC settings comparison shots to match Square's press images.

There are some interesting observations here - clearly, the top-end PC textures are incorporated into the Xbox One X version as expected (indeed, one shot even shows additional detail we couldn't replicate on PC). Additionally, other changes have been made: on the plus side, PureHair (aka TressFX) seems to get an upgrade, but there's a puzzling downgrade in depth of field rendering. We'll have more on this title as soon as we can.
https://www.youtube.com/watch?v=x77TOR9HC5Y
Delete my YT channel if old
Update on Update 30th Aug 14:00
Update 26th Aug 16:43:
There is an update on the article:
http://www.eurogamer.net/articles/d...mb-raider-on-xbox-one-x-improves-over-ps4-pro
There was another update on Eurogamer to reflect the dynamic changes on the textures in the face comparison which I include in the OP.
Just some example screenshots including PC: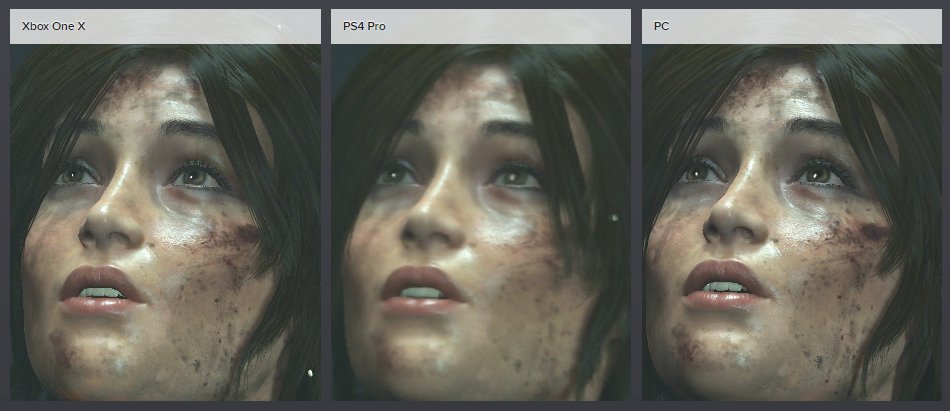 Update 26th Aug 18:27:
Some more info about the PC setting for the PC shots:
Update 26th Aug 19:10:
Confirmation what modes where compared in video and screenshot regarding the PS4.

Update 26th Aug 20:06:
Comparison is based on X1X native 4K, PS4 Pro 4K CB, PC highest setting!

Update 27th Aug 19:10:
Regarding the above face comparisons.
John Linnemann, DigitalFoundry:
Those faces aren't impacted by depth of field as the DoF effect is not very shallow in that scene to begin with. I thought it was motion blur at first but, looking closer at the footage frame by frame, that doesn't even seem to be the case.
and
Nobody downgraded anything. PC already includes higher res textures than PS4. Nixxes has simply created new assets once again, it would seem.