Great Greed is a decent monochromatic Dragon Quest clone for the Game Boy released in 1992 where everyone and everything has a food-related name.
Throughout the game you encounter several NPC's that help you out: a couple of guys, an old woman, but the rest of them are the King's daughters.
After beating the game, you are given the choice of marrying one of the daughters as a thank you. But just for fun, instead of choosing one of the daughters, I tried saying "
Yes
" to one of the guys (hilariously named Lunch Box and Lunch Break), expecting the usual JRPG "yes/no" questions in which the game forces you to pick an answer or else the conversation doesn't continue... but I was surprised to realize that you can totally say
yes
to marrying them...
and
the rest of ending reflects that option!
It's hard to see due to the minuscule sprites, but the text says it all.

Pedophilia? One of the king's daughter is 11 years old... and you can certainly marry her too: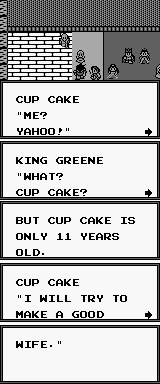 But wait, there's more. You can marry the Queen
and
even the King: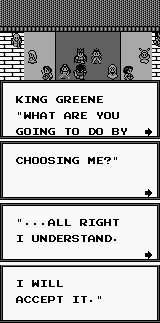 And of course, since you can marry the King himself, then you can also marry the old woman and one of the daughters who's already married to someone else. This game is sick sick sick and got away with it!