not licensed in your state
The media has descended on Sochi, and uh..it's not ready:
Almost every room is missing something: lightbulbs, TVs, lamps, chairs, curtains, wifi, heat, hot water. Shower curtains are a valuable piece of the future black market here. (One American photographer was simply told, "You will not get a shower curtain.")

[...]

In the Ekaterininsky Kvartal hotel, the elevator is broken and the stairway is unlit, with stairs of varying and unpredictable heights.

Outside the Chistya Prudy, there is a bag of concrete in a palm tree, leaking grey down the trunk. Inside, some of the electrical outlets are just plates screwed into drywall.

Sports Illustrated's Brian Cazeneuve had to clamber through a window to get out of his hotel on Tuesday morning, since the doors were all unexpectedly locked. Chris Stevenson of the Ottawa Sun was without electricity for the first day.
Oh, and one journalist in the Omega hotel complex had to refuse a colleague's request to stay a night in the second twin bed because … well, there's no easy way to say this, but when the first journalist arrived, someone had left an indeterminate amount of semen on the sheets of the second bed, and those sheets had been taken away for cleaning, and hadn't come back.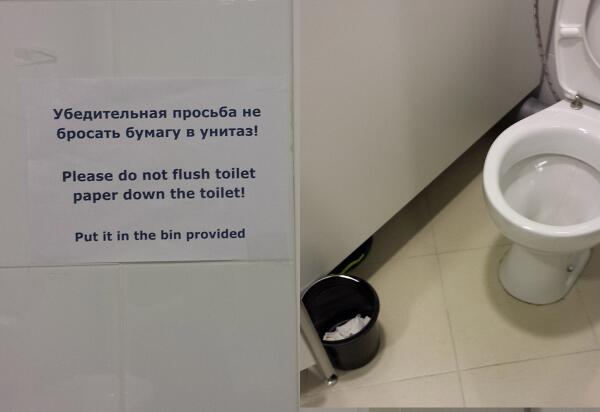 More hilarity and pics at this link:
http://deadspin.com/staying-in-sochi-is-a-hilarious-adventure-1515722114