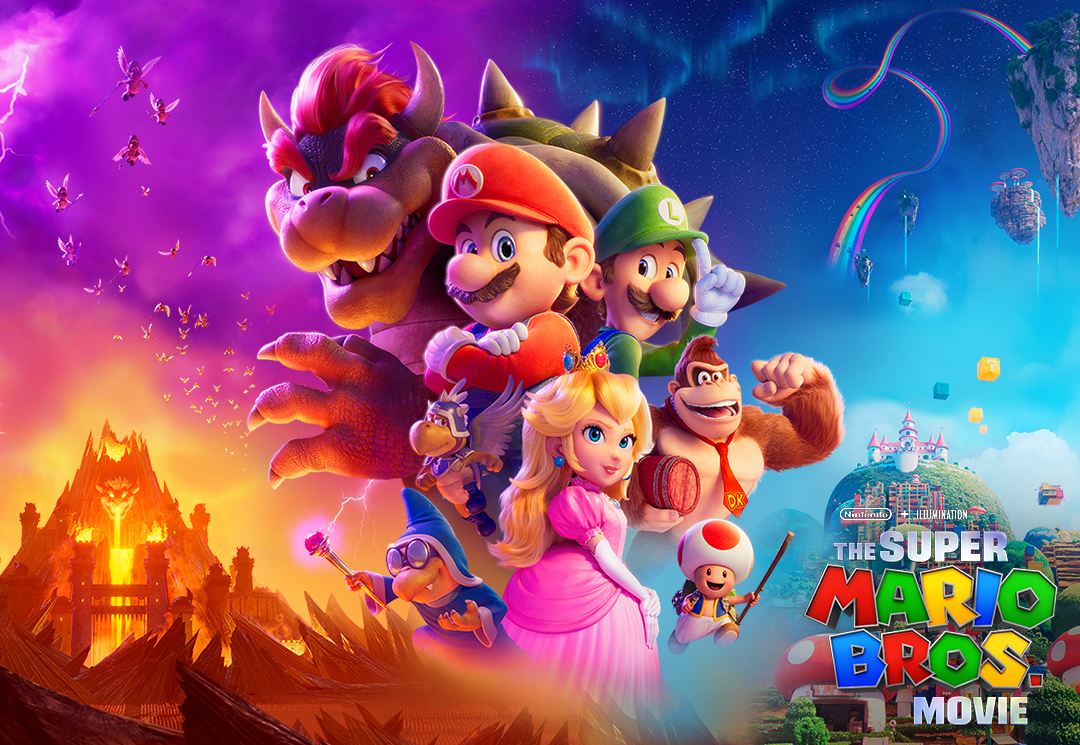 ---
The Super Mario Bros. Movie
Critics Consensus: While it's nowhere near as thrilling as turtle tipping your way to 128 lives, The Super Mario Bros. Movie is a colorful -- albeit thinly plotted -- animated adventure that has about as many Nintendos as Nintendont's.

Reviews:
Variety:
There have been approximately 50 movies based on video games, and most of them are terrible. I've had limited patience even for the ones that "work," like the coolly depersonalized "Resident Evil" series or that first "Lara Croft" film. It's not that I'm hostile to video games; it's that the game and film mediums are so different. Then again, not all video games are the same — the funky nihilist hellscapes of Grand Theft Auto couldn't be further removed from the interactive innocence of the Mario franchise. Mario presides over a digital playground that lifts the spirit to a place of split-second wonder, and "The Super Mario Bros. Movie" stays true to that. Its ingenuity is infectious. You don't have to be a Mario fan to respond to it, but the film is going to remind the millions who are why they call it a joystick.
IndieWire (B):
Parents shouldn't expect a Pixar-level experience, but Matthew Fogel's script has as at least much narrative heft as the best Mario games. Kids' movies can be — and often are — so much worse. Nobody is reinventing the blue shell, but Horvath and Jelenic do an excellent job of recreating the Mushroom Kingdom from the recent video games while adding a decidedly cinematic flair. For certain demographics (i.e. families lamenting the fact that it's been months since a major kids movie hit theaters), this is going to be an absolute godsend.
Empire (2/5)
Beautifully animated, and about as faithful and affectionate as a corporate cash-in is possible to get — but it still doesn't come close to the experience of actually playing the games.
IGN (8/10):
The Super Mario Bros. Movie is a fireball of animated fantasy. Mario, Luigi, and Peach's adventure delights with its infectious energy and smart implementations of video game callbacks, and the top-shelf animation renders the Mushroom Kingdom as an Oz-like wonderland that begs to be explored in the inevitable sequels that will follow.
The Wrap:
Short of dropping onto the Rainbow Road ourselves there is no experience closer to being fully immersed in one of the world's most beloved video games. Pair that with some great comedic moments and swoon-worthy visuals and it looks like The Super Mario Bros. Movie might just make a real mark on the feature animation world.
Deadline:
All of this is immensely likable and loaded with laughs, if not raging wit. Having the likes of Black and Rogen in the voice cast though definitely ups the ante of some stabs at subversive humor, and all seem to be enjoying this stint, definitely set up for sequels as Mario and Luigi are about to start a new act in their long careers. The CGI animation goes big for bright colors juxtaposed with the ominous Dark Lands, and the film is helped immensely by a zippy and lilting musical score from Brian Tyler. As proof of the filmmakers' attempts to be true to their source there is even room for Charles Martinet, original voice of Mario and Luigi video games for the past three decades.
Hollywood Reporter:
Directors Aaron Horvath and Michael Jelenic, creators of the Teen Titans Go! series, deliver a reasonably faithful big screen adaptation that, while it features plenty of juvenile humor, wisely doesn't lean toward broad satire.
AV Club (B):
Ultimately, Nintendo fans are sure to find the second Mario film (unlike the first) well worth a trip to the cinema, and with a runtime of only 92 minutes, it doesn't overstay its welcome. But to swipe a metaphor from the original NES Super Mario Bros. game, while the film may complete the level, it doesn't quite nail the leap to the top of the flagpole.
The Guardian (2/5):
The second film adaptation of the phenomenally successful video game is a disappointment to rival the first.
SlashFilm (4/10):
The Super Mario Bros. Movie brings together the many recognizable characters of the franchise, the musical flourishes, the colorful design, and even some replication of familiar gameplay, into a brisk 90-minute package that is as critic-proof as it is largely uninspiring.
Collider (B+):
The Super Mario Bros. Movie captures the spirit of the games, the deep history, and the incredible possibilities that these games have presented for decades, all in one of the most fun animated films in years, with a team behind it that you can feel loves these characters and this world.
The Independent (2/5):
It's hard to demand all that much from a Mario Bros film when its source material has been historically devoid of plot, but shouldn't we be allowed to demand a little more than mere competency?
The Playlist (C):
The film is in fact so busy introducing characters and churning through plot points that there's not really even time to let animation powerhouse Illumination give it a spin of inspired silliness that made the "Despicable Me" franchise such an unexpected hit.
---
SYNOPSIS:
With help from Princess Peach, Mario gets ready to square off against the all-powerful Bowser to stop his plans from conquering the world.
CAST:
Chris Pratt as Mario
Anya Taylor-Joy as Princess Peach
Charlie Day as Luigi
Jack Black as Bowser
Keegan-Michael Key as Toad
Seth Rogen as Donkey Kong
Fred Armisen as Cranky Kong
Kevin Michael Richardson as Kamek
Sebastian Maniscalco as Spike
Last edited: