Source:
https://www.vice.com/amp/en/article...-fine-arts-competition-and-artists-are-pissed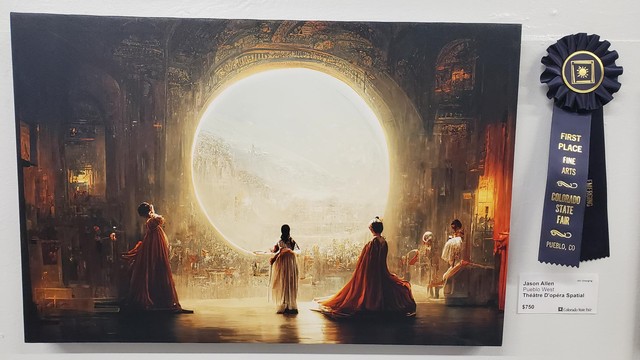 A man came in first at the Colorado State Fair's fine art competition using an AI generated artwork on Monday. "I won first place," a user going by Sincarnate said in a Discord post above photos of the AI-generated canvases hanging at the fair.
The image, which Allen printed on canvas for submission, is gorgeous. It depicts a strange scene that looks like it could be from a space opera, and it looks like a masterfully done painting. Classical figures in a Baroque hall stare through a circular viewport into a sun-drenched and radiant landscape.
"I knew this would be controversial," Allen said in the Midjourney Discord server on Tuesday. "How interesting is it to see how all these people on Twitter who are against AI generated art are the first ones to throw the human under the bus by discrediting the human element! Does this seem hypocritical to you guys?"
According to Allen, his input was instrumental to the shaping of the award winning painting. "I have been exploring a special prompt that I will be publishing at a later date, I have created 100s of images using it, and after many weeks of fine tuning and curating my gens, I chose my top 3 and had them printed on canvas after unshackling with Gigapixel AI," he wrote in a post before the winners were announced.