Please submit E3 2018 rumors with sources to this thread, I will consolidate.
In no particular order:
DMC V to be announced by Capcom
Walmart Canada, eh, lists Splinter Cell, Just Cause 4, Dragon Quest 2, Gear 5, Destiny Comet, Borderlands 3, Assassin's Creed, Lego DC Villains and Forza Horizon 4/5 (Rage 2 already confirmed)
Hitman 2 leaks via logo on WB website
Halo 6, Forza Horizon 4 and THREE new gears games according to polygon insider
Article for more information:
https://www.polygon.com/e3/2018/5/31/17394416/e3-2018-rumors-sony-microsoft-nintendo-switch-xbox-ps4
"...Nonetheless, we expect the company will commit to its established brands, announcing
Halo 6
,
Forza Horizon 4
and another Gears of War. In fact, we've heard rumors that Microsoft could announce up to three Gears games, including a traditional sequel, a real-time strategy title in the style of Halo Wars and a battle royale game. Perhaps the franchise will get traction with the larger user base on Windows 10."
New halo to be called Infinity, tweet:
Fallout 3 Remaster from reddit user who leaked Fallout 76 [take with grain of salt]
Article for more information:
https://gamerant.com/fallout-3-remaster-e3-2018-rumor/
"Redditor SoMeh accurately predicted
Fallout 76
, which gives the user a solid amount of credibility; otherwise, his claim wouldn't have much to go on. SoMeh, in the comments of his
Fallout 76
prediction, was asked if a
Fallout 3 Remaster
would be at E3, to which the user replied with a cryptic, "it is."
It's worth mentioning that, at some point after, SoMeh deleted the comment, making the reveal a little more shaky."
Fortnite, DB Fighter Z, Killer Queen Black, Paladins and Overcooked 2 coming to Switch
Article for more information:
https://kotaku.com/new-leak-suggests-that-fortnite-is-coming-to-switch-1826468199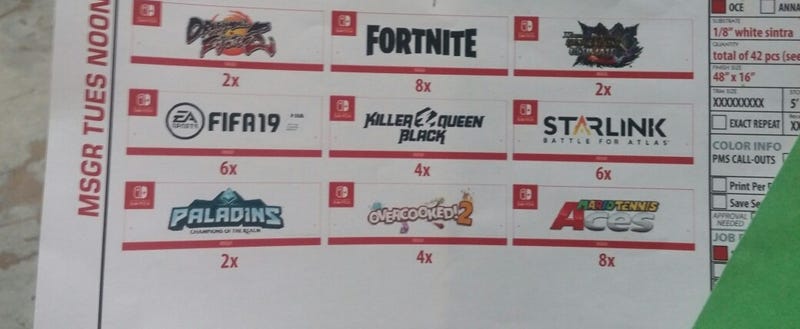 Playground games working on new fable game
Dying light might get unveiled at E3
Neogaf discussion here:
https://www.neogaf.com/threads/rumor-dying-light-2-getting-revealed-at-e3-2018.1462642/
"The Polish site known as "graczpospolita.pl" shared information potentially indicating that Techland will officially unveil
Dying Light 2
with a brand new trailer at some point during E3 2018. According to a translation of the article, the author has "managed to determine by a few independent sources, as well as both current and ex-Techland employees, that the company is working on
Dying Light 2
" and is "focused on preparing a high quality trailer, which is going to be presented during [the] upcoming E3". "
Microsoft purchasing several 1st party studios (originally from industry insider)
Resident Evil 2 remake to be unveiled
Shadows Die Twice details leaked (4chan)
-you start the game as a heavily maimed and disfigured person at the edge of death. You are saved by a mysterious leader who gives you a new face (character creation) and replaces your missing arm. -the right arm and it will be replaced by an multifunctional device, which serves as a prothetic arm most of the time, but can also be used a some kind of grappling gun to reach higher levels

-the game will take in a dark fantasy world, resembeling ancient Japan.
-the game will heavily draw from Japan mythology with a horror twist. It will not completely based on mythology and still include many original ideas.
-there are no shields, but you can block and counter with your weapon.
-every weapon has a unique counter ability
-enemies will often loose limbs or there heads in combat. Some enemies will spawn parasites from ther beheaded selves, somewhat like Resident Evil 4.
-you can climb in the game -some enemie designs and the atmosphere really resemble a modern Kuon in parts, but it has nothing to do with this game or will play anything like it. Expect one easter egg.
-most of the game will take place in rural places, but there will be a bigger city to explore later
-the game is more open world than the previous titles, but not fully like Skyrim. It offers multiple inter connected levels, that are much larger with multiple possible paths

Geoff K teasing something Kuon related:

Metal wolf choas tease?
Just cause 4 further confirmed
Last edited: