Jan 20, 2012
13,016
88
605
PC / Playstation 4 / Xbox One
​
HITMAN 2
is the follow-up to the internationally acclaimed video game,
HITMAN
. Featuring entirely new hyper-detailed sandbox locations full of living, breathing environments to explore,
HITMAN 2
offers players the freedom to plan the ultimate assassination utilising an assortment of tools, weapons, disguises and a variety of stealth techniques to creatively trigger their own unique chain of events.
HITMAN™ 2
takes players on a global adventure across a mix of bustling international locations, including a vibrant Miami setting with the colorful ambience of an in-progress motorsport race bringing a new backdrop to the series. From sun-drenched streets to dark and dangerous rainforests, each intricate location provides multiple paths to discover and unparalleled game depth.
Continuing the ultimate spy thriller story,
HITMAN™ 2
allows players to take on the role of the masterful Agent 47 and embark on a mission to hunt the elusive Shadow Client and unravel his militia once and for all. However, when 47 learns the hidden truth about his past, nothing will ever be the same.
HITMAN™ 2
introduces new ways to play with the Sniper Assassin mode, a standalone feature that brings a co-op experience to the
Hitman™
series for the first time, allowing two players to work together online to take down their targets. Sniper Assassin can also be enjoyed in a single player mode for those who want to play as Agent 47.
Sniper Assassin is available to play now as an early access bonus for consumers who pre-order the
HITMAN™ 2
Standard, Gold or Collector's Edition. The
HITMAN™ 2
Standard Edition is available for pre-order now. The
HITMAN™ 2
Gold Edition is available for pre-order now exclusively at GAME. The
HITMAN™ 2
Collector's Edition will be available for pre-order soon.
As an additional pre-order bonus, full game early access will be available for Gold or Collector's Edition owners four days before release.
Hawkes Bay - New Zealand
Your mission brings you to the moonlit beaches and roaring waves off the coast of Hawke's Bay, New Zealand. Enjoy a moonlit stroll and retire for the evening on the deck of a highly secured luxury beach house.
Miami - USA
Embark on a sun-drenched mission in Miami where you will attend the final hours of the Global Innovation Race – a motorsports event showcasing the very latest in modern car design. Join a crowd of thousands of excited spectators at the biggest racing event of the year.
Santa Fortuna - Columbia
Your mission takes you to the remote village of Santa Fortuna, entrenched deep inside the lush Colombian rainforest. Located at the foot of the infamous Delgado mansion, Santa Fortuna offers the discerning tourist everything from beautiful waterfalls to genuine spirit journeys and the chance to spend time with charming fishermen at the town's local watering hole.
Mumbai - India
Nicknamed 'City of Dreams', Mumbai is a treat for any visiting traveler or agent on a mission. Lose yourself in the crowds of the city's famous slums or admire Bollywood movie locations from afar; Mumbai will not disappoint with its colorful life and countless hidden secrets.
Whittleton Creek - USA
Welcome to picture perfect Whittleton Creek, USA – the quintessential American suburb. Experience wide roads flanked by yellowing maple trees, carefully groomed front yards and beautiful houses inhabited by neighborly people enjoying a quiet Saturday.
Isle of Sgail - North Atlantic
The Isle of Sgàil in the North Atlantic, is one of the most secretive places in the world…
Ghost Mode
​
HITMAN™ 2
introduces new ways to play with the brand-new
Ghost Mode
, IO Interactive's unique take on 1-versus-1 multiplayer competition where gamers can put their assassination skills to the ultimate test. In Ghost Mode, two players compete against each other online, both as Agent 47, to assassinate the most targets faster and cleaner than their opponent, while utilising weapons, items, outfits and ghost crate supply drops to help accomplish the overall mission. Ghost Mode will be available for the Miami location when
HITMAN™ 2
releases and will subsequently become available for additional locations post-launch.
The franchise-first
Sniper Assassin
brings a co-op experience to the
Hitman
series for the first time, allowing two players to work together online to take down their targets. Sniper Assassin can be played solo as Agent 47 or cooperatively as one of two new operatives, Stone and Knight. The first map, which is set against the backdrop of a lush chateau in Himmelstein, Austria, will be available to all players, with more maps becoming available at a later date.
Launch Trailer
HITMAN Perfected
How to HITMAN
Untouchable
Others
Halloween Pack
Ghost Mode
Tools of the Trade
World of Assassination
Elusive Target # 1 – The Undying – Scheduled to Release on 20th November
Sean Bean will take on the role of Mark Faba, a former MI5 agent turned freelance assassin. Notoriously known as "The Undying", Faba's reputation as a master of faking his own death is second to none, ultimately causing the International Contract Agency (ICA) to put an imposing bounty on his head.
​
Sniper Assassin Competition
(Only open to certain countries/regions)
HITMAN Legacy Pack
​
Paris, Sapienza, Marrakesh, Bangkok, Colorado and Hokkaido – will be accessible as downloadable content and will incorporate various new features from Hitman 2, including a brand new progression system, addition of hiding in foliage and crowds displayed at improved fidelity, picture-in-picture mode, strategic use of mirrors, improved combat A.I., new gameplay items like the briefcase, dart gun, flash grenades, etc., new difficulty levels, and much more!

As new elements and game modes are continually added to Hitman 2, as well as the previous game's locations, "World of Assassination" will offer a continuous experience that will never stop growing and never stop challenging players, defining the past, present and future of Hitman.

The Hitman Legacy Pack will be available to owners of the previous game for free. Owners of Season 1 can download the remastered and enhanced content once Hitman 2 launches without any additional costs.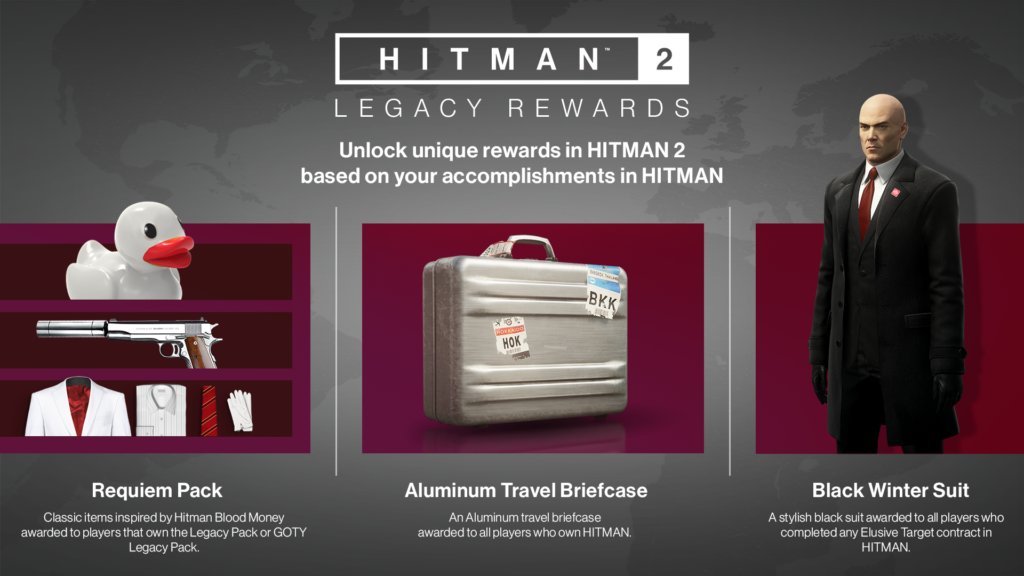 Good Luck Agent 47
​
​
Last edited: