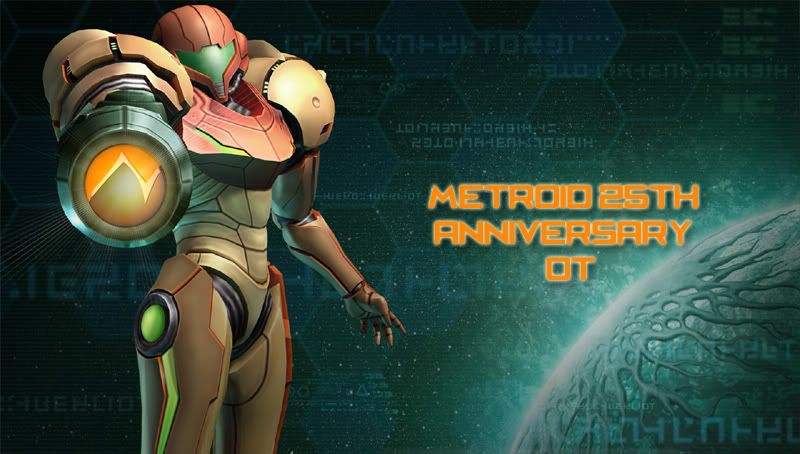 Today is the 25th anniversary of Metroid. 25 years ago on August 6th, Metroid was released for the Famicom System, and since then the franchise has grown into being one of the most beloved series. Unfortunately it appears that Nintendo will not plan anything special for the anniversary, unlike they did with Mario and now for Zelda.
I thought it would be a shame if nothing was being done, and thus turned to neogaf in hope of some help. With more than 20 people having worked on it for over a month, well, here it is! I'm proud to present Gaf's take on how to celebrate the best gaming series throughout the years. As I've said to everybody involved, I wanted this to be a gaf thread made by and for gaf.

Thanks for coming by, we hope you'll enjoy our thread

Thread shortcuts​

Updates:
8/6 - Added 14 new avatars
8/6 - Harmony of a Hunter album out now. See Extras for more information
8/10 - Added a ton of new avatars. Hip Tanaka under the people behind the games. likeGdid's great artwork of Samus and Ridley.
8/26 - Added 3 new art pieces by Chet Rippo, MYE and dr_octagon's 10th piece! Contest closes today!
8/31 - Congratz to Shin Johnpv and PixyJunket for winning the contest. New artwork by FreedomFrisbee.
​
25 years ago people had just been introduced to Mario and Zelda. Going from left to right was a prerequisite to advance in the same way as it was expected to go from dungeon to dungeon. Right as these concepts were about to be cemented in our brains Metroid came along and shook things up. With a mix of platforming and adventure set in one big labyrinth world, Metroid revolutionized game design. The first screwball is thrown right from the beginning, as you will walk into a seemingly dead-end going to the right, instead you have to go left and get the morph-ball in order to advance. This nonlinear gameplay placed exploration as the most crucial part of the experience, and paved the way for numerous design choices that would become highly influential on other games as well as introducing several elements that would become staples of the Metroid series.
I played Metroid for the first time last year in anticipation for Other M, and I was surprised at how many of the Metroid staples actually originated from it and particularly how solid a game it still was. It is mind blowing that this came out 25 years ago.
Title Screen
Norfair
Ending Theme
by Metroid Killer
Metroid II is often regarded as the black sheep in the series. Its myriad of claustrophobic tunnels, labyrinth design and inherently monochrome colour scheme claim many unfortunate victims. Put some time into it though and you'll reap the rewards. From the genuinely foreboding atmosphere, to the thrilling and varied Metroid encounters, and of course the introduction of franchise staples such as the Space Jump and Spider Ball, Metroid II is worth the time it takes to figure out SR-388's intricacies. However, where the game truly shines is in its final minutes – upon defeating the Queen Metroid, Samus encounters a lone Metroid egg which proceeds to hatch in front of her eyes. Within moments, it becomes clear that the Metroid sees Samus as its parent. The Metroid series is well-known for its intense escape sequences, but Metroid II provides one that is starkly different – the music here is tranquil, there are no enemies in sight and there is no time limit to speak of. The baby Metroid even helps Samus reach her ship by clearing the path for her. It's a genuinely warm moment – a rarity in the series – and an exceptional payoff to a rather unique mission.
Tunnel
Escape
Credits
by _Alkaline_
Super Metroid is the game that miraculously got everything right. Perhaps it had something to do with its position in the series. Created as the third game in a trilogy it had the opportunity to revisit the themes and environments of the original Metroid, but with a much more powerful system and the hindsight to adjust for some of the more arbitrary bits of its predecessor. It also picked up the storyline started in Return of Samus and managed to tie everything together in a satisfying conclusion. However, though it could be argued that the game was poised for greatness from the outset, it would be a disservice to chalk up its genius to simple timing.
A somber title screen quickly sets the tone, depicting a scene which soon falls seamlessly into a gameplay context. This sort of detail is typical of the Super Metroid- a wink and a nod to players which later falls into place during gameplay, creating a sense of continuity. After a brief intro the player is left to their own devices as they explore Zebes, and throughout the experience various cues from that first sequence crop up again at pivotal moments, conveying a memorable narrative arc in spite of the minimalist presentation.
There is a quiet sophistication and underlying sense of freedom in Super Metroid's hands-off style. Each discovery feels like the player's own. Every individual aspect of the game seems to integrate seamlessly into the next, and even early areas continue to expand as you gain new abilities and uncover previously inaccessible nooks and crannies. Corridors serve manifold purposes that only become clear over time, and there are usually a number of solutions to any given problem, granted the player has enough skill and ingenuity.
At its crux the game is about choices. Although there is an overarching structure that requires completing certain tasks to proceed, there's always ample leeway between major events. Entire abilities or sections of the map are optional if your only goal is to reach the end. The sheer number of ways the game can be played is mind-boggling. Do you forgo an upgrade to save time, or do you hoard items to make the next boss easier? Do you follow the "intended" order, or do you purposely push the game to its limits by circumventing obstacles? It's no coincidence that Super Metroid is the game that popularized sequence breaking, and more than a decade and a half after its release it still yields new techniques and approaches. The possibilities are endless.
The thoughtful, layered gameplay is complimented by an equally engrossing atmosphere. Areas shift seamlessly between somber and sinister, leaving you to explore lonely stretches which lead effortlessly into dramatic boss encounters. The music follows suit, sometimes atmospheric and subdued, other times reaching a heroic crescendo. The entire world embodies the feel of a bizarre alien ecosystem with its own internal logic; one that continues along regardless of whether Samus is there to witness it. The environments themselves sometimes seem alive, and each one has a unique archetypal quality without ever resorting to purely one dimensional themes. There are always idiosyncratic touches that make them uniquely Metroid.
Truth be told, I could ramble on about Super Metroid forever (as you might have guessed), and never do it justice. Although it's possible to talk around the various great things about it, what ultimately makes the game legendary is non-verbal. It's a synthesis of every control nuance, subtle visual hint, perfectly paced sequence, throbbing music track, and screeching monstrosity. In short, complete and utter cohesion. Few games come together in a way that feels "just so", where every element falls into place with almost supernatural ease. To say such a game comes along once a generation would probably be too generous. Super Metroid is not game of the year, or game of the generation, or even game of the millennium. No, it's perhaps the only game worthy of dusting off that old acronym,
G
AME
O
F
T
HE
F
OREVER.
by GrotesqueBeauty
Another take:
For me, Super Metroid is the Citizen Kane of games. It conveyed an incredible amount of emotion, visual narrative, and sense of place through the simple interaction itself, rather than dialogue and cinematics. It stands up there, in my eyes, alongside "Out of This World," "Ico" and "Breakdown" as one of the best examples of story-through-gameplay. From the eerie start at the off-planet science lab, through the abandoned and destroyed remains of Zebes, ancient alien remains coming to life, maternal instinct, love, and sacrifice, this game delivers these arcs directly to the player in real-time which is how I think video games will inevitably secure themselves as an art form in more people's minds. Not to mention, it's one hell of an adventure....
Brinstar Jungle
Brinstar Red Soil
Theme of Samus Aran
by oracrest
Metroid Fusion took the series into a different direction than previous. Interestingly enough, the 4th installment in the franchise came after a nine year hiatus. Sakamoto defends that the project was always on his mind, but that the hardware available did not make sense unti the Game Boy Advance.
The game actually runs off the Wario Land 4 engine, there is an easter egg that actually exhibits some WL4 objects still left in the game. Most of the team members are also the same. But the direction of design was completely different.
Sakamoto and team began crafting a new adventure accompanied with a new antagonist. The SA-X may initially sound like the typical cliche doppelganger. But something about it just worked. Where the generic shadow samus failed, the SA-X succeeded as a villain.
Metroid Fusion is an action-oriented game with a myriad of brutal bosses. The game provides a much higher difficulty than previous installments. Sakamoto is unapologetic about it, stating that he wanted to provide something different. Sakamoto also wanted to really challenge veterans of the series.
What makes Metroid Fusion special, is that it breaks out of the archetype. Classic franchises have all types of ridiculous impositions placed by a small vocal minority that think there are rules set in stone when it comes to game design. There are NO rules!
Metroid Fusion is my favorite Metroid game. Only question remaining is how long do we have to wait until the next true Metroid.
Sector 4 (AQA)
Crisis Mission
Nightmare Boss Theme
by Shikamaru Ninja

Metroid Prime's excellence always warrants emphasis: The game has a wild beauty, using decay, rubble and genetic mutation as an unlikely canvas to paint pandemonium. The audio is a calculated weave of sounds and rhythms, giving each territory its own pensive heartbeat. Every moment controls with the absolute immediacy of Nintendo's very best.
Prime's fundamental strength permeates these qualities and the entire gaming experience: It is the strength of intelligence. The game knows and trusts in the intelligence of the player, and everything is built on this assumption.
Samus is an explorer, and we are assumed to have gifted recall. Samus is a survivor, and we are assumed to be skilled enough to endure the onslaught. Samus is an investigator, and we are assumed capable of reconciling biased fragments of parallel narratives. Samus is cerebral, and we are assumed to be skilled in manipulating abstract forgotten constructs.
Samus is a hero, and we are assumed to be up to the task.
If Metroid Prime had merely lived up to Nintendo's standards, this would have been enough. To do what it did, and release as a celestial mad thing of beauty, intelligence, balance and grace, is as startling today as it was in 2002.
Chozo Artifact Temple
Magmoor Caverns Ambience
Phendara Drifts
by Mama Robotnik

I love Metroid. Depending on the day and how I'm feeling, my top ten games of all time list might be up to half Metroid.
That said, I've never really liked the original game. Okay, this seems like a blasphemous thing to say in an appreciation thread - but I didn't say I don't appreciate it. Because I do. I appreciate what it did for its time, and I appreciate how it laid the groundwork for the rest of the series. But playing it today, it feels like... well, pretty much exactly what it is: a great idea that was perhaps a little too ambitious for 1986.
Fast-forward to 2004. When remaking Metroid 1, they could've played it pretty straight. Update the graphics, controls, and general game design to be up to modern standards, and release that. Instead, we got Zero Mission, which does all that and then some. New areas, new bosses, power-ups that weren't even in Metroid 1. And we can't forget the whole post-Mother Brain stealth sequence, which
should
have been a horrible disaster - A stealth sequence in Metroid? Samus without her suit? A complete change in gameplay mechanics? What the hell? - but somehow managed to be just the right length and difficulty to instead be a nice, unexpected treat at the end of the game, and only made it that much sweeter when you got your fully powered suit and started blowing away the same Space Pirates who had been chasing you only moments earlier.
Also noteworthy about the game is that it's really the only game in the series that fully recognizes the speed running and low percentage challenges people like to take in the series. It's full of secret passages that were intentionally included to allow the player to get items early or skip them completely, and even has rewards for beating the game with low percentages. While this isn't my cup of tea, I recognize that there's a fairly sizable portion of the fanbase that does enjoy playing this way, so I wish future Metroid games would take after Zero Mission in this aspect instead of intentionally trying to lock the player out of sequence breaking like... well, every other post-Super game except Zero Mission.
Brinstar
Norfair
Kraid's Lair
by KevinCow

Echoes looks and feels similiar to its remarkable predecessor, but it's actually a rather different beast. It's longer, more confusing, more hostile and more challenging. It's also an even better game. Echoes feels like the craft of a development studio that had its shackles removed. At times this results in an unnecessarily convoluted experience, but the game also reaches greater heights because of it. Outstanding level design that refuses to be satisfied with itself, breathtaking alien environments that feature a painstaking attention to detail, mesmerizing boss fights more complex than any other in the series, morph ball puzzles that have to be seen to be believed, and Dark Aether – an outstanding example of how to execute a hostile world – all combine to create something truly special. Oh, and did I mention Quadraxis? Or Sanctuary Fortress? No? Well, now I have. Echoes is Retro Studios saying "sure, we did that in Prime, but did we do this?" It consistently delivers above and beyond the player's expectations, and yet it's executed so gradually and seamlessly that one barely notices. Echoes can seem a little bitter from the outset, but give it some time and you'll love the taste.
Title Screen
Chykka Larva
Torvus Bog
by _Alkaline_

The final chapter of Retro's wonderful Prime saga. Compared to the two previous Primes Corruption went for a much bigger scale suitable for the big finale. In turn we got to experience even more worlds and bigger battles, showing off the best art direction and visuals on the wii at the time(and arguably still is). The game was also more streamlined in its progression reminding fans of the more linear gameplay of Fusion. While some were against this move, other rejoiced as it made backtracking and the overall pace flow much better. I can't ignore the controls which showed how a FPS should control, it hasn't been topped yet, and made the playthrough very engrossing.
Retro left the series on a very high note. We can only hope we will get another Metroid of this caliber in the future.
Title Screen
Bryyo (cliffside)
Rundas Battle
by Metroid Killer
There's a lot to say about Other M, for every shortcoming, there's an equally solid core element in place, but this is neither the time nor the place for a review. The game is a more than welcome mid point between the classic side scrolling Metroids and the first person Prime series, and I'd love to see this concept being taken further. There are three major issues with the game, that make it a frustrating experience, the cut scenes are boring and counter-productive, it's decidedly obtuse at presenting its mechanics and overall game logic, and it's remarkably predictable. Despite its shortcomings, it still manages to bring new things to the table and not only for the Metroid franchise. Thanks to a fantastic camera system, the wall separating 2d from 3d is broken, allowing for the tightness you'd expect from 2d games and still allowing the freedom of movement and design that 3d gives you, culminating in the gravity sequence. It also offers an easy to use combat system that doesn't punish its players for not using all of its tools correctly, but when used appropriately, manages to carry a perfect tempo that seamlessly blends with the levels and progression that gets supported with some solid platforming and light puzzle solving. It won't reach the pantheon of greatness some of its older brothers have achieved because the game is filled with questionable and detrimental inclusions and exclusions that hurt it. It's hard to think of it as your typical Nintendo game because most of their typical values are thrown out the window, and there's an alarming lack of polish in it, ranging from presentation issues, to inability to connect with the game player, but there's still something quite exquisite about it.
Ridley Battle Theme
Theme of Samus
Rhedogian
by Boney
Despite celebrating its 25th birthday, there haven't been many spinoffs or offshoot games throughout the Metroid series' history. It wasn't until the series got reignited by the release of Metroid Prime and Fusion, that a couple of extra games were made under the Prime brand.
Metroid Prime Pinball developed by Fuse Games retold the events of Metroid Prime in pinball settings. As odd as it seems to make a Metroid pinball game, it was rather well received, and was perfect as a handheld game to play in short bursts. It was the first DS game to launch with the rumble pack.
Metroid Prime Hunters depicts a side story to the Prime games. It was developed by NST for the Nintendo DS, and was used to show how a FPS could work on the handheld, as well as incorporating online multiplayer mode. Most Metroid fans consider the story mode to be quite barebones.
After having made Metroid Prime 3 for Wii, Retro Studios began working on porting over the first two Prime games to Wii, in order to add the enhanced control method of Corruption. The end result was a nice compilation package, Metroid Prime: Trilogy, with additional features and updated graphics added to the first two games besides the new controls.
Rumors of a Metroid Dread title started emerging in 2005 at Game Informer's forum. Nintendo never commented on the rumors, which gradually died down. Then in 2007, a secret message was discovered in Metroid Prime 3: "Experiment status report update: Metroid project 'Dread' is nearing the final stages of completion." Rumors were once again set aflame, but Nintendo denied the game's existence. In 2009 Yoshio Sakamoto finally confirmed that Metroid Dread was real at some point but is currently on stand-by.