The Story So Far....
Part 1: ENLIST
Get a War Job
First popping up in an
"ad" in GamePro
readers were told to visit Getawarjob.com. When you get to the site you have several options. You can "Enlist for Military Service", which is giving them a means to contact you in the ARG. Email, Phone, and Address. Secondly there are two Brochures you can flip through.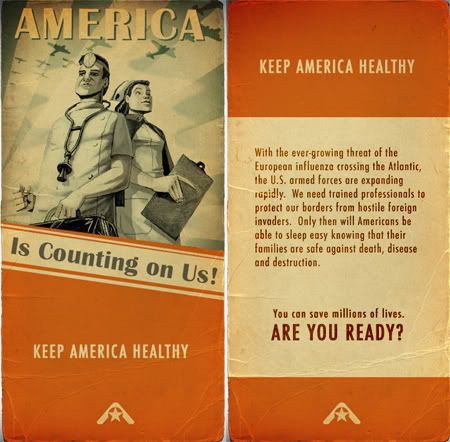 Finally, and perhaps most interesting is a phone number on the business card.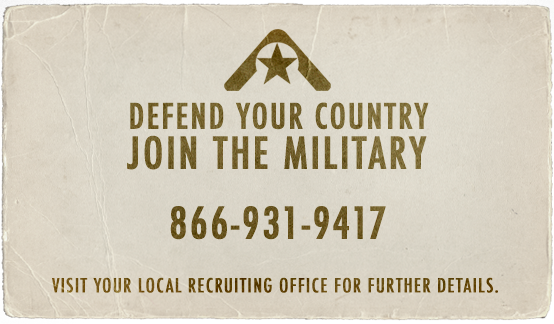 I've recorded the message you get when you call the number, and it can be heard here:
http://boomp3.com/listen/byossrwwb_l/get-a-war-job-phone-message
Part 2: What do you know about Project Abraham?
After seemingly hitting a brick wall, we GAFfers pulled ahead and found another piece of the puzzle. At the bottom of one of the Gamepro ads, it was noticed that there were a series of dots, that when treated as Morse code spells out "FOLLOW THE MAP".
Taking the advice, we looked up on that same page and found the following map:
At this point we began picking the square code apart. If you read the code like a book, and treat the dotted squares as stopping points, you end up with a string of numbers ranging 1-26. Finding their equal alphabetic value (1=A, 2 = B, etc.) leaves you with the message:
"
HOW FAR WILL THEY GO PROJECT ABRAHAM
"
This leads us to:
http://projectabraham.com/
A Short video plays (A downloadable version can be found
here
for your convenience). In the video we see through the eyes of someone on a stretcher. The doctors are trying to do their job (whether it's Good or Evil), but the woman in the video (Cassie) is obviously concerned.
At the end of the video there's another string of Morse Code which I transcribed out to "BLACKOUT" which lead us here:
http://projectabraham.com/blackout/
The current meaning behind this site is unknown.
I'll keep this thread updated with any new info, and I look forward to it really taking off. The ARG is rumored to be the work of Forty Two Entertainment (I Love Bees, The Dark Knight ARG, etc.). I can't wait for it to get started for real!