Dec 7, 2006
27,115
0
1,290
I never win these things.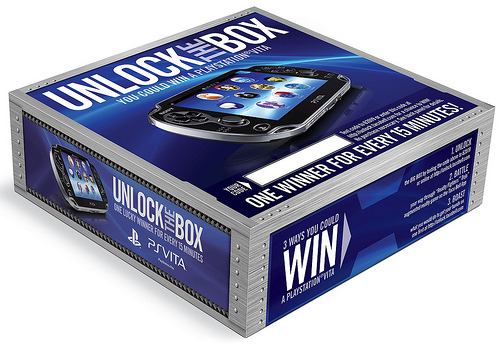 http://unlock.tacobell.com/unlock/
Details:
http://blog.us.playstation.com/2012/01/10/taco-bell-ps-vita/#utm_source=feedburner&utm_medium=feed&utm_campaign=Feed:+PSBlog+(PlayStation.Blog)
PlayStation and Taco Bell just dished out some exciting news live at CES! While the US launch of PlayStation Vita is still more than a month away, PlayStation and Taco Bell have teamed up to give you the chance to win yours before they go on sale in stores. Starting January 26th through March 11th, one winner will be selected EVERY 15 MINUTES!

The folks at Taco Bell are eager to give you three ways to win your very own PS Vita: Unlock, Battle or Boast. Here's a quick breakdown:

UNLOCK THE BOX: Beginning January 26th, Taco Bell's specially marked $5 Buck Box – which includes a Cheesy Gordita Crunch, Crunchy Taco, Burrito Supreme and medium fountain drink – will also provide a code that can be entered online for an instant chance to "unlock" and win a PS Vita.

BATTLE: Download Taco Bell's new mobile app to check out the exclusively designed Reality Fighters Dojo game where you can "battle" your friends to win a PS Vita.

BOAST: Taco Bell's online contest will encourage you to submit a photo or video "boasting" about what you're willing to do for a PS Vita. Submissions will then go into an online gallery where you and your peers can vote for the winners – it could be you!

PS Vita: Taco Bell $5 Buck BoxPS Vita: Taco Bell $5 Buck Box

Regardless of whether you win with an Unlock, Battle or a Boast, your prize pack will include one PS Vita 3G/Wi-Fi system, one copy of the PS Vita exclusive Little Deviants, one 4GB PS Vita Memory Card and your choice of one of the following: ModNation Racers: Road Trip, MLB 12 The Show or LittleBigPlanet.

Mark your calendars for January 26th. In the meantime, start sharpening those battle and boasting skills — we can't wait to see what you come up with!