Also waste of power compared to screen density and power. I'm sure you're one of those people wanting a 1080p screen. Huge waste of ressources for what it is. When I compare my 1080p SGS4 screen to my 544p Vita screen, difference is noticeable but definitely not worthy.
Subpixels.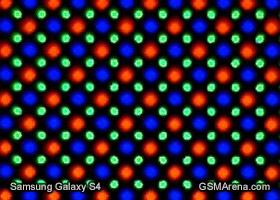 Various AMOLED diodes wear out faster than others which is why Samsung often uses a strange layout while the standard for LCDs is a simple RGB color strip. The Galaxy S3 is the biggest offender with its Pentile layout. You literally see dots on the screen FFS...
Going back to the Vita I checked the AMOLED in my microscope (old toy with just 300X using my hand as focus) and saw that it had a color stripe that looked like the Galaxy S2 one. The pixels aren't quite as big as LCD ones which is noticeable on a white screen, but it looks a million times better than the Galaxy S3 which has a higher pixel density.
1080p is overkill, especially for a gaming focused device when mobile GPUs have such limited bandwidth (the Vita struggles to render half of that). That doesn't mean "make another crap screen" though Nintendo -_-