Mania live was something else, let me tell you. I'm going to post some of the main things I remember because I just got home and have only slept 1 hour in the past two days.
I was so excited for Bryan and Sheamus. I really thought we were going to get 15 minutes of awesome. After the brog kick and the 1,2,3 I sat in my chair with my head down for a good 15 seconds in utter shock. The whole stadium went crazy though and while I wouldn't have booked things that way the fans loved it.
Kane beating Blandy Boreton was a awesome. Nobody wanted Blandy to win in my section and Kane got a pretty nice pop when he got the 1,2,3.
Taker and HHH was epic live and in person. Everyone in the stadium was standing for a majority of the match. They told such a great story in the ring that they didn't need to have a 5 star wrestling match or do crazy insane bumps. People were buying all the near falls and after the Superkick/Pedigree combo 99% of people thought that was it. Everyone I talked to during and after the event loved the match.
Punk and Jericho started slow and the audience kinda lost interest for the first 15 minutes. Then they started exchanging finishers and submissions and people were going nuts for the rest of the match. I was a little disappointed in the match but it was still pretty freaking good.
Cena and Rock was electric. I had goosebumps for The Rock's entrance. The crowd was white hot thoughout. I'm not sure why alot of you were expecting a 5 star wrestling clinic but I thought for who was in the ring they delivered. I kept saying all weekend Rock should win but Cena will most probably walk out the winner. Let me tell you when The Rock got the 1,2,3 I started jumping up and down in my seat high fiving anyone and everyone and even hugging grown ass adult males. I wasn't the only person doing this either, 95% of the stadium was also!!!
So all and all Mania was off the charts awesome for anyone who went. Everyone afterwards was so happy, it was like are team had just won the Super Bowl or something.
Plus I saw both ROH shows which were good to great. The Saturday DGUSA show which was off the charts amazing and $5 wrestling during which I laughed so hard it hurt. Also I met some really awesome people and got to talk about nothing but wrestling for three days. It was a dream come true. I didn't have to feel like a loser for liking wrestling. Seriously people if you call yourself a wrestling fan or a member of Wrassle-Gaf you'll be in New York next year, otherwise I'll be saying this to you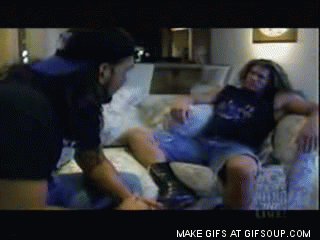 Also wanted to say big ups to mechashiva and his dude Max for carpooling to Mania with me, introducing me to all his friends, and then talking wrestling and yelling "yes" at passersby with me till 5 this morning!!!
I'm counting down the days until next year!!!