Currently polling second in Australia's federal election (first in the Gold Coast), this feral may one day be your Bogan King.
Update 2: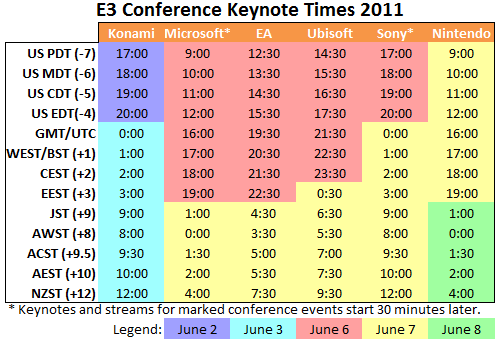 Tables by Clipper
Update:
Full listing:
Monday, June 6th:
Microsoft: 9:00 A.M. PST
EA: 12:30 P.M. PST
Ubisoft: 2:30 P.M. PST
Sony: 5:00 P.M. PST
Tuesday, June 7th:
Nintendo: 9:00 A.M. PST
Note: Konami and Namco Bandai might have conferences as well, but it's not guaranteed, so this is a full listing in relation to the people who have one every year.
Metalmurphy said:
For the OP:
Microsoft:
EA
Ubisoft
Sony:
Nintendo:
Original:
Where:
Nokia Theater
When:
June 7
Time:
9.00am PDT/12.00pm EST
VG247
So err, there's that.
EDIT:
World Clock timezone converter
. Click there to see when the event is for you.