Kingdom Hearts Birth by Sleep (PSP)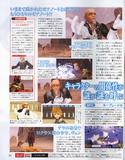 - Developed by the KH Re:CoM (PS2) team at the Osaka branch of S-E.
- Co-directed by Tai Yasue, who also co-directed KH Re:CoM
- 3 scenarios, 3 main characters, play in any order
- Battle system is a mix of KH CoM (deck of abilities/skills) and KH's normal controls
- The random elements and the timing based gameplay is Nomura's evolution of what he used in CoM and IAWW
Kingdom Hearts 358/2 Days (DS)
- Developed by h.a.n.d., the guys that made Chocobo DS.
- Co-directed by Tomohiro Hagesawa, who also co-directed IAWW.
- Multiplayer gameplay is mission based, and your friends can play as any of the XIII Org members.
- Scenario is compared to Crisis Core, in that most people will know how it ends, but not how it will flow.
Kingdom Hearts Coded (Mobile)
- Developed by the Before Crisis FFVII team.
- Co-directed by Hajime Tabata, who directed Before Crisis and Crisis Core.
- Disney worlds will be available as individual downloads.
- The setting involves Sora's memories being accessed, possibly through a computer. It is compared to CoM's scenario in that sense.
- Graphics are 2D sprites on 3D backgrounds to allow both high spec and low spec phones to be support.
- Planned to be released internationally, hence the focus on compatibility.
Nomura Interview about new KH Projects: