Cinematic Trailer

Gameplay
Welcome to the Fight, soldier.
Marvel Future Fight is a role-playing game that features some of the most beloved Marvel characters including The Avengers, Spider-Man, Daredevil and the Guardians of the Galaxy, complete with their signature moves and abilities that will allow players to build their own unstoppable team in the fight against well-known villains such as Loki, Doctor Octopus and Ultron.
With a storyline penned by best-selling Marvel comics writer Peter David, players can experience the world of Marvel firsthand across four action-packed modes. In addition to the PVE Mission Mode, Marvel Future Fight also includes a PVP three-on-three Timeline Battle that will see teams of players fighting heroes from other dimensions. For players looking to take it to the next level, the Villain Siege mode taps on players' knowledge of the Marvel Universe to uncover evil plots of the most infamous villains, while Dimension Rift Missions will offer a true test of skill for players seeking the ultimate challenge. Taking the game to the next level are its Team Effects and Cooperative Attacks, activated when players join the forces of their heroes within the Marvel Universe. Bring together Iron Man and War Machine to access Tony's Toys, call on the skills of the Dangerous Trio of Black Cat, Elektra and Black Widow, or tap on the celestial strength of Thor, Loki and Angela, also known as the Asgardian Siblings, to take the game to a whole new level of fun and entertainment.
Developer
Netmarble Games
Publisher
Netmarble Games
Platform
iOS, Google Play
Release Date
30th of April, 2015
File Size
45 MB - 650 MB (Yes, blame the updates)
Genre
RPG
Features
• Play for Free
• Fight as your favourite Heroes and Villains
• Rank and Level your characters
• Fight through stages
• PVP Battles
Most Asked Questions

There's a Plot?
Yes, it takes place in an alternate universe version of the Marvel Universe based heavily on the Marvel Cinematic Universe. The story follows the Avengers as they respond to a new world-ending crisis; an unknown force attempting to tear apart the fabric of reality, causing numerous Bad Future timelines to cross over with their own, leading to warped, evil versions of superheroes attacking the people of the world, and the creation of powerful ISO-8 material, strange mystical rocks that greatly amplify the power of individuals that wield it. In one of the bad futures, Nick Fury is able to record one last message to the Player warning the present of the impending danger, causing Captain America, Iron Man and Black Widow to begin working to undo the damage done by the crossing timelines, attempt to find the truth behind the impending apocalypse, and stop the rise in supervillain activity along the way as numerous villains and organizations from Loki, to a reformed Hydra, to a new criminal empire beneath The Kingpin begin making a grab for power using their new allies from alternate timelines and the enhancements of the ISO-8.
What does it play like?
It plays like a traditional Action RPG. Players command a team of three Marvel heroes or villains and use the touchscreen to either tap where they should move to, or control a virtual joystick to move them. Each character has a set of powers and a basic attack, which are activated by touchscreen buttons, and are used to clear short 1-2 minute levels full of enemies to defeat and ending in a boss battle. Completing normal versions of missions unlock harder Elite versions of those missions which can be completed to unlock new characters and to gain new crafting materials to mastering already unlocked characters.
I want to play as Captain Marvel, Venom, Wasp. How do I unlock them?

Biometrics can unlock a character. You can earn them via Honor Tokens, Chaos Tokens, Crystals and Biometrics Boxes. They can also pop up via Dimension Rifts and can either assist you or beat you. If you win the chapter, you win a bio.
What does mastering do?
Mastering a character boosts their stats and gives them their leadership skill. When a mastered character is leading a team, all members get the perks of the leader's skill.
For example, Cap's leadership skill gives a HP boost.
You can master a character once per rank.
They have types?
Yes, blasters, combat, speed and universal. There's a icon during gameplay that shows who's stronger than who.
Combat > Speed > Blast > Combat.
Universal are neutral.
What's Elite Missions?
Basically Normal Missions but with beefed up bad guys but you earn better loot like bios.
Leveling up is the first thing I should do right?
Yep. You earn materials during gameplay and those are crucial for ranking up your hero.
CHARACTERS
Blasters
Speed
Combat
Universal
UPDATES: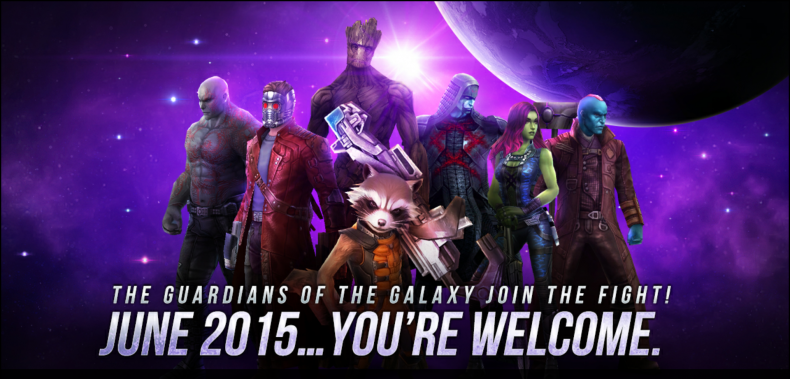 June brought us those bunch of A-Holes (Guardians of the Galaxy) along with Ronan, Yondu, Nebula and missions dedicated to them.
Halloween Update gives us Elsa Bloodstone, Warwolf and Lash as well as new costumes.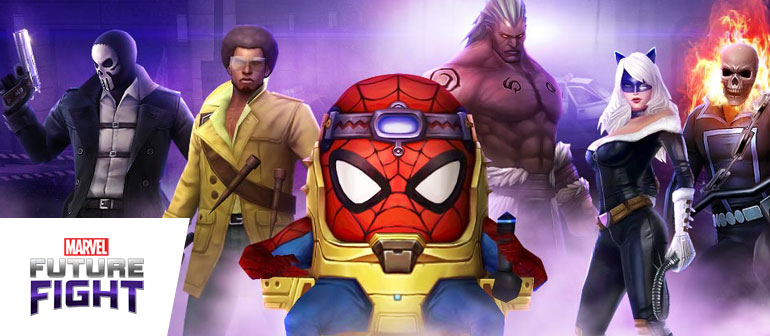 November adds Jessica Jones and new uniforms as well as new 6 Star Attacks