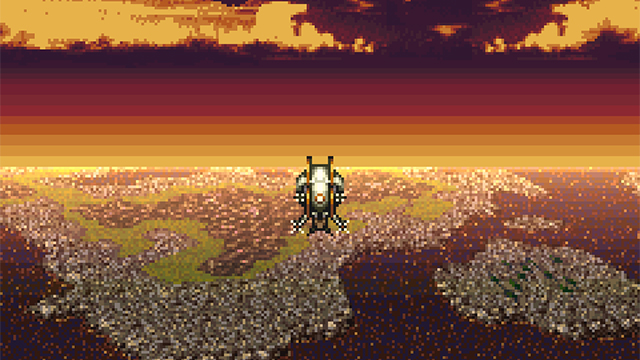 22 years since this game was first released.
17 years since the first -- and last -- time I played this game to completion.
I was 12 then.
I'm 29 now.
It's been a long time.
I was born and raised on two things above all else: Star Trek and Final Fantasy.
I met a kid way back in sixth grade who showed up on the first day of school wearing a Cloud Strife t-shirt. The dude's design stuck with me. I asked him what the deal was. Let me borrow all his RPGs after I mowed enough lawns for a Sony PlayStation. We opened with FFVII, still just a few months old at the time, and my life changed forever. Went after FFT, Xenogears, FFVIII, y'know the drill. He put emulators on floppy disks for me because I lacked net. This is my story.
Soon enough, a little game called Final Fantasy Anthology popped up on PSX.
I'd played a few then-retro RPGs already at that point, mind you. Secret of Mana. Chrono Trigger. Seiken Densetsu 3. It's funny, looking back at the late 90's and recalling how kid-me glanced at 'em like they were ancient. Funny to think how kids will approach Mass Effect 2 in that same light going forward. Time's a bitch. But I digress. Final Fantasy Anthology. I played through VI first. My friends, they told me that was the way to go. Back then, the US of A didn't really have a hankerin' for FFV. At least no one I rolled with.
So I played it. I played FFVI.
And I loved it through and through. The color palette, the soundtrack, the whole aesthetic shebang was beautiful. It didn't dethrone FFVII and Xenogears, which just so happen to be my favorite games to this day because on some level I guess I'm an unshakable bastard like that. But it was up there. I have such vivid memories of this game.
Then something happened.
I couldn't tell you what it is. FFVI Advance launched in '07 and by then I'd done IV and V on there a couple of times apiece and I was so excited to hop back into one of my favorites after all those years and I just
failed
at it. Maybe it was the GBA-tier sound quality, maybe the kind of washed-out look. I didn't finish. I tried several more times in the nine years hence to no avail. I've tried on the GBA, I've tried the GBA gig with a patch on PC, I've tried a Virtual Console copy on the ol' Wii, and I cannot get engaged.
But people love this game. I loved this game. I'm bringing the magic back, Empire-style.
Whatever it takes, I am going to make it through one of my fondest childhood memories for a second time. I've talked -- loudly -- about the state of affairs within Square Enix for just as long as any other longtime JRPG diehard. I still count nearly half my favorite games as theirs. FFVI was part of that splendor and damn it I'm going to reignite the passion i felt for this highly-regarded game or at least say I gave it my all one last time.
I'm doing it the way I did it back then.
Anthology is sharply criticized as one of the worst ports for Final Fantasy VI thanks to its rough, rough load times. It lacks the additional content seen in more recent releases, it's not as smooth as the SNES original, it's just an all-around bad pick in the hearts and minds of basically any FFVI fan I've ever met. But I'm doing it anyway. I will endure the load times. I will try to forget the extra espers I'm missing. I'll deal. But I am going for it anyway, because it's my FFVI nostalgia, and nostalgia's a hell of a drug.
So without further ado...
We open our much-maligned port with an FMV capable of sending nostalgia shivers all up and down the spine of yours truly. Say what you will, but as a kid I ate this FMV up for dinner and asked for seconds. The music is so
somber.
The tone is just so
unique.
I effing love it, full stop. Plus it's got this shot. Look at this man.
This was my first ever exposure to Kefka Palazzo. This was the first time I ever saw the crazy bastard. It left a tremendous impression with me -- this I well recall. Straight out the gate, in a cutscene designed to evoke memories of 1994 in those who watched, kid-me was seeing this maniac for who he was. I had no context except I instantly knew he was off his rocker.
Another thing I want to talk about here is that the whole cutscene feels rather Metal Gear Solid. Or at least, it did to me then, and that's sticking with me tonight. It's the Magitek Armor, sure, but there's something about the camera angles and overall feel. It's hard to put into words, but it's certainly the most "MGS" I've ever felt watching a Final Fantasy FMV. It hooks me.
The characters wiggle their fingers at me as if to reiterate that it's an ill-advised thing, turning off the console while I'm saving my game. I appreciate that, characters. I appreciate that heads-up. The game opens with a beautiful snowfield scene; BIGGS, WEDGE, and ?????? are hangin' out by a cliff in their Mobile Suits Gundam and we learn that ?????? fried 50 of the Empire's Magitek Troopers in under three minutes. ?????? sounds like she means business. Not to worry, however, because the Slave Crown keeps ?????? well under imperial control.
Something hits me on the way to Narshe.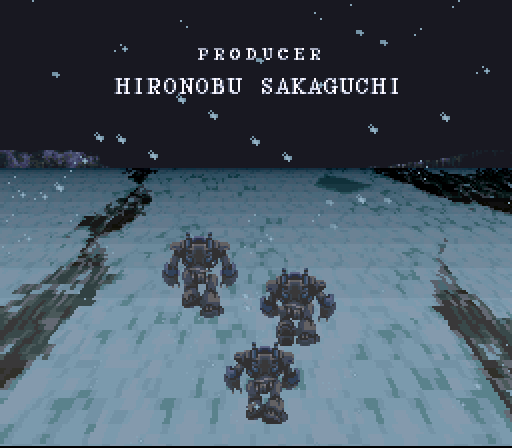 My main men Sakaguchi and Takahashi right there. Hironobu the King. The Father of Final Fantasy. Takahashi, the Xenogears Perfect Works mastermind. In gaming, these two and their immediate companions (Itou, Nomura, et al) helped define my childhood. As they say in the city, "I literally can't even." Have I mentioned nostalgia's a drug? Because nostalgia's a drug.
But you're reading this post, despite its length. And you're doing it on NeoGAF, even. I don't have to tell you that.
You understand, I'm sure.
I go on. In Narshe, rebel soldiers throw dogs at us, then take a tentative step before launching themselves as well. I want to talk about that tentative step. It conveys their apprehension, even now, 22 years later. I get it. There's no questioning that they're afraid to take on our mecha. We slaughter them all. BIGGS levels up. WEDGE levels up. ?????? levels up. I'm already reminded why I dig the color palette in this game. Everything's so stark, so perfectly realized in tone. See for yourself. Pay no mind to the fact that this RTTP has yet to introduce two of the characters visible in this picture. Just look at how atmospheric this damn place is all these years later.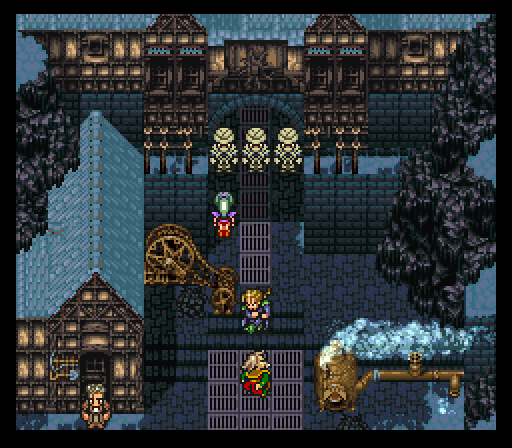 Ever-onward and into the cave. We fight a creature-in-a-shell, name of Whelk. In middle school, one of our good friends, a good friend to this day, used to have a thing for annunciating the "Gruuuu..." thing Whelk's got going on. I don't know why. We kill him and move on to the next one. This is it -- what we came for. An esper, Tritoch. In Advance, we call it Valigarmanda. But this sure ain't Advance.
BIGGS and WEDGE are killed. We're in agreement that they're dead, right? They vanish into the ether, like the poor bastards had been struck by Vanish + X-Zone a couple dozen hours early. ?????? goes nap-nap and awakens in the home of an old man, recalling that her name is TERRA. This capitalization schtick is getting old literally already, so I'll stop. Terra can't recall a thing, but she's ushered out the door because the Narshe soldiers whose comrades all got burned, bolted, and iced to pieces have a bone to pick with an imperial "witch" hanging out scot-free. We're in the cave again before we know it but Terra's cornered and down she goes.
Here is where we're introduced to Locke, who prefers the term treasure hunter. I remember liking this guy a lot. I don't entirely remember why. I guess we'll find out, eh, friends? Locke agrees with the fellow who aided Terra that they need to get her out of the city and over to the Returners, and King Edgar, ASAP. He goes on a retrieval op and he's aided by friendly moogles.
I want to talk about these moogles.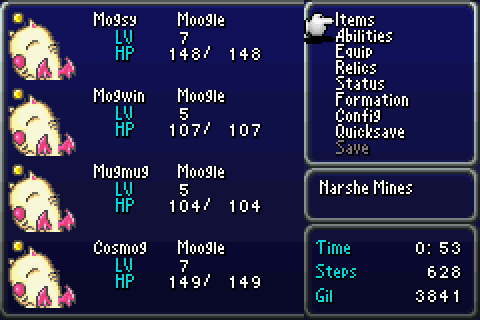 Try as I might, I can't find any decent images of the full list of names for the eleven-odd moogles seen in the original translation. But I think these Advance names just further my point -- no matter the localization job, these names are golden. Let's go even deeper.
Per FF Wiki:
The moogles act as "place-fillers" for many of the main playable characters; they share the character slots of most of the playable characters, and are replaced by them when they are introduced in the story. When the player names the playable party members, the game overwrites their data with the playable character's data. This is the reason for the two glitches explained below.
This is super-cool and I didn't know this until literally today. I started noticing oddly familiar attack styles from these moogles and it set my brain a-buzzing. I love little tidbits like these. (Also, follow that link to get a good feel for just how many names these moogles
have.
This OP is already colossal as-is, so go have a spin.)
We fight our way past the people of Narshe and Terra awakens for the second time in 20 in-game minutes. Locke's already well up on telling her he'll protect her no matter what, and she blinks quite convincingly in response. That's the second time I'm commenting on how believable and still-sharp the little animations are in the field. The sprites sell me on personality. Bill Clinton wasn't even midway through his presidency when Terra first blinked. She's still got it.
I shut my game off shortly after swinging by the classrooms on the outskirts of Narshe. A "monster-in-a-box" gets an NPC laughing at our misfortunes and we hightail it to Figaro at Locke's insistence.
That's all I've got time for today. I'll be turning this into a full-fledged playthrough topic, so be on the lookout for more progress (and painfully lengthy prose) in the coming weeks.

If you've read this whole piece, you must be pretty damned bored. But if you had an alright time with it, or if it triggered your deepest gaming memories as this journey will surely trigger mine, stick around and we'll keep chatting shop on one of the most celebrated roleplaying games in history.