https://finalweapon.net/2022/12/11/tekken-7-surpasses-10-million-copies-sold/
Bandai Namco announced world renowned fighting game

Tekken 7

surpassed 10 million copies sold across PlayStation 4, Xbox One, and PC via Steam.

The 10 million copies sold for

Tekken 7

include digital copies and physical shipments worldwide. Roughly

one million copies were sold since June 1, 2022

, which was roughly six months ago. To celebrate the sales milestone, Bandai Namco released new artwork depicting the game's entire roster. Bandai Namco thanks fans for their continued support as it prepares for the next battle,

Tekken 8

.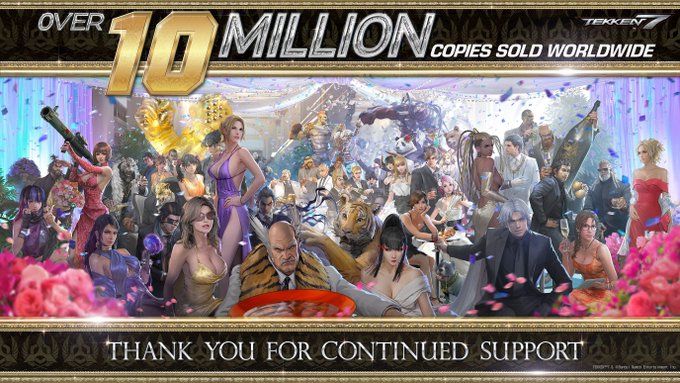 Tekken 7 though taking longer, is selling MKs number now.
It has already passed Tekken 3 awhile ago but now it's pretty far from it. I'm not sure if Tekken 8 will live up to the hype and be just as big but for those who are fans of Tekken or anime fighting games you can bet that Tekken 8 will use the money made from 7 for a more polished and grand experience.
Tekken is still big that's for sure.
Can't say the same for Namco's other fighting franchise Soul Calibur.