But single-payer healthcare is too expensive and unaffordable, right? And *only* 8 senators voted against this bill.
Reminder that they "can't find" $6.5 TRILLION spent on the military
, and now they're about to spend another $700 billion.
WASHINGTON — The Senate has overwhelmingly approved a sweeping policy bill that would pump $700 billion into the military, putting the U.S. armed forces on track for a budget greater than at any time during the decade-plus wars in Iraq and Afghanistan.

Senators passed the legislation by a 89-8 vote Monday. The measure authorizes $700 billion in military spending for the fiscal year that begins Oct. 1. [...]

The bill allots $10.6 billion for 94 Joint Strike Fighter aircraft, which is two dozen more than Trump requested. The bill also provides $25 billion to pay for 13 ships, which is $5 billion and five ships more than the Trump sough
https://www.cbsnews.com/news/senate-overwhelmingly-backs-bill-to-pump-700-billion-into-military/
These are the 8 who voted against it (while apparently Kamala Harris and Corey Booker voted for it)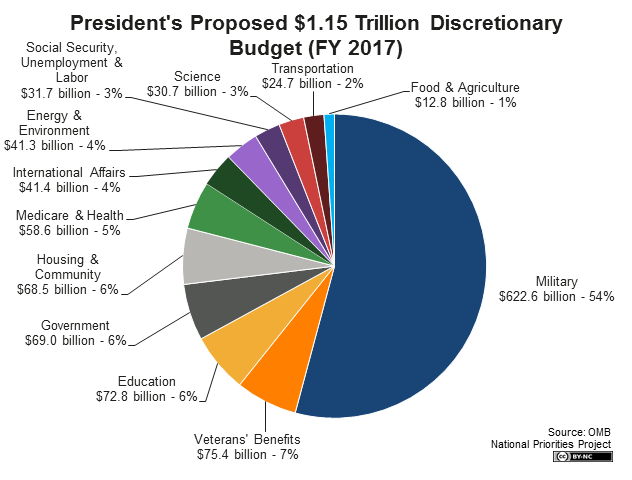 EDIT:
It should be noted that the actual DOD budget is $574.5 billion. Overall defense related spending is $824.6 billion, but that includes Veteran Affairs, Homeland Security and costs of overseas wars in Iraq, Syria, etc.
Also that pie-chart shown on page 1 is a bit misleading, that only shows discretionary spending, i.e, spending that the Gov has control over. Most spending is mandatory in the form of Social Security and Health.
As you can see defense is actually 15% of total federal spending. Social security, at $1 billion is the biggest part of the budget.
The US though probably could do with cutting back on defense spending while still maintaining its status of No.1 military superpower, simply through cutting back on overseas wars.