Video games, like other media, have this odd power over me. They're time-wasters, but in a good way. They make me sit and stare at even the most simple, but beautiful things. Sometimes I'll find myself watching water flow through a map, and maybe I'll follow that water and find a waterfall or a bed of flowers with some butterflies hanging around. Maybe I'll stare out in the distance and find a mountain range, and maybe that mountain range has trees covered with snow and all the while, the seconds lead to minutes, and minutes lead to hours. Before I know it, I'm lost. I don't know where I am, or where I'll go next, but what I do know is,
I want to be there
. I want to forget about my stresses or the challenges I'm facing right now or the next challenge that I will eventually and inevitably face. Some games have this charm or ability rather, to completely sweep you off your feet and transport you somewhere else. Maybe its a good place, maybe its a bad place, but regardless its not "here". I know there are people out there that take the time to stare out at every vista, cherish the view, and carry on their merry way and murder some more bad-guys. Regardless of why you do it, there's just this simple, innate urge to question certain things. Have you ever caught yourself staring up at the sky in games? Did you wonder what's out there or how
you
could get there? I know I have.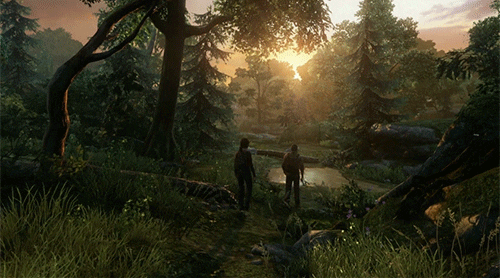 For me, personally, there's hundreds of games that have made me wish I was somewhere else. For the sake of a good discussion thread, I'll list a few and explain why, I find myself losing myself in their virtual beauty.
1.) Mass Effect
Boy, if there's one thing I could say about my #1 favorite game of all time, is that it sure knows how to make you wish we were born a couple hundred years later... Mass Effect, to me, is a game that holds a special place in my life. At a time where I really needed a distraction, I got this game for Christmas. Long story short, I fell in love and beat the game about 9 times.
There's one particular unexplored, unidentified planet I will never forget finding on my journey:
This planet... this
planet. I sat and stared at this view for hours, sometimes I would turn the game on, travel to this planet, turn the controller off, and just go about my business. There's something hauntingly silent about unexplored planets on Mass Effect. It's almost as if its really what it would be like. On a derelict planet, unexplored from all life, it would really be that silent. I was completely lost in the possibilities of that view being real. Now, to be fair, I'm a HUGE Carl Sagan fan and all of this is like a dream come true in a video-game. It's everything Carl used to teach to me. I would sit there and completely stare out at those two buddies in the sky wondering what it would be like to be there myself. I wish I was Shepherd, and I wish I could be so lucky to be in awe of such a view.
2.) Journey (and Flower, but I'll focus on Journey for the purpose of keeping it short).
Man, this game... What a journey
... I wish I could experience the journey for myself. The spiritual implications this game had on me are almost too powerful and too deep for me to even write into words to all of you (So I won't try). All I can say is that there has never been a game quite this moving, or powerful (Brothers: A Tale of Two Sons comes close) in my long existence of video-game playing.
So, Gaf, I ask
you
now: What games take you away?