Special thanks to
: GuardianE, CrackPebbles, Dahbomb and AgentLampshade for their contributions to the OT!!!
Platforms
: PlayStation®4, Xbox One, PC
Genre
: Stylish Action
No. of Players
: 1
Rating
: ESRB M (Ages 17+) / PEGI 16 / USK 16 / OFLC "M"
Release date and pricing information:
June 18, 2015
for Japan Only
¥ 4,490 - Physical
¥ 4,157 - Digital
¥ 7,398 - e-Capcom Exclusive Limited Edition
June 23, 2015
for NA and EU
NA: $24.99 - Digital Only
EU: £19.99 / €24.99 - Digital Only
Playstation 4
Xbox One
PC (Steam)
Are there any pre-order bonuses?
Yep! DMC3 costume for Lady and Gloria costume for Trish. These are available for all first print copies.
These costumes should be available for purchase separately at a later date.
Additionally, pre-ordering digitally on PSN gives you a free DMC4SE Theme:
Digital only? Ugh. Any way I can get a physical copy?
Yes, digital only for NA and EU. Asia and Japan have physical copies that are available for import. They are not region locked and the Asian versions have BOTH FULL English and Japanese language support!
Play-Asia current has the Asian version available for pre-order for $32.99:
PS4
Xbox One
There is also the e-CAPCOM Exclusive Limited Pizza Box Edition
Includes:
Game: Devil May Cry 4 Special Edition
Artbook: Production Note (B5 Size 64p Full Color)
Soundtrack CD: Premium Music Selection
Original Collection Box
Special Cover Jacket (3pcs)
7398 yen
Since it's exclusive and e-Capcom doesn't ship outside of Japan, you'll have to go through a third party proxy like dv8cag to get it (
http://www.dv8cag.com/
). Or you can go through a site like nin-nin at a slight premium:
http://www.nin-nin-game.com/en/japa...-edition-e-capcom-limited-edition-ps4-en.html
9,990 yen+shipping or around $83 before shipping.
Play-Asia and Nippon-Yasan have sold out of their Pizza Box Editions.
If I import the Japanese or Asian versions, will they have English options?
Asian versions will feature full English voices, menus, and subtitles. The Japanese version will have full English voices and menus, though some of the decription text might be in Japanese only. It could also have English description text available, but we don't know yet.
Is DLC region locked if I import (for pre-order Lady and Trish costumes)?
Yes, though you can make an Asian or Japanese account to download those costumes onto your PS4/Xbox One so you can access them.
If I already own DMC4, why should I get this? What new content is being added to the Special Edition?
-Three completely new playable characters!:
Lady
,
Trish
, and
Vergil
For overviews of each new character, Gregaman of Capcom-Unity provided livestreams of each, archived here for your perusal:
Vergil Livestream Part 1
Vergil Livestream Part 2
Trish Livestream
Lady Livestream
For just the combat introductions of each of the 5 characters in the game, refer to the following videos:
Vergil
Trish
Nero
Lady
Dante
Dante is the most complex character in an action game yet. You can be playing Dante for half a decade and still be "not good" with him. The other characters are far easier to pick and learn. Vergil is in between Nero and Dante where has easy mobility and chaining of combos between enemies thanks to his teleport acting as an analogue to Nero's Devil Bringer and his Judgement Cut using a timing based system for perfect releases. Like Dante he also has weapon swap but doesn't have the insane Style switch of Dante so he fits perfectly in between Nero and Dante. Lady and Trish are the easiest character in the game.
Vergil will have the entire campaign to himself from start to finish, whereas Lady and Trish will split the campaign in the same way that Nero and Dante split the campaign in the original story.
All three characters are available in Bloody Palace mode.
-
Legendary Dark Knight Mode
(previously exclusive to PC)
This mode will throw hordes of enemies at you, filling the screen with baddies for you to take out. This is as musou as DMC gets.
-
Turbo Mode
(previously exclusive to PC)
Gamespeed increased by 20%
-
Auto Save functionality
The game now saves automatically every time you clear a story mission, meaning you can keep playing as much as you want without having to worry about saving your progress!
-
New costumes for each character
(Lady and Gloria costumes shown previously as DMC3 Lad and Gloria)
New color palette swaps
for default costumes of each character
-
New cutscenes
bookending the campaign for the new characters
-
Hi-res texture
s from the PC version
-
New Achievements/Trophies/Trading Cards
Vergil also comes with a
Super Vergil costume
(unlimited Devil Trigger and Concentration Gauge), like Dante and Nero. Trish and Lady do not have Super versions.
Additional DLC
(aka Microtransactions)
Unlockable content, such as game modes, Super Nero/Dante/Vergil, Proud Souls, and Blue Orbs, can be purchased as add-on content. You can unlock this content by playing the game on Devil Hunter difficulty and above. If you've played DMC4 previously or if you would just like quicker access to the content, you also have the option to unlock it by purchasing it as add-on content.
Can I remap the controls?
Yes! And it's encouraged for certain characters. You can actually save a button layout per character, so you don't have to keep swapping back and forth.
Are there new battle themes/music?
In-game it doesn't seem so. There are new tracks for Vergil, Lady, and Trish, but as far as we know they only play during their respective cutscenes.
Any changes to the existing characters/game/balance?
Tweaks to existing game:
-Quicker "Speed" (sprint) activation
-Red/Proud Orb economy adjusted for quicker leveling
-Dice minigame has been adjusted in a minor way to make it easier to get your desired number
-Lady has a new voice actress (Kate Higgins)
-Japanese voice acting; For the first time, you can enjoy DMC4 with Japanese voices:
Nero: Kaito Ishikawa
Dante: Toshiyuki Morikawa
Vergil: Hiroaki Hirata
Lady: Fumiko Orikasa
Trish: Atsuko Tanaka
Dante and Nero are claimed to be fundamentally unchanged.
I prefer the balancing in the original version of DMC4! They're ruining the game I love!
Fear not! Capcom included a code so that you can play the original version of the game:
<PS4>
On the title screen (where "Press Any Button" is displayed) hold L1 and R2, and turn the left stick clockwise twice, then turn the right stick clockwise twice, then press R3 and L3 together to bring up the settings confirmation window.
<Xbox One>
On the title screen (where "Press Any Button" is displayed) hold LB and RT, and turn the left stick clockwise twice, then turn the right stick clockwise twice, then press the left and right stick buttons together to bring up the settings confirmation window.
<PC>
On the title screen (where "Press Any Button" is displayed) type in "devilmaycry" using the keyboard to bring up the settings confirmation window.
When you change to original DMC4 balancing, the logo turns pink as shown in the image.
Are the extra characters playable from the start?
You can start any of the three campaigns (Dante/Nero, Vergil, Lady/Trish) from the get go.
Are the new character campaigns canon? How is Vergil back from the dead?
What actually occurs during the Vergil/Lady & Trish campaigns are not canon. Lady and Trish's cutscenes are "what if" scenarios. The cutscenes for Vergil are canon, but take place before the events of DMC3, when he visited Fortuna.
Can the PC version run above 60fps/1080p?
The original PC port does, and was a fantastic port. We have no reason to believe that this will change with the Special Edition.
What are the PC specs required to play DMC4SE?
MINIMUM
:
OS: Windows 7, Windows 8.1
Processor:Intel(R) Core(TM) 2 Duo 2.4GHz, AMD Athlon(TM) X2 2.8 GHz
Memory:2 GB RAM
Graphics:NVIDIA(R) GeForce(R) 8800 GTS, AMD Radeon(TM) HD 3850
DirectX:Version 10
Hard Drive:27 GB available space
Sound Card
irectSound Support (DirectX® 9.0c)
RECOMMENDED
:
OS:Windows 7, Windows 8.1
Processor:Intel(R) Core(TM) i3 3.0GHz, AMD FX-4100 3.6 GHz
Memory:2 GB RAM
Graphics:NVIDIA(R) GeForce(R) GTX 570, AMD Radeon(TM) HD 7790
DirectX:Version 10
Hard Drive:27 GB available space
Sound Card
irectSound Support (DirectX® 9.0c)
The vanilla game is incredibly well-optimized, scale-able, and 7 years old. It could run on a toaster.
If I already own the PC version, do I get a discount on the Special Edition?
No, but it's already being released at a budget price.
Can you transfer save data from the vanilla version?
Nope.
What is the series chronology?
The timeline goes DMC3, DMC, DMC4, DMC2.
The DMC3 Manga takes place before DMC3
The DMC Anime takes place between DMC1 and DMC4.
The DMC4 Novel takes place some time before DMC4.
Other media related to DMC aren't canon which includes the DMC1 Novel.

This will be my first Devil May Cry. Is DMC4 a good entry point into the series?
I would strongly recommend playing through the series in release order (except for DMC2), from start to finish. DMC1 is a groundbreaking action title that is essentially the progenitor of the entire genre and DMC3 holds up today as one of the greatest action games of all time. The entire HD Collection can be purchased for under $15 off Amazon:
PS3
Xbox 360
That said, DMC4 is largely self-contained and the story focuses on the new protagonist Nero. You won't understand some references and implications, but you definitely won't be lost.
How do I "git gud" at this game? It's not clicking for me. Are there any tutorials?
ChaserTech has a great tutorial series to help new players understand the general approach to combat in DMC4.
Nero Combat Intro and Intermediate to Advanced Tutorial
Advanced Nero Combat video
Advanced Dante Combat Tutorial Part 1
Advanced Dante combat Tutorial Part 2
People are still discovering things with Dante and this game is 7 years old! The fact that these Dante tutorials are unfinished almost seems like a testament to the character. There's always more to uncover.
Also, feel free to ask more specific questions in this thread if you're having problems! There are plenty of players here well-versed in the combat mechanics of this game, or can at least provide you with resources.
Please show me some sick combo videos to sell me on this game.
Your wish is my command!
DMC4 Combo Mad (the original)
Tizza's DMC4: Dango Memorial Contest Entry
Brea's TrueStyle Tournament 4 DMC4 Entry for Dante
Nero vs. 2 Credos; DMD Mode
DMC4 Paradigm Shift by Kuma & Taka
Time of Lucifer by Riceporridge, edited by HuangRSfly
DMC4 Nero Combo MAD Conscious Vientiane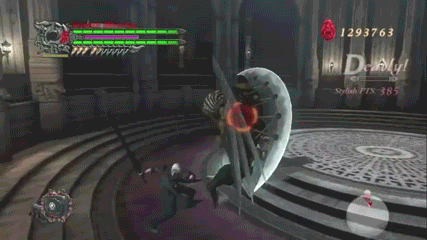 Ok Ok... I get it.. Dante and Nero have a lot of combo swag but what about these new characters? Can then hang with those two?
The game has just come out so the pros haven't gotten their hands on the new characters yet but rest assured they have a lot of combo swag in them especially Vergil who will giving even the main character of Nero some competition!
Are there any good mods for DMC4 on PC?
Mods have kept the game thriving on PC for years and years. I suspect that the same will be true for DMC4SE. Things like a training (debug) mode, Gods Must Die, skins, speed adjustment, etc, etc, were all developed by fans.
The above Double Credo fight and Dante vs. Dante fights were made possible via modding.
DMC4 seems good, but what about this other DmC game? Is that any good?
You can visit the
DmC Definitive edition OT here
. While it was a controversial title when it came out, since then quite a few mechanics changes have been made to the game to bring it more in line with the classic game. It is now a very solid game in terms of game play and mechanics but it is still very different in terms of tones and writing from the original series. Definitively worth checking out if you are a fan of stylish action games.
AVATARS
And now... it's time to get a
LITTLE MOTIVATED
!!!!!